16.06.2017 | Original Article | Ausgabe 2/2017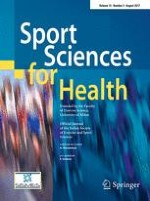 Accelerometer-based sleep behavior and activity levels in student athletes in comparison to student non-athletes
Zeitschrift:
Autoren:

Matthew W Driller, Zanz T Dixon, Marianne I Clark
Abstract
Purpose
The comparison between athletes and non-athletes for sleep, sedentary time or incidental daily activity is yet to be examined in a student population. Therefore, the purpose of the current study was to measure sleep and activity levels using accelerometry in athlete and non-athlete university students.
Methods
19 students on university athletic scholarships (11 female/8 male, age 20 ± 2, body mass index 24 ± 3) and 21 student non-athletes (11 female/10 male, age 21 ± 3, body mass index 25 ± 4) volunteered to wear an activity monitor over a 7-day period to measure general daily activity levels and sleep. All general daily activity, excluding time spent exercise training, was monitored and minutes spent at different activity zones as well as step count, distance covered and calories burnt were used for analysis between groups. Measures of sleep quality and quantity were also compared between groups.
Results
Significant differences were found between groups for step count and distance covered (
p
< 0.05); however, all activity variables were associated with small to moderate effect sizes, with the athlete group being more physically active than the non-athlete group. There was a small effect size associated with longer sleep time in the non-athlete group (476 vs 456 min,
d
= 0.39) and also poorer sleep behavior scores in the athlete group (
d
= −0.39).
Conclusion
Student athletes exhibit more incidental activity and less sedentary time than student non-athletes. There was a trend for student athletes to sleep less and display poorer sleep behavior than student non-athletes.