09.01.2020 | Original Research | Ausgabe 4/2020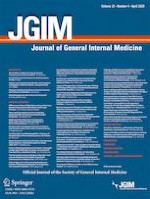 Acceptability of an Interactive Computer-Animated Agent to Promote Patient-Provider Communication About Breast Density: a Mixed Method Pilot Study
Zeitschrift:
Autoren:

PhD Christine Gunn, MA Ariel Maschke, PhD Timothy Bickmore, MBA Mark Kennedy, MPH Margaret F. Hopkins, MD Michael D.C. Fishman, MD, MPH Michael K. Paasche-Orlow, ScD, MPH Erica T. Warner
Wichtige Hinweise
Prior Presentations
: Preliminary results were previously presented at the International Breast Density and Cancer Risk Assessment Workshop on June 6, 2019, in Honolulu, Hawaii, and at the Society for General Internal Medicine Annual Meeting on May 9, 2019, in Washington D.C.
Publisher's Note
Springer Nature remains neutral with regard to jurisdictional claims in published maps and institutional affiliations.
Abstract
Background
Half of women undergoing mammography have dense breasts. Mandatory dense breast notification and educational materials have been shown to confuse women, rather than empower them.
Objective
This study used a mixed method, multi-stakeholder approach to assess acceptability of an interactive, computer-animated agent that provided breast density information to women and changes in knowledge, satisfaction, and informational needs.
Design
A pre-post survey and qualitative focus groups assessed the acceptability of the computer-animated agent among women. An anonymous, online survey measuring acceptability was delivered to a multi-stakeholder group.
Participants
English-speaking, mammography-eligible women ages 40–74 were invited and 44 women participated in one of nine focus groups. In addition, 14 stakeholders representing primary care, radiology, patient advocates, public health practitioners, and researchers completed the online survey.
Interventions
A prototype of a computer-animated agent was delivered to women in a group setting; stakeholders viewed the prototype independently.
Main Measures
Data collected included open-ended qualitative questions that guided discussion about the content and form of the computer-animated agent. Structured surveys included domains related to knowledge, acceptability, and satisfaction. Stakeholder acceptability was measured with a series of statements about aspects of the intervention and delivery approach and are reported as the proportion of respondents who endorsed each statement.
Key Results
Six of 12 knowledge items demonstrated improvement post-intervention, satisfaction with the agent was high (81%), but the number of unanswered questions did not improve (67% vs. 54%,
p
 = 0.37). Understanding of the distinction between connective and fatty tissue in the breast did not increase (30% vs. 26%,
p
 = 0.48). Results of the multi-stakeholder survey suggest broad acceptability of the approach and agent.
Conclusions
Findings highlight the benefits of a brief interactive educational exposure as well as misperceptions that persisted. Results demonstrate the need for an evidence-based, accessible intervention that is easy to understand for patients.