01.12.2015 | Research article | Ausgabe 1/2016 Open Access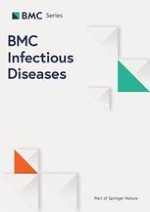 Accuracy of clinical criteria and an immunochromatographic strip test for dengue diagnosis in a DENV-4 epidemic
Zeitschrift:
Autoren:

Sibelle Nogueira Buonora, Sonia Regina Lambert Passos, Cleber Nascimento do Carmo, Fernanda Moisés Quintela, Diana Neves Rodrigues de Oliveira, Flavia Barreto dos Santos, Yara Hahr Marques Hökerberg, Rita Maria Ribeiro Nogueira, Regina Paiva Daumas
Wichtige Hinweise
Competing interests
The authors declare that they have no competing interests.
Authors' contributions
SNB, SRLP and RPD conceived of the study, participated in its design and coordination and helped to draft the manuscript. DNRO and FMQ participated in its design, data collection and recording. YHMH participated in the study design, data analysis and interpretation and helped to draft the manuscript. RMRN and FBS carried out the immunoassays, rapid immunochromatographic test, viral characterization and writing the manuscript. CNC participated in the design of the study and performed the statistical analysis. All authors read and approved the final manuscript.
Abstract
Background
Early diagnosis of dengue infection is important for decision-making and timely implementation of therapeutic measures. Although rapid NS1 assays have been used for dengue diagnosis since 2008, their performance in DENV-4 cases has not yet been fully assessed.
Methods
We evaluated the accuracy of NS1 Bioeasy™ immunochromatographic strip test and of three clinical criteria for dengue diagnosis. Patients presenting at an emergency care center within 72 h of an acute febrile illness during the 2013 DENV-4 epidemic in Rio de Janeiro were consecutively enrolled for clinical and laboratory evaluation. We classified patients as suspected dengue or not according to three clinical criteria: WHO 2009, WHO 1997, and INI-FIOCRUZ. Dengue diagnosis was defined by RNA detection using RT-PCR and the negative cases were negative for all dengue serotypes and also Platelia™ NS1 ELISA. We obtained accuracy indices for NS1 Bioeasy™ alone and in combination with the clinical criteria.
Results
RT-PCR for DENV-4 was positive in 148 out of 325 patients. Positive likelihood ratio, sensitivity, and specificity of NS1 Bioeasy™ with WHO 2009, WHO 1997, and INI-FIOCRUZ criteria were 22.6 (95 % CI 7.2–70.6), 40.6 % (95 % CI 32.3–49.3), and 98.2 % (95 % CI 94.9–99.6); 18.3 (95 % CI 6.8–49.2), 44.2 (95 % CI 35.8–52.9), 97.6 (95 % CI 94.0–99.3); 26.2 (95 % CI 6.5–106.5), 29.7 (95 % CI 22.4–37.8), 98.9 (95 % CI 96.0–99.9), respectively. WHO 1997 clinical criteria presented high sensitivity to rule out disease, but extremely low specificity. INI-FIOCRUZ had moderate sensitivity and specificity, and could target a group to a more specific test.
Conclusions
Although the large rates of false negative results using NS1 Bioeasy™ rapid test advise against its use for triaging (rule out) purposes in DENV-4 epidemics, it could be used as a confirmatory tool in a bedside algorithm.