01.12.2012 | Research | Ausgabe 1/2012 Open Access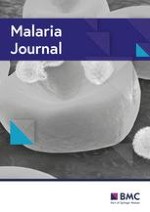 Accuracy of malaria rapid diagnosis test Optimal-IT® in Kinshasa, the Democratic Republic of Congo
Zeitschrift:
Autoren:

Hypolite Mavoko Muhindo, Gillon Ilombe, Ruth Meya, Patrick M Mitashi, Albert Kutekemeni, Didier Gasigwa, Pascal Lutumba, Jean-Pierre Van Geertruyden
Wichtige Hinweise
Electronic supplementary material
The online version of this article (doi:
10.​1186/​1475-2875-11-224
) contains supplementary material, which is available to authorized users.
Competing interests
Authors declare that they have no conflict of interest.
Authors' contribution
HMM, PL and JPV designed the study protocol. HMM, RM, PM and GI supervised activities on the field. HMM performed the statistical analysis. HMM, PL and JPV wrote the first draft of the manuscript. All authors read and approved the final version.
Abstract
Background
Despite some problems related to accuracy and applicability, malaria rapid diagnostic tests (RDTs), are currently considered the best option in areas with limited laboratory services for improving case management and reducing over-treatment. However, their performance must be established taking into the account the particularities of each endemic area. In the Democratic Republic of Congo, the validity of Optimal-IT
®
and Paracheck-Pf®, respectively based on the detection of lactate dehydrogenase and histidine-rich protein-2, was assessed at primary health care level (PHC).
Methods
This was a two-stage cluster randomized survey, conducted in one health centre in 12 health zones in Kinshasa city. All patients with malaria presumptive diagnosis were eligible. Gold standard was microscopy performed by experts from the parasitology unit, Kinshasa University.
Results
624 patients were enrolled. 53.4% (95% CI: 49.4-57.3) owed a bed net, obtained in 74.5% of cases (95% CI: 69.4-79.1) through community-based distribution by the National Malaria Control Programme. Microscopy expert reading confirmed 123 malaria cases (19.7%; 95% CI: 16.7-23.1). Overall sensitivity were 79.7% (95% CI: 72.4-86.8), 87.8% (95% CI: 81.9-93.6) and 86.2% (95% CI: 79.9-92.3), respectively, for Optimal-IT®, Paracheck-Pf
®
and microscopy performed at PHC. Specificity was 97.0% (95% CI: 95.5-98.5), 91.6% (95% CI: 89.1-94.0) and 49.1% (95% CI: 44.7-53.4). The proportion of confirmed cases seemed similar in under-fives compared to others. Any treatment prior to the current visit was a predictor for malaria (AOR: 2.3; 95% CI: 1.5-3.5), but not malaria treatment (AOR: 0.87; 95% CI: 0.4-1.8). Bed net ownership tended to protect against malaria (AOR: 0.67; 95% CI: 0.45-0.99).
Conclusion
Although microscopy is considered as the "gold standard" for malaria diagnosis at point of care level, this study showed that its accuracy may not always be satisfactory when performed in health centres.