01.12.2017 | Research article | Ausgabe 1/2017 Open Access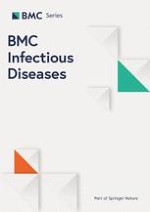 Accuracy of serum procalcitonin for the diagnosis of sepsis in neonates and children with systemic inflammatory syndrome: a meta-analysis
Zeitschrift:
Autoren:

Giuseppe Pontrelli, Franco De Crescenzo, Roberto Buzzetti, Alessandro Jenkner, Sara Balduzzi, Francesca Calò Carducci, Donato Amodio, Maia De Luca, Sara Chiurchiù, Elin Haf Davies, Giorgia Copponi, Alessandra Simonetti, Elena Ferretti, Valeria Di Franco, Virginia Rasi, Martina Della Corte, Luca Gramatica, Marco Ciabattini, Susanna Livadiotti, Paolo Rossi
Wichtige Hinweise
Electronic supplementary material
The online version of this article (doi:
10.​1186/​s12879-017-2396-7
) contains supplementary material, which is available to authorized users.
Abbreviations
MC
Microbiologically confirmation
NICU
Neonatal intensive-care unit
NPV
Negative predictive value
PCT LIA
Procalcitonin immunoluminometric assay
PCT-Q
procalcitonin semiquantitative rapid assay
PPV
Positive predictive value
QUADAS score
Quality Assessment Tool for Diagnostic Accuracy Studies
ROC
Receiver operating characteristic
SIRS
Systemic inflammatory response syndrome
STARD
Standard for Reporting of Diagnostic Accuracy
Background
Methods
The protocol for this review was accepted and registered on PROSPERO international prospective register of systematic reviews under the number CRD42016033809.
Search strategy
We searched Medline/Pubmed, Embase, ISI Web of Science, CINAHL, Cochrane Library, for studies that assessed the accuracy of PCT for the diagnosis of sepsis in neonates and in children over 44 weeks, defined as "paediatric age". The search algorithm used for each database is available in the Additional file
1
. No start date limit was used and the search strategy was performed in August 2014 and updated until the cut off date of December 2015. To expand our search, reference lists of the retrieved articles were also screened for additional studies. We also searched grey literature through Open Sigle. No language limits were applied.
Selection criteria
We included all studies regardless of study design: prospective or retrospective that met the following criteria: assessing the accuracy of PCT for diagnosis of sepsis in children and neonates with SIRS or suspected sepsis, providing sensitivity (true-positive rate) and specificity (true-negative rate). The presence of infection had to be microbiologically confirmed (positive culture, microscopy or polymerase chain reaction) or evaluated as probable by chart review.
We excluded: a) articles not regarding sepsis or not assessing PCT; b) studies not in children or neonates; c) studies using only healthy children or neonates as controls; d) studies on children or neonates without probable infection; e) review articles, editorials or letters, expert opinions, comments and animal experiments.
At least two reviewers independently evaluated titles and abstracts and selected relevant studies for inclusion. If this could not be done reliably by title and abstract, the full text version was retrieved. Any disagreement was resolved by discussion within reviewers, or by an independent reviewer. Reason for exclusion of studies was recorded.
Data extraction
Data about the following variables were extracted independently by at least two reviewers: year of publication, clinical setting (neonatal or paediatric intensive care unit, or general ward), age at diagnosis, sample size, design of the study, prevalence of sepsis, laboratory methods, cut-off points, timing of tests, inclusion criteria (SIRS or suspected sepsis), outcome diagnosis (sepsis confirmed by microbiological test or by chart review) and when reported, the main measures of test accuracy. Any disagreement on data extraction was resolved by consensus.
Quality assessment
The methodological quality of each study was assessed using a checklist based on criteria adapted from the Cochrane Collaboration guidelines and the Quality Assessment Tool for Diagnostic Accuracy Studies (QUADAS-2 score) and applied to each included study. QUADAS-2 is made of four domains: patient selection, index test, reference standard, flow and timing. Each domain evaluates the risk of bias and for the first three there is also an assessment of applicability. Signalling questions are included to help in the judgement about risk of bias [
28
]. Each question was assessed by scoring it as "yes", "no", or "unclear" and the risks of bias and the concerns on applicability were scored as "high", "low" or "unclear", depending on the answers of the signalling questions. At least two authors scored independently, and differences were resolved by consensus or by a third reviewer.
Statistical analysis
We extracted information on true positives (tp), false negatives (fn), false positives (fp), and true negatives (tn) for each study. We carried out primary analyses considering neonates and children as two different groups. We then conducted further analyses on neonates with suspected EOS as a stand-alone group and on neonates with suspected LOS and children grouped together. We used two-by-two data in order to calculate sensitivities and specificities, along with their 95% confidence intervals. They were graphically evaluated by using forest plots and by plotting study results in ROC space.
Studies were divided into subgroups depending on the specific PCT cut-off considered in their test accuracy analyses. We grouped the studies according to three different PCT ranges: <2 ng/L; 2-2,5 ng/L; >2,5 ng/L on the basis of preliminary observational studies and PCT nomograms [
14
,
29
]. These nomograms showed differences between neonatal and paediatric cut-off values of PCT in healthy populations. Moreover, the 2-2.5 ng/ml cut-off was chosen as proposed by the Expert Meeting on Neonatal and Paediatric Sepsis of European Medicines Agency [
30
]. If a study reported results at different cut-offs, we chose one of them for each subgroup.
If adequate data were available, meta-analyses were performed by using the bivariate model [
31
] to produce summary sensitivities and specificities. A random-effects model jointly synthesizes sensitivity and specificity by allowing for correlation between them across studies. Average operating points, along with their confidence and predictive regions for each subgroup were calculated whenever possible (i.e. they were not calculated if there were less than three studies in a subgroup). Heterogeneity was graphically evaluated [
32
]; where heterogeneity was high, the 95% prediction region was much larger than the 95% confidence region. All analyses were performed using Review Manager [
33
] and STATA 13 software [
34
].
Results
Discussion
This is the first systematic review assessing PCT accuracy for sepsis in neonates and children with suspected sepsis or SIRS excluding healthy subjects, and therefore providing more useful information for clinicians. According to our meta-analysis, PCT at the cut-off of 2-2.5 ng/ml shows the best sensitivity and moderate accuracy for the diagnosis of sepsis in neonates with suspected sepsis. The sensitivity is high, but associated with a low specificity. Even if suboptimal, this could be considered acceptable, because of the high mortality rate of the condition, and the need to maintain a low false negative ratio.
In neonates, the PCT cut-off of <2 ng/ml shows a high sensitivity with a low specificity, similar to those of cut-off of 2-2.5 ng/mL; the PCT cut-off of >2.5 ng/ml shows lower, unacceptable values for sensitivity, and higher specificity. It is noteworthy to consider that studies on EOS with a PCT cut-off <2 ng/ml were all grouped together with LOS, and the two studies focusing on LOS only [
42
,
47
] found that the PCT at this cut-off had a better accuracy, higher specificity and similar sensitivity, if compared with studies grouping EOS and LOS. This suggests that the use of two different cut-offs could improve accuracy in these two populations: PCT cut-off could be higher for neonates with EOS than for neonates with LOS. This is consistent with existing studies on healthy neonates [
14
,
29
]. It is important that in future studies on EOS the diagnostic value of age-adjusted PCT cut-offs will be assessed in association with other serum biomarkers [
46
,
53
].
Unfortunately, at present, there are not enough studies to perform a meta-analysis on the diagnostic accuracy of PCT at the cut-off of 2-2.5 ng/ml in older children with suspected sepsis or SIRS. In this population, the results on the PCT cut off of <2.0 ng/ml show an overall moderate accuracy, but the limited sample size and quality of the studies included indicate that further studies are needed and no clinical recommendation is possible at this stage. Additional analyses that considered the few studies only on EOS, and grouped together LOS and paediatric patients cannot overcome this limitation.
The study showed limitations linked to the current methodology of primary sepsis research, such as the non-uniform definition of sepsis: some studies considered sepsis only if confirmed by positive blood culture, microscopy or polymerase chain reaction (microbiologically confirmed) while others considered also "probable sepsis", after a complete review of the patient chart with assessment of clinical, radiological and laboratory data. We included studied that considered both microbiologically confirmed and probable sepsis, but they did not provide detailed information about how the infection was confirmed. In addition, blood samples were drawn without a precise timing (i.e. "at time of admission" or "before antibiotic therapy", which do not necessarily coincide). Furthermore, the scarcity of studies differentiating EOS and LOS in neonates hampered a more specific and informative analysis.
In 2016, a new definition of sepsis attributing a primary role to organ dysfunction was proposed in adults, aiming to offer greater consistency for epidemiological studies and clinical trials [
3
]. In order to improve diagnosis and decrease the mortality of sepsis in neonatal and paediatric population, we need soon additional studies of high methodological quality, accounting the specificity of pathophysiology and age dependent variables.
Conclusions
In conclusion, in this study we show that PCT has an overall moderate accuracy for the diagnosis of sepsis in neonates with suspected sepsis at the cut-off of 2.0-2.5 ng/ml.
In order to deepen our scientific knowledge on the role of PCT in the diagnosis of neonatal and paediatric sepsis, larger, high quality studies are necessary. More specifically, we need studies responding to the Standards for Reporting of Diagnostic Accuracy (STARD) guidelines, with a previously published and registered protocol, and an adequate sample size. It would also be of paramount importance to include suspected sepsis and exclude healthy subjects, in order to provide more useful information for the clinicians, and be clearly able to differentiate neonates with EOS and LOS. An updated definition of sepsis for paediatric population, similarly to that one proposed for adults, which considers the different pathophysiology and age dependent variables and overrule the current heterogeneity is warranted.
Key messages
1. PCT shows a moderate diagnostic accuracy at the cut-off of 2-2.5 ng/ml for the diagnosis of sepsis in neonates with SIRS or suspected sepsis.
2. In neonates, the PCT values should be critically evaluated differentiating EOS and LOS.
3. Further studies with better methodological quality in older children with suspected sepsis evaluating the PCT cut-off of 2-2.5 ng/ml are warranted.
Acknowledgments
The research leading to these results has received funding from the European Union's Seventh Framework Programme for research, technological development and demonstration under grant agreement no. 261060 (Global Research in Paediatrics – GRiP network of excellence).
Funding
The research leading to these results has received funding from the European Union's Seventh Framework Programme for research; technological development and demonstration under grant agreement no. 261060 (Global Research in Paediatrics – GRiP network of excellence).
Availability of data and materials
This study is a systematic review. The primary studies are available in literature, and the summary tables have been included in or attached to the present manuscript.
Authors' contributions
GP, SL, PR, conceived of the study, and participated in its design and coordination and helped to draft the manuscript. FDC, RB performed the search strategy, extracted the data, provided methodological support and drafted the manuscript. RB, SB performed the statistical analyses. DA, MDL, SC, EF, VDF, VR, MDC, LG screened the search results, extracted the data and drafted the manuscript. AJ, FCC, EHD, AS, VDF, GC, participated in this study design, gave clinical expertise and revised thoroughly the drafted manuscript. MC revised the paper and participated in the new analyses in the review phase. All authors read and approved the final manuscript.
Competing interests
The author(s) declare that they have no competing interests.
Consent for publication
The authors provided their consent for publication.
Ethics approval and consent to participate
This study is a systematic review. The primary studies evaluated included a statement on ethics approval and consent.
Publisher's Note
Springer Nature remains neutral with regard to jurisdictional claims in published maps and institutional affiliations.
Open Access
This article is distributed under the terms of the Creative Commons Attribution 4.0 International License (
http://​creativecommons.​org/​licenses/​by/​4.​0/​
), which permits unrestricted use, distribution, and reproduction in any medium, provided you give appropriate credit to the original author(s) and the source, provide a link to the Creative Commons license, and indicate if changes were made. The Creative Commons Public Domain Dedication waiver (
http://​creativecommons.​org/​publicdomain/​zero/​1.​0/​
) applies to the data made available in this article, unless otherwise stated.