01.12.2012 | Clinical Research | Ausgabe 12/2012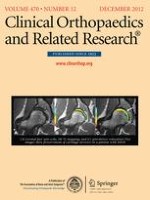 Acetabular Component Positioning Using Anatomic Landmarks of the Acetabulum
Zeitschrift:
Autoren:

MD Yong-Chan Ha, MD, PhD Jeong Joon Yoo, MD Young-Kyun Lee, MD Jin Young Kim, MD Kyung-Hoi Koo
Wichtige Hinweise
Each author certifies that he or she, or a member of their immediate family, has no commercial associations (eg, consultancies, stock ownership, equity interest, patent/licensing arrangements, etc) that might pose a conflict of interest in connection with the submitted article.
All ICMJE Conflict of Interest Forms for authors and
Clinical Orthopaedics and Related Research
editors and board members are on file with the publication and can be viewed on request.
Each author certifies that his or her institution approved the human protocol for this investigation, that all investigations were conducted in conformity with ethical principles of research, and that informed consent for participation in the study was obtained.
This work was performed at Seoul National University College of Medicine, Seoul, South Korea.
Abstract
Background
The acetabular cup should be properly oriented to prevent dislocation and to reduce wear. However, achieving proper cup placement is challenging with potentially large variations of cup position. We propose a new technique to position the acetabular cup.
Questions/Purposes
We used this technique, then determined actual cup position and subsequent dislocation rate.
Methods
We measured acetabular abduction (α°) and anteversion (β°) on preoperative CT scans in 46 patients (50 hips) scheduled for THA. During the operation, we identified the transverse acetabular notch (TAN) and anterior acetabular notch (AAN), a notch at the anterior acetabular margin. We then marked two reference points for 40° abduction at the acetabular rim: the superior point, which is opposite the TAN, and the inferior point at |α − 40| mm inside (when α was > 40°) or outside the TAN (when α was < 40°). We also marked two reference points for 15° anteversion: the posterior point opposite the AAN and the anterior point at |β − 15| mm inside (when β was < 15°) or outside the AAN (when β was > 15°). During cup insertion, we aligned cup abduction to the line between the superior and inferior points and cup anteversion to the line between the anterior and posterior points. We measured cup abduction and anteversion and evaluated the dislocation rate. One patient was lost to followup before 60 months; the minimum followup for the other 45 patients was 60 months (mean, 62.8 months; range, 60–65 months).
Results
The mean cup abduction was 40° (range, 32°–47°) and the mean cup anteversion was 17° (range, 8°–25°). No dislocation occurred postoperatively in 49 hips (45 patients) for a minimum of 5 years followup.
Conclusions
We obtained adequate cup position with our method and none of 45 patients (49 hips) had dislocation.
Level of Evidence
Level IV, therapeutic study. See Guidelines for Authors for a complete description of level of evidence.