01.12.2015 | Research article | Ausgabe 1/2015 Open Access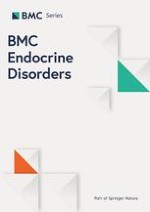 Achievement of individualized treatment targets in patients with comorbid type-2 diabetes and hypertension: 6 months results of the DIALOGUE registry
Zeitschrift:
Autoren:

Roland E Schmieder, Anselm K Gitt, Cornelia Koch, Peter Bramlage, Taoufik Ouarrak, Diethelm Tschöpe, For the DIALOGUE study group
Wichtige Hinweise
Competing interests
Anselm K Gitt (AKG), Roland E. Schmieder (RES), Peter Bramlage (PB), and Diethelm Tschöpe (DT) have received research support and honoraria for lectures from a number of pharmaceutical companies producing anti-diabetic drugs including Novartis, the sponsor of this study. Cornelia Koch (CK) is employee of the sponsor. Taoufik Ouarrak (TO) has no potential conflict of interest to disclose.
Authors' contributions
AKG, RES and DT designed the registry. RES, AKG, CK, PB and DT outlined the analysis and the focus of the paper. TO is responsible for the statistical analysis of data. PB drafted the manuscript and all other authors revised the article for important intellectual content. All authors approved the final version for publication.
Authors' information
DIALOGUE study group: Sibel Avsar (Ludwigshafen), Peter Bramlage (Mahlow), Eva Duetting (Nürnberg), Anselm K. Gitt (Ludwigshafen), Cornelia Koch (CK), Alfons Müller (Nürnberg), Alexander Neumer (Ludwigshafen), Taoufik Ouarrak (Ludwigshafen), Roland E. Schmieder (Erlangen), Steffen Schneider (Ludwigshafen), Diethelm Tschöpe (Bad Oeynhausen)
Abstract
Background
Patients with type-2 diabetes mellitus (T2DM) and hypertension have increased risk of cardiovascular disease (CVD). We studied individualized treatment targets and their achievement in clinical practice.
Methods
DIALOGUE is a prospective, multi-center registry in patients with both T2DM and hypertension.
Results
Patients (n = 6,586) had a baseline fasting glucose (8.5 ± 2.8 mmol/l), postprandial glucose (10.9 ± 3.4 mmol/l), and HbA1c (7.8 ± 2.1%) levels indicated poor glycemic control. Baseline systolic and diastolic BP were 140.3 ± 15.7 and 82.6 ± 9.5, respectively. Patients were categorized by HbA1c treatment goals: ≤6.5% (strict), >6.5 to ≤7.0% (medium), and >7.0 to ≤7.5% (loose). When considering systolic BP (SBP) targets (≤130 mmHg [strict], >130 to ≤135 mmHg [medium], and >135 to ≤140 mmHg [loose]), patients with strict SBP treatment goals displayed similar characteristics to those with strict HbA1c targets. Although approximately 70% of patients received both strict HbA1c and SBP targeting, overall treatment goals remained unmet in all HbA1c target groups at the 6-month follow-up. SBP targets were not reached in the strict and medium groups, but were achieved in the loose treatment group. Specific predictors for choosing loose SBP or HbA1c treatment goals were identified, including SBP/HbA1c levels and various comorbidities.
Conclusions
Individualized glucose and BP targets were selected by treating physicians based on patient characteristics and overall comorbidity. While treatment goals were not consistently met using various antidiabetic and antihypertensive therapies, our analyses indicated that the strictly targeted patient populations maintained lower overall HbA1c and SBP levels at 6 months.