01.12.2010 | Original Article | Ausgabe 12/2010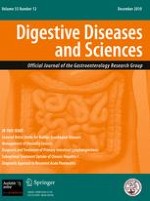 Acid Suppression by Proton Pump Inhibitors Enhances Aquaporin-4 and KCNQ1 Expression in Gastric Fundic Parietal Cells in Mouse
Zeitschrift:
Autoren:

Juntaro Matsuzaki, Hidekazu Suzuki, Yuriko Minegishi, Etsuko Sugai, Hitoshi Tsugawa, Masato Yasui, Toshifumi Hibi
Wichtige Hinweise
Electronic supplementary material
The online version of this article (doi:
10.​1007/​s10620-010-1167-8
) contains supplementary material, which is available to authorized users.
Abstract
Background
The widespread use of proton pump inhibitors (PPIs) is known to cause sporadic gastric fundic gland polyps (FGPs). Altered expression and localization of the water or ion transport proteins might contribute to the excess fluid secretion into the cystic lumen for the development of FGPs.
Aims
We investigated the alteration of the murine gastric fundic mucosa after PPI treatment, and examined the expression of water channel aquaporin-4 (AQP4) and potassium channel KCNQ1, which are expressed only in the parietal cells in the gastric mucosa.
Methods
Male 5-week-old C57BL/6J mice were administered lansoprazole (LPZ) by subcutaneous injection for 8 weeks. The expression of AQP4 and KCNQ1 were investigated by Western blotting, quantitative RT-PCR, and immunohistochemistry. The expression of mucin-6 (Muc6), pepsinogen, and sonic hedgehog (Shh) were also investigated as mucosal cell lineage markers.
Results
Gastric mucosal hyperplasia with multiple cystic dilatations, exhibiting similar histological findings to the FGPs, was observed in the LPZ-treated mice. An increase in the number of AQP4-positive parietal cells and KCNQ1-positive parietal cells was observed. The extension of the distribution of AQP4-positive cells toward the surface of the fundic glands was also observed. The expression levels of AQP4 mRNA and protein were significantly enhanced. The expression of KCNQ1 mRNA was correlated with that of AQP4 mRNA in the LPZ-treated mice. Mucous neck-to-zymogenic cell lineage differentiation was delayed in association with decreased expression of Shh in the LPZ-treated mice.
Conclusions
PPI administration increased the number of parietal cells with enhanced expression of AQP4 and KCNQ1.