01.12.2018 | Research article | Ausgabe 1/2018 Open Access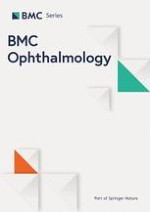 Acquired distance esotropia associated with myopia in the young adult
Zeitschrift:
Autoren:

Ke Zheng, Tian Han, Yinan Han, Xiaomei Qu
Abstract
Background
To describe the clinical features of acquired progressive esotropia, with a larger angle at distance than near, associated with myopia in young adults.
Methods
Eleven adults (ages ranging from 18 to 37 years) with constant or intermittent horizontal diplopia at distance were recruited. Subjective refraction, ocular alignment, fusional amplitudes and horizontal eye movements were measured at distance and near.
Results
Distance esotropia varied from 20 to 60 prism diopters (PD). At near, the esotropic deviation ranged from 10 to 30 PD. Spherical equivalents (SE) of the right eye ranged from − 3.50 to − 8.25 diopters (D) while SE of the left eye ranged from − 0.375 to − 7.25 D. Ten of the eleven patients presented with constant diplopia at distance. Horizontal ductions and versions were full in all patients. The pathological report of seven patients who underwent lateral rectus resection showed that there were no muscle fibres, but rather, collagenous fibres.
Conclusions
This unusual sub-type of strabismus is a benign entity with slow progression that can occur in young adults with myopia. The cause of this condition is still unknown, and may be related to long periods of near work.