26.05.2020 | Ausgabe 4/2020 Open Access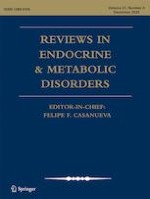 Acromegaly, inflammation and cardiovascular disease: a review
Zeitschrift:
Autoren:

Thalijn L. C. Wolters, Mihai G. Netea, Niels P. Riksen, Adrianus R. M. M. Hermus, Romana T. Netea-Maier
Wichtige Hinweise
Publisher's note
Springer Nature remains neutral with regard to jurisdictional claims in published maps and institutional affiliations.
2

The relation between GH/IGF-1, the endothelium and CVD
3

CVD risk factors in patients with acromegaly

Patients with acromegaly have multiple closely intertwined risk factors for CVD including hypertension, a modified body composition and an adverse metabolic profile characterized by dyslipidemia, DM and/or impaired glucose sensitivity and insulin resistance, and OSAS.
4

Inflammation in the pathogenesis of atherosclerosis and CVD

In recent years it has become apparent that CVD is strongly associated with low-grade systemic inflammation [

19

,

121

]. Low-grade vascular wall inflammation is an important player in the initiation and progression of atherosclerosis. Endothelial cell activation trigger immune cell trafficking into the vascular wall via expression of vascular cell adhesion molecules (CAMs)). These molecules attract platelets and monocytes, which migrate into the subendothelial layer and promote local inflammation. Once in the plaque, monocyte-derived macrophages become foam cells, which form a fatty streak in the arterial intimal layer and fuel local inflammation by the production of cytokines, such as interleukin (IL)-6, tumor necrosis factor (TNF)-α, and chemokines as IL-8 and Monocyte Chemoattractant Protein (MCP)-1 [

18

,

122

–

124

]. In reaction, VSMC are stimulated to proliferate and migrate into the intima, which thickens and bulges out into the arterial lumen, and may impair blood flow. VSMC synthesize collagen to form a fibrous layer that encloses the lipid core. Eventually the plaque consists of a fibrous cap, an underlying necrotic core, and many inflammatory cells. Activated macrophages produce matrix metalloproteinases (MMP) that contribute to destabilization of the plaque [

18

,

124

]. The more advanced the plaque gets, the more vulnerable it is to rupture. Plaque rupture or plaque erosion induces platelet attachment and thrombosis, which may acutely obstruct the vessel, or cause downstream embolization by plaque particles, with subsequent ischemia in adjacent tissues [

125

,

126

].

Despite the rising amount of knowledge on the relation between inflammation and CVD, the unresolving character of the low-grade inflammation that drives atherosclerosis remains poorly understood. In recent years, it became apparent that innate immune cells can develop long-term functional reprogramming characterized by hyperresponsiveness: trained immunity [

127

]. Short-term exposure to stimuli of both bacterial and non-bacterial origin can induce a long-term pro-inflammatory phenotype of monocyte-derived macrophages, both ex vivo [

128

,

129

] as in vivo [

130

]. Indeed, in patients with risk factors for atherosclerosis or with established atherosclerosis, circulating monocytes have a pro-inflammatory phenotype, characterized by an increased cytokine production capacity [

19

,

131

–

133

]. It is suggested that this concept may also apply to acromegaly [

118

,

134

–

137

], since GH and IGF-1 have repeatedly been reported to impact on the immune system [

20

,

138

,

139

]. Moreover, circulating immune cells express GH and IGF-1 receptors [

138

,

140

,

141

], and macrophages and lymphocytes can produce IGF-1 [

20

,

142

,

143

].
5

GH, IGF-1 and GH/IGF-1 disturbances as modulators of inflammation
5.1

Effects of GH, IGF-1 and GH/IGF-1 disturbances on ex vivo cytokine production
5.2

Circulating cytokines and acute phase proteins in acromegaly

Levels of circulating markers of inflammation are the net result of the production of these markers in all involved tissues, and their subsequent clearance.
6

Perspective on the role of inflammation in the pathogenesis of CVD in patients with acromegaly

Acromegaly treatment is associated with an amelioration of CVD risk and inflammatory status. Some pathologic features were (partially) reverted (e.g. abnormal AT mass, insulin resistance) whereas others were not. This is supported by the reported normalized mortality ratio and prevalence of apparent CAD in well-controlled acromegaly patients, but the persistence of CV comorbidities as hypertension, DM and systemic inflammation and thus the persistence of the increased CVD risk.

In order to further elucidate the relation between inflammation and, CVD in acromegaly, both comprehensive mechanistic as well as prospective research in large and homogeneous cohorts of patients with regard to metabolic features, comorbidities and treatment status, is needed.
7

Conclusions

To conclude, the effects of GH and especially IGF-1 on the immune system are versatile, and many factors impact on their cumulative effects on systemic inflammation and CVD. Inflammatory cell-mediated processes also impact on endothelial dysfunction, atherogenesis, (vascular) oxidative stress and metabolic homeostasis and vice versa. Although an independent effect of GH/IGF-1 excess on the vasculature has not been proven, the currently available evidence strongly suggests that both controlled as uncontrolled acromegaly is associated with microvascular damage and endothelial dysfunction, and also pro-inflammatory changes. The mechanisms underlying development of CVD in acromegaly likely involve metabolic disturbances, oxidative stress, and endothelial inflammation and dysfunction. Not surprisingly, these processes are all strongly associated with systemic inflammation and respond to GH/IGF-1 normalizing treatment. This implies that GH/IGF-1, inflammation and CVD are closely, but complexly, intertwined in patients with acromegaly.
Compliance with ethical standards
Disclosures
The authors declare that there is no conflict of interest that could be perceived as prejudicing the impartiality of the research reported.
Open Access
This article is licensed under a Creative Commons Attribution 4.0 International License, which permits use, sharing, adaptation, distribution and reproduction in any medium or format, as long as you give appropriate credit to the original author(s) and the source, provide a link to the Creative Commons licence, and indicate if changes were made. The images or other third party material in this article are included in the article's Creative Commons licence, unless indicated otherwise in a credit line to the material. If material is not included in the article's Creative Commons licence and your intended use is not permitted by statutory regulation or exceeds the permitted use, you will need to obtain permission directly from the copyright holder. To view a copy of this licence, visit
http://​creativecommons.​org/​licenses/​by/​4.​0/​
.
Publisher's note
Springer Nature remains neutral with regard to jurisdictional claims in published maps and institutional affiliations.