01.12.2018 | Case report | Ausgabe 1/2018 Open Access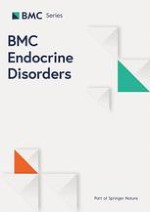 ACTH-independent Cushing's syndrome with bilateral cortisol-secreting adrenal adenomas: a case report and review of literatures
Zeitschrift:
Autoren:

Jia Wei, Sheyu Li, Qilin Liu, Yuchun Zhu, Nianwei Wu, Ying Tang, Qianrui Li, Kaiyun Ren, Qianying Zhang, Yerong Yu, Zhenmei An, Jing Chen, Jianwei Li
Abstract
Background
Adrenocorticotropic hormone (ACTH)-independent Cushing's syndrome (CS) with bilateral cortisol-secreting adenomas has been rarely reported in the literatures. Precise recognition and management of this disorder constitute a challenge to clinicians due to the difficulty of exact location of the functional lesions.
Case presentation
We herein report a new case of a Chinese female patient with a complaint of exertional dyspnea for over 10 years. ACTH-independent CS was diagnosed based on undetectable ACTH and unsuppressed cortisol levels by dexamethasone. Computed tomography (CT) scan indicated bilateral adrenal masses, and adrenal venous sampling (AVS) adjusted by plasma aldosterone revealed hypersecretion of cortisol from both adrenal glands. Bilateral cortisol-secreting adrenal adenomas were suspected and confirmed by the postoperative pathology in subsequent two-step bilateral laparoscopic adrenalectomy. The symptoms and signs of CS relieved after surgery with continuous glucocorticoid replacement.
Conclusions
AVS adjusted by plasma aldosterone could be a useful technique in diagnosing ACTH-independent CS with bilateral adrenal adenomas prior to surgery. And the aldosterone ratio could be used to confirm the success of adrenal vein cannulation in this situation.