01.12.2019 | Review | Ausgabe 1/2019 Open Access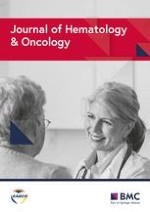 Activating cGAS-STING pathway for the optimal effect of cancer immunotherapy
Zeitschrift:
Autoren:

Anping Li, Ming Yi, Shuang Qin, Yongping Song, Qian Chu, Kongming Wu
Wichtige Hinweise
Anping Li and Ming Yi are equal contributors.
Abbreviations
ADCC
Antibody dependent cell-mediated cytotoxicity
CAR-T
Chimeric antigen receptor T cell
CTLA-4
Cytotoxic T-lymphocyte-associated protein 4
CXCL9
Chemokine (C-X-C motif) ligand 9
DMXAA
Dimethyloxoxanthenyl acetic acid
EC50
Concentration for half maximal effect
GM-CSF
Granulocyte-macrophage colony-stimulating factor
HSV-1
Herpes simplex virus type 1
ICI
Immune checkpoint inhibitor
IDO
Indoleamine 2,3-dioxygenase
IRF3
Interferon regulatory transcription factor 3
NF-κB
Nuclear factor kappa-light-chain-enhancer of activated B cell
PD-L1
Programmed death-ligand 1
PRR
Pattern recognition receptor
scFv
Single-chain variable fragment
STING
Stimulator of interferon genes
TDLN
Tumor-draining lymph node
Introduction
Accumulating mutations in cancer cells not only render malignant transformation, but also activate host's anti-tumor immune response. However, under selective pressure, cancer cells with high immunogenicity are eliminated while ones with low immunogenicity survive. This process is called immunoediting [
1
]. Dynamically evolving antigen spectrum endows cancer with the capability of immune escape [
2
]. Apart from immunoediting, other factors such as immunosuppressive tumor microenvironment contribute to immune evasion as well [
3
]. Cancer immunotherapy is developed to counteract multiple inhibitory immune factors, from impaired cancer antigen presentation to unleashed cancer-killing activity [
4
–
6
]. During past few decades, multiple cancer immunotherapies have been successfully applied in clinical practice including oncolytic virus, chimeric antigen receptor T cell (CAR-T), bispecific antibody, and immune checkpoint inhibitor (ICI) [
7
–
10
]. Most immunotherapies are aiming to enhance adaptive anti-tumor immunity.
Actually, adaptive anti-tumor immunity is highly dependent on robust innate immunity [
11
]. As the first immune barrier of host, innate immunity could sense non-self-material by various pattern recognition receptors (PRRs) such as cytosolic DNA sensor [
12
]. Malignant transformation usually accompanies formation of cytosolic chromatin fragments and micronuclei, increasing the probability of DNA leakage in cancer cell or cancer cell-derived DNA uptake by dendritic cell (DC) [
13
]. Stimulated by cytosolic DNA, active cyclic GMP-AMP synthase-stimulator of interferon genes (cGAS-STING) pathway stimulates the expression of type I interferon (IFN) in cancer cells or DCs, initiating innate anti-cancer immunity [
13
–
16
]. Actually, type I IFN is a versatile molecule related with cell senescence and inflammation response [
17
]. It has been verified that type I IFN signal is essential to the cross-priming of the tumor-specific T cells [
18
].
Since STING molecule was found in 2008 [
19
,
20
], substantial efforts have been expended to find an appropriate cGAS-STING agonist for anti-cancer agent development. Actually, cGAS-STING agonists not only induce cancer cell senescence but enhance adaptive anti-cancer immunity which would synergize with immunotherapies [
21
–
24
]. In this review, we highlight the latest understanding and the advances of cGAS-STING-targeting strategies, especially in combination with immunotherapies such as cancer vaccine, ICI, oncolytic virus, and chimeric antigen receptor T cell (CAR-T) therapy.
The role of cGAS-STING pathway in anti-cancer immunity
The advances of STING agonist
Dimethyloxoxanthenyl acetic acid
A growing body of evidence demonstrated the important role of cGAS-STING pathway in bridging anti-tumor innate immunity and adaptive immunity [
17
]. Therefore, the pharmacological activation of cGAS-STING pathway would be a potential cancer treatment strategy (Table
1
). Dimethyloxoxanthenyl acetic acid (DMXAA) is the first agent targeting cGAS-STING pathway [
67
]. Actually, DMXAA was originally designed as an anti-angiogenesis agent which was latterly found to directly interact with STING [
68
]. DMXAA showed potent tumor-killing effect in multiple mice models but it failed in phase III clinical trial [
68
]. Conlon et al. found that the interaction between DMXAA and STING was restricted in mice. In human, this interaction was too weak to induce downstream type I IFN [
68
].
Table 1
The anti-cancer effect of cGAS-STING agonist
| cGAS-STING agonist | Cancer type | Agent delivery | Ref. |
| --- | --- | --- | --- |
| 3′3′-cGAMP | Mouse B cell malignancies | Intraperitoneal injection | |
| 2′3′-cGAMP | Mouse lymphoma | Intratumoral injection | |
| ML RR-S2 CDG | Mouse melanoma | Intratumoral injection | |
| ML RR-S2 cGAMP | Mouse melanoma | Intratumoral injection | |
| ML RR-S2 CDA (ADU-S100) | Mouse melanoma, colon cancer, mammary carcinoma | Intratumoral injection | |
| DMXAA† | Mouse lung cancer, mesothelioma, human lung cancer, and prostate cancer | Intravenous injection | |
| Cyclic di-GMP | Mouse melanoma, prostate cancer, glioma, breast cancer | Intratumoral injection | |
| DiABZI | Mouse colon tumor | Intravenous injection | |
Cyclic dinucleotides
Motivated by effective anti-tumor effect of DMXAA in mouse model, researchers have always been trying to find an appropriate human cGAS-STING agonist. It has been verified that both host- and bacteria-derived CDN could activate cGAS-STING pathway in innate immunity. Apart from natural CDN, synthetic CDN was developed for more robust immune response [
26
,
28
]. Artificially synthetic CDN such as mixed linkage dithio CDN (ML RR-S2 CDN) is resistant to snake venom phosphodiesterase and possesses higher binding affinity to all common human STING alleles [
69
]. ML RR-S2 CDA, also known as ADU-S100 developed by Aduro Biotech, has showed its anti-cancer effect in multiple mouse models [
69
,
70
]. The in vitro experiments demonstrated that ADU-S100 could promote human peripheral blood mononuclear cell (PBMC) to generate pro-inflammation cytokines such as IFN-β [
69
]. In vivo experiment, Sivick et al. found that the anti-tumor effect of CDN changed along with intratumoral injection dose [
60
]. In mouse models, high-dose intratumoral injection of ADU-S100 (500 μg) could eliminate tumor which might largely depend on non-adaptive immunity fashions such as innate or cytotoxic mechanisms [
60
]. On the contrary, low-dose intratumoral ADU-S100 mainly activated adaptive anti-tumor immunity [
60
]. To further explore the efficacy of ADU-S100, two phase I clinical trials are ongoing.
CDNs possess the capability to induce anti-tumor inflammation in theory, but the actual treatment effect of CDNs without appropriate carrier is limited [
71
]. Due to the characteristics of electronegativity and high water solubility, it is hard for CDNs to cross cellular membrane and activate cytoplasmic STING [
71
]. Therefore, developing drug carrier with high bioavailability would be meaningful for enhancing therapeutic effect of CDNs [
71
]. Besides, another challenge for CDN application is drug delivery. Traditional CDN delivery by intratumoral injection has two main problems. Firstly, due to the heterogeneity among different tumor lesions even in the same individual, intratumoral injection-induced anti-tumor immunity could not cover all tumor antigen spectrum [
60
]. Moreover, for some inaccessible tumors, intratumoral delivery of STING agonist is an unfeasible treatment strategy [
72
]. Therefore, a novel delivery system or STING agonist which could be systemically delivered would be more valuable for clinical application.
Dimerized amidobenzimidazole
In 2018, Ramanjulu et al. reported a small molecular STING agonist with systemic anti-cancer effect [
72
]. This novel STING agonist was designed based on amidobenzimidazole (ABZI) which had modest binding affinity to STING subunit [
72
]. However, the binding affinity was significantly enhanced after dimerization by 4-carbon butane linker (di-ABZI) [
72
]. Human PBMC samples were collected to analyze the dose-dependent activation of STING as evaluated by IFN-β level [
72
]. The results showed that concentration for half maximal effect (EC50) of di-ABZI was markedly lower than cGAMP [
72
]. Mice bearing subcutaneous CT-26 tumor were used to assess the anti-cancer effect of di-ABZI [
72
]. Mice undergoing di-ABZI treatment had a great advantage in tumor control and survival data over vehicle group [
72
]. Notably, 80% of di-ABZI-treated mice kept tumor free until the end of the study [
72
].
The application of STING agonist in immunotherapy
Conclusion
Activated cGAS-STING pathway and its downstream signals boost the whole cancer-immunity cycle by enhancing cross-presentation and immune-killing activity. Therefore, cGAS-STING agonist is an ideal sensitizer for cancer immunotherapy and decreases the risk of drug resistance. On the one hand, STING agonist alters immune microenvironment from immunosuppressive type to immunosupportive type. On the other hand, as an identified adjuvant, STING agonist enhances the effect of treatment-induced in situ cancer vaccine and provides systemic memory anti-cancer effect. A growing body of evidence indicates that a cocktail of cGAS-STING agonist together with immunotherapy could effectively eradicate tumor mass and induce durable anti-tumor immune response. We believe manipulating cGAS-STING pathway might be a promising synergistic strategy with cancer immunotherapy.
Acknowledgements
Not applicable.
Funding
This work was supported by the National Natural Science Foundation of China (No. 81874120, 81572608, 81672984), Wuhan Science and Technology Bureau (No. 2017060201010170).
Availability of data and materials
Data sharing not applicable to this article as no datasets were generated or analyzed during the current study.
Ethics approval and consent to participate
Not applicable.
Consent for publication
Not applicable.
Competing interests
The authors declare that they have no competing interests.
Publisher's Note
Springer Nature remains neutral with regard to jurisdictional claims in published maps and institutional affiliations.
Open Access
This article is distributed under the terms of the Creative Commons Attribution 4.0 International License (
http://​creativecommons.​org/​licenses/​by/​4.​0/​
), which permits unrestricted use, distribution, and reproduction in any medium, provided you give appropriate credit to the original author(s) and the source, provide a link to the Creative Commons license, and indicate if changes were made. The Creative Commons Public Domain Dedication waiver (
http://​creativecommons.​org/​publicdomain/​zero/​1.​0/​
) applies to the data made available in this article, unless otherwise stated.