01.12.2018 | Research | Ausgabe 1/2018 Open Access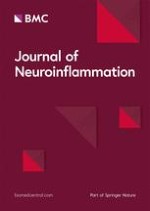 Activation of dopamine D1 receptor decreased NLRP3-mediated inflammation in intracerebral hemorrhage mice
Zeitschrift:
Autoren:

Tian Wang, Derek Nowrangi, Lingyan Yu, Tai Lu, Jiping Tang, Bing Han, Yuxin Ding, Fenghua Fu, John H. Zhang
Wichtige Hinweise
Electronic supplementary material
Abstract
Background
Inflammasomes are involved in diverse inflammatory diseases. Previous study reported that the neurotransmitter dopamine inhibited NLRP3 inflammasome activation via dopamine D1 receptor (DRD1). The present study aims to investigate the role of DRD1 on neuroinflammation in intracerebral hemorrhage (ICH) mice and the potential mechanism mediated by NLRP3 inhibition.
Methods
One hundred and six male CD-1 mice were subjected to intrastriatal injection of bacterial collagenase or PBS. A68930 (DRD1 specific agonist) was administered by subcutaneous injection at 1 h after collagenase injection. Behavioral deficits and brain water content were assayed. The expression of Iba 1 and MPO levels were measured by immunofluorescence staining. The expressions of proteins in the DRD1/interferon-beta (IFN-beta)/NLRP3 signaling pathway were evaluated by western blotting.
Results
Activation of the DRD1 by A68930 decreased brain edema and improved behavior at 24 and 72 h of ICH. A68930 inhibited partly the activation of microglia and the neutrophil infiltration after 24 h of ICH. IFN-beta, p-STAT1 increased while NLRP3, caspase 1, and IL-1beta decreased after A68930 administration in ICH mice. DRD1 antagonist and IFN-beta siRNA reversed effects of A68930 on neurological outcome and brain edema. DRD1 antagonist and IFN-beta siRNA blocked not only A68930-mediated increases of IFN-beta, p-STAT1 but also A68930-mediated decreases of NLRP3, caspase 1, and IL-1beta.
Conclusions
DRD1 activation by A68930 improves neurological outcome through inhibition of NLRP3-mediated inflammation in ICH mice.