01.12.2012 | Research | Ausgabe 1/2012 Open Access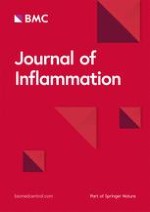 Activation of human neutrophils by
Esenbeckia leiocarpa

: comparison between the crude hydroalcoholic extract (CHE) and an alkaloid (Alk) fraction
Zeitschrift:
Autoren:

Rafael de Liz, Heros Horst, Moacir Geraldo Pizzolatti, Tânia Silvia Fröde, Denis Girard
Wichtige Hinweise
Electronic supplementary material
The online version of this article (doi:
10.​1186/​1476-9255-9-19
) contains supplementary material, which is available to authorized users.
Competing interest
The authors have no competing interest.
Authors' contributions
RL carried out all experiments and participated in the data analysis and writing of the manuscript. HH and MGP were responsible for the plant extract preparations. TSF and DG, conceived of the study, participated in the design and coordination of the manuscript. All authors read and approved the final manuscript.
Abstract
Esenbeckia leiocarpa
, a wide spread native Brazilian tree, was reported recently to possess anti-inflammatory effects in vivo, but the mechanisms involved are still not fully understood and its role in neutrophils is poorly documented. The aim of this study was to compare the effects of a crude hydroalcoholic extract (CHE) and an alkaloid-enriched (Alk) fraction obtained from
Esenbeckia leiocarpa
bark on human neutrophils by investigating the effect of each fraction alone or in a mixture with classical neutrophil agonists. CHE inhibited intracellular reactive oxygen species (ROS) production but increased the extracellular superoxide (O
2
-
) production, while Alk increased the former and also slightly increased O
2
-
production. We found that CHE and Alk also induced phagocytosis accompanied by Syk activation, adhesion and degranulation. However, neither CHE nor Alk potentiated the effect of classical neutrophil agonists, namely the cytokines GM-CSF for phagocytosis and TNF-α for adhesion or N-formyl-methionyl-leucyl-phenylalanine (fMLP) for degranulation. In addition, based on catalase treatment, CHE and Alk induced neutrophil apoptosis by a hydrogen peroxide (H
2
O
2
)-dependent mechanism. Since the elimination of apoptotic neutrophils by professional phagocytes is important for the resolution of inflammation, the ability of CHE and Alk to induce neutrophil apoptosis has to be considered as one possible mechanism associated with the anti-inflammatory activity of these fractions previously reported in vivo.