01.12.2018 | Research article | Ausgabe 1/2018 Open Access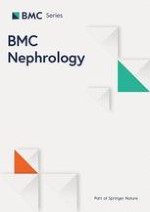 Activation of RAAS in a rat model of liver cirrhosis: no effect of losartan on renal sodium excretion
Zeitschrift:
Autoren:

A. D. Fialla, O. B. Schaffalitzky de Muckadell, P. Bie, H. C. Thiesson
Abstract
Background
Liver cirrhosis is characterized by avid sodium retention where the activation of the renin angiotensin aldosterone system (RAAS) is considered to be the hallmark of the sodium retaining mechanisms. The direct effect of angiotensin II (ANGII) on the AT-1 receptor in the proximal tubules is partly responsible for the sodium retention. The aim was to estimate the natriuretic and neurohumoral effects of an ANGII receptor antagonist (losartan) in the late phase of the disease in a rat model of liver cirrhosis.
Methods
Bile duct ligated (BDL) and sham operated rats received 2 weeks of treatment with losartan 4 mg/kg/day or placebo, given by gastric gavage 5 weeks after surgery. Daily sodium and potassium intakes and renal excretions were measured.
Results
The renal sodium excretion decreased in the BDL animals and this was not affected by losartan treatment. At baseline the plasma renin concentration (PRC) was similar in sham and BDL animals, but increased urinary excretion of ANGII and an increase P-Aldosterone was observed in the placebo treated BDL animals. The PRC was more than 150 times higher in the losartan treated BDL animals (
p
< 0.001) which indicated hemodynamic impairment.
Conclusions
Losartan 4 mg/kg/day did not increase renal sodium excretion in this model of liver cirrhosis, although the urinary ANGII excretion was increased. The BDL animals tolerated Losartan poorly, and the treatment induced a 150 times higher PRC.