01.12.2018 | Rapid communication | Ausgabe 1/2018 Open Access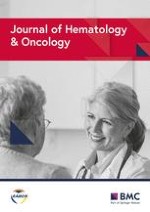 Activity of pembrolizumab in relapsed/refractory NK/T-cell lymphoma
Zeitschrift:
Autoren:

Xin Li, Yasong Cheng, Mingzhi Zhang, Jiaqin Yan, Ling Li, Xiaorui Fu, Xudong Zhang, Yu Chang, Zhenchang Sun, Hui Yu, Lei Zhang, Xinhua Wang, Jingjing Wu, Zhaoming Li, Feifei Nan, Li Tian, Wencai Li, Ken H. Young
Abbreviations
irAEs
Immune-related adverse events
LMP1
Latent membrane protein 1
MAPK
Mitogen-activated protein kinase
PD-L1
Programmed death ligand 1
PET/CT
Positron emission tomography/computed tomography
Background
Immunotherapeutics, specifically immune checkpoint inhibitors of the PD-1 (programmed death 1)/PD-L1 (programmed death ligand 1) pathway, is an extremely active area of laboratory and clinical investigation [
1
] and has demonstrated utility as targets in advanced cancer, with evidence of both an overall survival benefit and durable responses [
2
,
3
]. Many clinical trials of PD-1 blockade treatment in solid tumors and hematological tumors (including malignant lymphoma) have been conducted [
4
–
6
]. Pembrolizumab and Nivolumab have been approved for use in multiple types of cancer, including melanoma, non-small cell lung cancer, renal cell carcinoma and squamous cell carcinoma, which has led to unprecedented clinical progress [
7
–
9
].
The administration of immune checkpoint inhibitors in hematological tumors, especially classic Hodgkin lymphoma, has developed fast these years [
10
]. Classical HL proves to be a promising target for anti-PD-1 therapy because PD-L1 is overexpressed by Reed-Sternberg cells [
11
] and PD-1 blockade Nivolumab has been tested in many clinical trials and obtained favorable results [
12
,
13
]. It was also evaluated in a cohort of patients with relapsed or refractory lymphoid malignancies, including 29 with B-NHL, 2 with PMBCL, and 23 with T-NHL. Four (36%) patients with DLBCL, four (40%) with FL, two (15%) with mycosis fungoides, and two (40%) with peripheral T cell lymphoma responded to the therapy, among whom one patient (9%) with DBLCL and one (10%) with FL achieved CR [
14
,
15
]. In general, non-Hodgkin lymphomas (NHLs) do not share cHL's vulnerability to PD-1 inhibitors, and the majority of NHLs appear to be minimally sensitive to PD-1 blockade [
1
].
NK/T cell lymphoma, which has a distinctive morphology, immunophenotype, and biological behavior, relapses frequently and progresses rapidly. However, there are few investigations into relapsed/refractory NK/T cell lymphoma and no standard treatments yet available. Only sporadic studies about PD-1/PD-L1 blockade treating NK/T cell lymphoma have been reported [
16
].
In our retrospective study, a total of seven patients with refractory/relapsed NKTCL were treated with pembrolizumab at our lymphoma diagnosis and treatment center. Herein, we report our findings of PD-1 blockade with pembrolizumab in these highly refractory NKTCL patients.
Patients and methods
Patients and treatment
A total of seven patients with refractory/relapsed NKTCL were treated with the anti-PD1 antibody pembrolizumab. All patients had received at least two prior chemotherapy regimens. Pembrolizumab at 100 mg was administered every 3 weeks in all patients. All patients were fully informed about the nature and possible toxicities of the treatment protocol and gave informed consent.
Response assessments and monitoring
A computed tomography (CT) scan with contrast and/or fluorodeoxyglucose (FDG) positron emission tomography/computed tomography (PET/CT) were used to assess treatment responses according to the Revised Response Criteria for Malignant Lymphoma. Circulating EBV (Epstein Barr virus) DNA and lactate dehydrogenase (LDH) levels were measured. Adverse events (AEs) were graded according to the National Cancer Institute Common Terminology Criteria for Adverse Events, version 4.0.
Results
Discussion
Conclusions
This retrospective study of seven patients with refractory NKTCL shows that pembrolizumab administered at doses of 100 mg every 3 weeks were effective. The relationship between PD-L1 expression and response to PD-1 blockade is inconclusive in this analysis because of small sample size. Further studies are warranted to evaluate and confirm the activity of PD-1 blockade in patients with NKTCL.
Acknowledgements
We are indebted to the Lymphoma Diagnosis and Treatment Cancer Center of Henan Province for providing technical assistance. We also thank all the patients for allowing us to analyze their data.
Funding
This study was supported by the National Natural Science Foundation of China (No. 81172118).
Availability of data and materials
The material supporting the conclusion of this study has been included within the article.
Ethics approval and consent to participate
The study was approved by the Ethics Committee of Zhengzhou University First Affiliated Hospital. All patients provided informed consent.
Consent for publication
Written informed consent for publication was obtained.
Competing interests
The authors declare no competing interests.
Publisher's Note
Springer Nature remains neutral with regard to jurisdictional claims in published maps and institutional affiliations.
Open Access
This article is distributed under the terms of the Creative Commons Attribution 4.0 International License (
http://​creativecommons.​org/​licenses/​by/​4.​0/​
), which permits unrestricted use, distribution, and reproduction in any medium, provided you give appropriate credit to the original author(s) and the source, provide a link to the Creative Commons license, and indicate if changes were made. The Creative Commons Public Domain Dedication waiver (
http://​creativecommons.​org/​publicdomain/​zero/​1.​0/​
) applies to the data made available in this article, unless otherwise stated.