01.12.2017 | Rapid communication | Ausgabe 1/2017 Open Access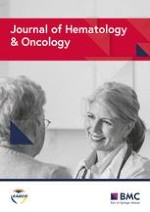 Activity of trabectedin and the PARP inhibitor rucaparib in soft-tissue sarcomas
Zeitschrift:
Autoren:

Audrey Laroche, Vanessa Chaire, François Le Loarer, Marie-Paule Algéo, Christophe Rey, Kevin Tran, Carlo Lucchesi, Antoine Italiano
Abstract
Background
Trabectedin has recently been approved in the USA and in Europe for advanced soft-tissue sarcoma patients who have been treated with anthracycline-based chemotherapy without success. The mechanism of action of trabectedin depends on the status of both the nucleotide excision repair (NER) and homologous recombination (HR) DNA repair pathways. Trabectedin results in DNA double-strand breaks. We hypothesized that PARP-1 inhibition is able to perpetuate trabectedin-induced DNA damage.
Methods
We explored the effects of combining a PARP inhibitor (rucaparib) and trabectedin in a large panel of soft-tissue sarcoma (STS) cell lines and in a mouse model of dedifferentiated liposarcoma.
Results
The combination of rucaparib and trabectedin in vitro was synergistic, inhibited cell proliferation, induced apoptosis, and accumulated in the G2/M phase of the cell cycle with higher efficacy than either single agent alone. The combination also resulted in enhanced γH2AX intranuclear accumulation as a result of DNA damage induction. In vivo, the combination of trabectedin and rucaparib significantly enhanced progression-free survival with an increased percentage of tumor necrosis.
Conclusion
The combination of PARP inhibitor and trabectedin is beneficial in pre-clinical models of soft-tissue sarcoma and deserves further exploration in the clinical setting.