08.04.2019 | Original Article | Ausgabe 7/2019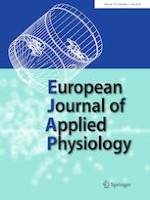 Acute cardiopulmonary responses to strength training, high-intensity interval training and moderate-intensity continuous training
Zeitschrift:
Autoren:

Roberto Falz, Sven Fikenzer, Roman Holzer, Ulrich Laufs, Kati Fikenzer, Martin Busse
Wichtige Hinweise
Communicated by Keith Phillip George.
Roberto Falz and Sven Fikenzer contributed equally to this work.
Publisher's Note
Springer Nature remains neutral with regard to jurisdictional claims in published maps and institutional affiliations.
Abstract
Purpose
Long-term effects of exercise training are well studied. Acute hemodynamic responses to various training modalities, in particularly strength training (ST), have only been described in a few studies. This study examines the acute responses to ST, high-intensity interval training (HIIT) and moderate-intensity continuous training (MCT).
Methods
Twelve young male subjects (age 23.4 ± 2.6 years; BMI 23.7 ± 1.5 kg/m2) performed an incremental exertion test and were randomized into HIIT (4 × 4-min intervals), MCT (continuous cycling) and ST (five body-weight exercises) which were matched for training duration. The cardiopulmonary (impedance cardiography, ergo-spirometry) and metabolic response were monitored.
Results
Similar peak blood lactate responses were observed after HIIT and ST (8.5 ± 2.6 and 8.1 ± 1.2 mmol/l, respectively;
p
 = 0.83). The training impact time was 90.7 ± 8.5% for HIIT and 68.2 ± 8.5% for MCT (
p
 < 0.0001). The mean cardiac output was significantly higher for HIIT compared to that of MCT and ST (23.2 ± 4.1 vs. 20.9 ± 2.9 vs. 12.9 ± 2.9 l/min, respectively;
p
 < 0.0001).
V
O
2max
was twofold higher during HIIT compared to that observed during ST (2529 ± 310 vs. 1290 ± 156 ml;
p
 = 0.0004). Among the components of ST, squats compared with push-ups resulted in different heart rate (111 ± 13.5 vs. 125 ± 15.7 bpm, respectively;
p
 < 0.05) and stroke volume (125 ± 23.3 vs. 104 ± 19.8 ml, respectively;
p
 < 0.05).
Conclusions
Despite an equal training duration and a similar acute metabolic response, large differences with regard to the training impact time and the cardiopulmonary response give evident. HIIT and MCT, but less ST, induced a sufficient cardiopulmonary response, which is important for the preventive effects of training; however, large differences in intensity were apparent for ST.