01.12.2012 | Case report | Ausgabe 1/2012 Open Access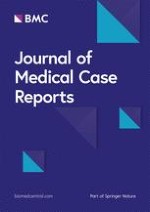 Acute fulminant pseudomembranous colitis which developed after ileostomy closure and required emergent total colectomy: a case report
Zeitschrift:
Autoren:

Iku Abe, Yutaka J Kawamura, Junichi Sasaki, Fumio Konishi
Wichtige Hinweise
Electronic supplementary material
The online version of this article (doi:
10.​1186/​1752-1947-6-130
) contains supplementary material, which is available to authorized users.
Competing interests
The authors declare that they have no competing interests.
Authors' contributions
IA was the main contributor to the preparation of the rough draft, and to the analysis and interpretation of the data under the supervision of YJK. JS contributed to the acquisition of data. FK critically revised the manuscript. All authors read and approved the final manuscript.
Introduction
Pseudomembranous colitis is caused by an infection with the bacterium
Clostridium difficile
(CDI) [
1
]. It is well known that in some patients with CDI, the ailment lapses into a fulminant state. For these patients, the initial treatment of choice is nonsurgical; and then, if such treatment proves to be ineffective, a surgical consult is considered [
2
]. We present a case of fatal fulminant pseudomembranous colitis showing extremely rapid progress after a minor surgical procedure. To the best of our knowledge, this case is the first reported case of fulminant pseudomembranous colitis after ileostomy closure in the English literature. We emphasize the importance of more prompt decision making and intervention than those described in the conventional treatment algorithm for CDI.
Case presentation
A 69-year-old Japanese man was admitted to our hospital for elective ileostomy closure. Ten months earlier, after chemoradiation therapy, he had undergone a low anterior resection and creation of a diverting ileostomy for rectal carcinoma, which was complicated with postoperative leakage. Histopathological study revealed stage III rectal carcinoma (T3N1M0). He had a past medical history of hypertension, cerebral hemorrhage and gastric ulcer and was taking a proton-pump inhibitor.
On the day before the elective surgery, he received oral kanamycin and metronidazole as a chemical preparation. Additionally, immediately before the surgery, one dose of parenteral cefmetazole was given. Ileostomy closure was completed in 31 minutes without any intraoperative complications.
His postoperative course was uneventful until the third postoperative day, when his body temperature rose to 37.8°C. His bowel movement became frequent at 15 times a day. However, because he had no other signs or symptoms suggestive of infection, and because frequent bowel movement is not uncommon after low anterior resections, especially after those complicated with postoperative leakage, careful observation was continued without further examination or additional treatment.
On the fourth postoperative day, in addition to the aforementioned symptoms, he presented with epigastric and left lower abdominal pain. A computed tomography (CT) scan (Figure 
1
) revealed that subcutaneous fluid had collected adjacent to the surgical wound. CT also demonstrated a slightly distended colon without wall thickening. We immediately opened the surgical wound and drained the fluid, which was sanguineous. After the drainage, his body temperature returned to within the normal range (36.7°C). That night, at 10:30 p.m., his blood pressure fell to 77/59mmHg and intravenous infusion was started.
×
Nevertheless, in the early morning of the fifth postoperative day, his blood pressure continued to drop, thus requiring vasopressor treatment to maintain his blood pressure. Again, a CT was done, which indicated severe colonic dilation (Figure 
2
). Laboratory data were normal except for mild liver dysfunction (aspartate transaminase, 68mU/mL; alanine transaminase, 45mU/mL) and leukocytosis (9,460 cells/μL). Even though CT demonstrated severe dilatation of the colon, the thickening of the colonic wall that is the typical finding associated with fulminant pseudomembranous colitis was not evident. Emergent colonoscopy up to the transverse colon revealed pseudomembranes associated with severe inflammation (Figure 
3
). Pseudomembranous colitis was thus diagnosed, and oral vancomycin was administered. Until this time, no antibiotics had been given postoperatively. In our institute, the enzyme-linked immunosorbent assay (ELISA) for
C. difficile
toxin is not available on weekends (the fifth postoperative days was a Saturday).
×
×
The condition of our patient rapidly deteriorated so he was transferred to the intensive care unit at 10:30 a.m. After resuscitation, which included tracheal intubation and massive intravenous infusion along with multiple vasopressors, an emergent operation was done. The time interval between the drop of blood pressure and emergency surgery was 18 hours.
During the laparotomy, a small amount of bloody ascites was observed and the large intestine was severely dilated, part of which was necrotic. The serosa of the small intestine was slightly inflamed but there was no sign of ischemia. Total colectomy with creation of an end ileostomy was then performed, after which our patient was returned to the intensive care unit. However, he did not recover from the shock and died 26 hours after the surgery.
A histopathological examination (Figures 
4
and
5
) revealed inflamed mucosa from the cecum to the rectum which was covered with a necrotic exudate, indicating pseudomembranous colitis. A postmortem autopsy was not carried out, because consent could not be obtained from the family.
×
×
Discussion
The clinical course of this patient was so rapid that cardiopulmonary function collapsed before the standard assessment period had barely begun. Our patient deteriorated into shock within a few hours of the start of medical treatment, which was initiated immediately after the diagnosis of pseudomembranous colitis by colonoscopy. Because of the possibility of the extremely rapid progression of this disease, as we experienced in this case, and the much higher mortality risk associated with surgery in patients with shock than without it, we propose that fast-track care, or an alternative to the conventional treatment algorithm, is desperately needed.
Conclusions
We presented a case with fatal fulminant pseudomembranous colitis. The clinical course rapidly progressed beyond the scope of the conventional management algorithm. It is important to recognize that, although rare, there is a type of extremely aggressive pseudomembranous colitis in which the waiting period for medical treatment might be lethal and, therefore, immediate surgery should be performed. We believe that colonoscopy and CT are helpful to decide the necessity of emergent surgical treatment without delay.
Consent
Written informed consent was obtained from the patient's family for publication of this case report and any accompanying images. A copy of the written consent is available for review by the Editor-in-Chief of this journal.
Acknowledgments
Authors thank to Dr. Larry Frye for his assistance in preparing this manuscript.
This article is published under license to BioMed Central Ltd. This is an Open Access article distributed under the terms of the Creative Commons Attribution License (
http://​creativecommons.​org/​licenses/​by/​2.​0
), which permits unrestricted use, distribution, and reproduction in any medium, provided the original work is properly cited.
Competing interests
The authors declare that they have no competing interests.
Authors' contributions
IA was the main contributor to the preparation of the rough draft, and to the analysis and interpretation of the data under the supervision of YJK. JS contributed to the acquisition of data. FK critically revised the manuscript. All authors read and approved the final manuscript.