01.12.2017 | Case report | Ausgabe 1/2017 Open Access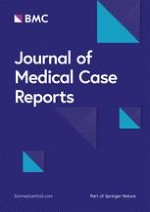 Acute hypopituitarism associated with periorbital swelling and cardiac dysfunction in a patient with pituitary tumor apoplexy: a case report
Zeitschrift:
Autoren:

Nobumasa Ohara, Yuichiro Yoneoka, Yasuhiro Seki, Katsuhiko Akiyama, Masataka Arita, Kazumasa Ohashi, Kazuo Suzuki, Toshinori Takada
Abstract
Background
Pituitary tumor apoplexy is a rare clinical syndrome caused by acute hemorrhage or infarction in a preexisting pituitary adenoma. It typically manifests as an acute episode of headache, visual disturbance, mental status changes, cranial nerve palsy, and endocrine pituitary dysfunction. However, not all patients present with classical symptoms, so it is pertinent to appreciate the clinical spectrum of pituitary tumor apoplexy presentation. We report an unusual case of a patient with pituitary tumor apoplexy who presented with periorbital edema associated with hypopituitarism.
Case presentation
An 83-year-old Japanese man developed acute anterior hypopituitarism; he showed anorexia, fatigue, lethargy, severe bilateral periorbital edema, and mild cardiac dysfunction in the absence of headache, visual disturbance, altered mental status, and cranial nerve palsy. Magnetic resonance imaging showed a 2.5-cm pituitary tumor containing a mixed pattern of solid and liquid components indicating pituitary tumor apoplexy due to hemorrhage in a preexisting pituitary adenoma. Replacement therapy with oral hydrocortisone and levothyroxine relieved his symptoms of central adrenal insufficiency, central hypothyroidism, periorbital edema, and cardiac dysfunction.
Conclusions
Common causes of periorbital edema include infections, inflammation, trauma, allergy, kidney or cardiac dysfunction, and endocrine disorders such as primary hypothyroidism. In the present case, the patient's acute central hypothyroidism was probably involved in the development of both periorbital edema and cardiac dysfunction. The present case highlights the need for physicians to consider periorbital edema as an unusual predominant manifestation of pituitary tumor apoplexy.