05.02.2018 | Original Scientific Report | Ausgabe 8/2018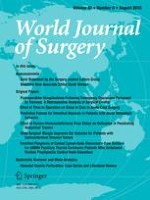 Acute Limb Ischemia Secondary to Native Artery Occlusion: Results of a Contemporary Case Series
Zeitschrift:
Autoren:

Nuria Seguí, Carlos Ruiz-Carmona, Alina Velescu, Eduardo Mateos, Roberto Elosua, Albert Clará
Abstract
Background
The treatment of acute limb ischemia (ALI) has barely changed over the last years. However, the progressive implementation of anticoagulants, antiplatelet agents or statins within the population might have modified the profile and prognosis of patients suffering an ALI. The aim of this study was to evaluate the current results of the management of ALI secondary to a native artery occlusion.
Methods
Retrospective study of 220 consecutive patients (mean age 78 years; 49% male) was conducted between 2007 and 2015. ALI secondary to trauma or grafts/stents occlusions were excluded. Statistical analysis was performed with logistic regression.
Results
A total of 141 cases (64.1%) were attributed to embolism and 79 (35.9%) to acute arterial thrombosis. Peripheral neuro-ischemic impairment occurred in 135 patients (61.4%), being severe in 42 (19.1%). ALI treatment included anticoagulation (
n
= 27; 12.3%), regional fibrinolysis (
n
= 2; 1%), embolectomy/thrombectomy (
n
= 129; 58.6%), angioplasty/stenting (
n
= 8; 3.6%), bypass (
n
= 47; 21.3%) or direct major limb amputation (
n
= 7; 3.2%). Limb salvage and survival rates at 30/90 days were 95%/95% and 82.3%/74.1%, respectively. Independent risk factors for major amputation were diabetes, severe neuro-ischemic impairment, acute arterial thrombosis and treatment delay >1 day after vascular consultation. In addition, age, chronic peripheral arterial disease, any neuro-ischemic impairment and a hospitalization for any other reason simultaneous to the ALI were independently associated with mortality.
Conclusions
Regardless of excellent limb salvage rates, patients currently suffering from an ALI are, when compared to previous studies, older than before and with an increased rate of mortality. Risk factors do not appear to be modifiable once the ALI appears so prevention strategies should be aimed to avoid the episode.