01.03.2012 | Clinical Article | Ausgabe 3/2012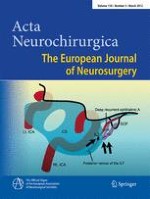 Acute perfusion changes after spontaneous SAH: a perfusion CT study
Zeitschrift:
Autoren:

Alfonso Lagares, Marta Cicuendez, Ana Ramos, Elena Salvador, Jose F. Alén, Ariel Kaen, Luis Jiménez-Roldán, J. M. Millán
Wichtige Hinweise
Comment
In the paper titled "Acute perfusion changes after spontaneous SAH: a perfusion CT study", the authors look to demonstrate the use of CT perfusion in predicting the severity of bleeding in SAH patients and to correlate it with the clinical grade at presentation as well as outcome. In doing so, they looked at a group of 39 patients from a single institution over a 2-year time period. They collected information about these patients, including basic demographic information as well as other information such as GCS, Fisher score on CT scan and other important characteristics on presentation. They also performed a perfusion CT on these patients and recorded mean transit time (MTT), time to peak (TTP), cerebral blood volume (CBV) and cerebral blood flow (CBF) from these studies. They then analysed these variables to see if there was some correlation between these CT perfusion characteristics and severity of clinical presentation and outcome.
In analysing this paper, it appears that the authors sought to demonstrate that the changes in CT perfusion imaging can provide the physician with vital information regarding the patient's clinical severity as well as outcome. One must commend these authors for looking into a relatively simple and easily accessible technique in order to provide critical information early on after SAH. Their results do in fact illustrate that there was a positive correlation between a prolonged MTT and poor grade at admission as well as a poor outcome. What these authors do not provide is some detail with regards to how they measure outcome. How long was the follow-up? They do make mention the Glasgow Outcome Score, but were there other parameters that they used? I believe that these are important questions that need to be addressed to give this paper more validation. One can predict that a patient will have changes in their CT perfusion scan after SAH, but the true question is how can we use CT perfusion imaging to predict long-term outcome? For example, can we correlate CT perfusion parameters with likelihood of developing clinically significant vasospasm after SAH? Answers to these questions will help determine the feasibility of obtaining routine CT perfusion scans on patients upon admission with SAH.
All in all, I believe that this paper provides us with a unique perspective on a commonly utilised test, of which we have the capability to expand its usage. I do believe, however, that the authors leave us with some unanswered questions and expanding their scope can help give this paper more validation.
Siraj Gibani
Christopher M. Loftus
Philadelphia, USA
This is an interesting paper that describes a new diagnostic test, and provides calculations, based on data from the original cohort of 39 patients, for PPV, sensitivity and specificity. The possibility that this test, based on perfusion CT, might be clinically beneficial, is enticing. However, this paper is hopefully only the beginning. Now that the authors have defined this new methodology, the authors need to apply this method prospectively to a validation cohort, to determine whether the criteria that they have derived truly have the predictive value, sensitivity and specificity that they have suggested. Also, it is hoped that the authors will pursue the mechanisms that underlie the changes in perfusion CT.
Michael Tymianski
Toronto, Canada
Abstract
Background
Perfusion computed tomography (CT) is a rapid technique that allows the measurement of acute disturbances in local and global cerebral blood flow in patients suffering stroke and spontaneous subarachnoid haemorrhage (SAH). The purpose of this study was to establish the relationship between different measures of brain perfusion made on dynamic-contrast CT reconstructions performed as soon as SAH has been diagnosed and the severity of the bleeding determined by the clinical grade, the extent of the bleeding and the outcome of the patients.
Methods
After the diagnosis of SAH by conventional CT, a perfusion CT was performed before CT angiography. All imaging studies were performed on a six-slice spiral CT scanner. All images were analysed using perfusion software developed by Philips, which produces perfusion CT quantitative data based on temporal changes in signal intensity during the first pass of a bolus of an iodinated contrast agent. Measurements of mean transient time (MTT), time to peak (TTP), cerebral blood volume (CBV) and cerebral blood flow (CBF) in volumes of interest corresponding to territories perfused by the major cerebral arteries were performed. Different data regarding severity of the bleeding—such as level of consciousness, amount of bleeding in conventional CT—were collected. All poor-grade patients received a ventriculostomy catheter so that ICP recordings were obtained. Also, the occurrence of delayed cerebral ischaemia (DCI) was recorded. Outcome was assessed by the Glasgow Outcome Scale 6 months after the bleeding. For statistical analysis, non-parametric correlations between variables were performed.
Findings
Thirty-nine patients have been included in the study since January 2007. In SAH patients there are increasing perfusion abnormalities as the severity of the bleeding increases. The most affected perfusion parameters are TTP and MTT, as they significantly increase with the clinical severity of the bleeding and the total volume of bleeding (
P
 < 0.01, Spearman's Rho). When average MTT time is increased over 5.9 s there is a 20-fold (95% CI = 2.1-182) risk of poor outcome. All patients presenting this MTT time suffered from DCI. This value has a positive predictive value of 100% for DCI and 90% for a poor outcome.
Conclusions
SAH causes cerebral blood flow abnormalities even in the acute phase of the illness, consisting mainly of an increase in circulation times (TTP and MTT), which are correlated with the severity of the bleeding.