12.05.2017 | Original Article | Ausgabe 3/2017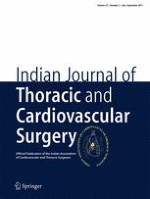 Acute phase proteins and inflammatory factors: the peri-operative changes in on-pump versus off-pump cardiac surgery
Autoren:

Serafeim Chlapoutakis, Sanjeet Avtaar Singh, Nikolaos Trakas, Dimitrios Degiannis, Efstratios Apostolakis, Konstantinos Triantafyllou
Wichtige Hinweise
The research was carried out at Hippokrateio General Hospital of Athens, Greece.
Abstract
Objectives
Off-pump cardiac bypass grafting (OPCABG) has reduced in numbers as some studies suggest no clinical benefit and greater technical difficulty compared to on-pump operations. We examined the inflammatory changes due to extracorporeal circulation and compared the outcomes of patients undergoing OPCABG, on-pump CABG and single cardiac valve replacement with mechanical one.
Methods
Sixty-six elective patients who had severe coronary vessel disease requiring coronary artery bypass were allocated to two groups. The 1st group underwent OPCAB and the other one on-pump coronary artery bypass. A third group of 33 patients presented with single valve disease and underwent mechanical valve replacement were included in our study. Pre- and postoperative serum levels of 15 markers of acute phase inflammatory response were analysed. Postoperative complications were also recorded.
Results
Both on-pump and off-pump coronary bypass techniques provoked biochemical and enzymatic alterations, with more systemic inflammations which correlate with more complications and worse outcome in the on-pump group. Mechanical valve implantation also provoked more systemic inflammation, possibly due to foreign bodies in the systemic circulation.
Conclusion
Our results suggest that off-pump bypass induce a lesser inflammatory response and have better outcomes to on-pump bypass and valve replacement operations.