01.06.2005 | Research article | Ausgabe 4/2005 Open Access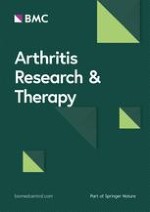 Acute phase reactants add little to composite disease activity indices for rheumatoid arthritis: validation of a clinical activity score
Zeitschrift:
Autoren:

Daniel Aletaha, Valerie PK Nell, Tanja Stamm, Martin Uffmann, Stephan Pflugbeil, Klaus Machold, Josef S Smolen
Wichtige Hinweise
Electronic supplementary material
The online version of this article (doi:
10.​1186/​ar1740
) contains supplementary material, which is available to authorized users.
Abbreviations
ACR
American College of Rheumatology
CDAI
Clinical Disease Activity Index
ESR
erythrocyte sedimentation rate
EULAR
European League Against Rheumatism
HAQ
Health Assessment Questionnaire Disability Index
EGA
evaluator global assessment
PGA
patient global assessment
SDAI
Simplified Disease Activity Index
VAS
visual–analogue scale (100 mm)
WHO–ILAR
World Health Organization–International League of Associations for Rheumatology.
Introduction
Rheumatoid arthritis (RA) is a progressive inflammatory disease, which causes damage and disability [
1
–
5
] that can be prevented by promptly initiated and effective therapy [
6
–
9
]. To ensure that therapy is effective, frequent clinical assessments are needed [
10
–
12
]. For the purpose of disease activity assessment, valid assessment tools using the well established ACR/EULAR/WHO–ILAR (American College of Rheumatology/European League Against Rheumatism/World Health Organization–International League of Associations for Rheumatology) core set variables of disease activity [
13
–
15
] are available, such as the Disease Activity Score (DAS) [
16
]. Also available are the mathematical modifications to the DAS, namely the DAS28 (based on 28-joint counts) and the DAS28-CRP (i.e. the DAS28 using C-reactive protein [CRP] instead of erythrocyte sedimentation rate [ESR]) [
17
,
18
], and the recently introduced Simplified Disease Activity Index (SDAI) [
19
].
However, these scores are rarely used to follow patients in clinical practice because they either employ extensive joint counts (DAS), their computation requires the use of calculators (DAS, DAS28, DAS28-CRP), or their results are not accessible for immediate decision making at the time of patient–physician interaction because of missing laboratory results (DAS, DAS28, DAS28-CRP and SDAI). Although the inclusion of CRP and ESR is fully justified by their face and content validity, the delay associated with their assessment might be one reason why many physicians do not apply composite scores to guide their clinical decisions.
We hypothesized that an abbreviating modification to the SDAI that omits CRP would be a useful score in clinical practice. Our hypothesis was based on the following factors. First, laboratory test results are frequently missing at patient visits, and thus the long-term benefit of a therapeutic approach that is guided by consistent, regular and immediate assessments of disease activity could be jeopardized. Second, simple scores that can be performed 'on the spot' are more likely to be successfully adopted. Third, the principle of numerical summation has been proven and validated to be equivalent to more complex methods of computation [
19
–
23
]. Fourth. acute phase reactants (APRs) correlate with each of the other core set variables, especially those employed in the composite indices, suggesting that they may not add importantly to a composite score [
24
]. Finally, the ACR response criteria consist of an invariable part (joint counts) and a variable part [
25
], the latter of which employs the APR as one of five measures. Because only three of these measures need to change by more than 20%, the APR is not necessarily required to assess changes in disease activity according to the ACR response criteria; nevertheless, the ACR response criteria agree well with the DAS28 and the SDAI response in data from clinical trials [
19
,
26
].
In the present study we established that our initial hypothesis was valid by showing that the contributions made by CRP and ESR to various composite scores are low. We subsequently assessed the correlational, discriminant, and construct validity of a clinical activity index omitting APR in comparison with established scores.
Method
Results
Discussion
In this study we showed that the CDAI, a simple composite index obtained by numerical summation of four solely clinical variables, is a valid instrument with which to follow patients with RA. Our hypothesis was originally based on feasibility arguments, namely the frequent lack of immediate access to laboratory results in the clinic, but was further strengthened by statistical arguments related to the low contribution made by the acute phase response to the composite scores. In fact, all data obtained support our clinically derived hypothesis that APRs provide little information on actual disease activity on top of that provided by the combination of several clinical components. This was the case for all analyzed RA activity scores, despite the differences in their construction and component weighing.
In a cross-sectional analysis of a large number of patients, the CDAI not only had correlational validity compared with the SDAI, from which it was derived, but also compared with the DAS28 and the DAS28-CRP. Also, there was no difference beyond chance in the correlation of CDAI with the HAQ as compared with the respective correlations of SDAI and DAS28 with the HAQ. This finding is especially noteworthy because the HAQ is a functional measure, which is not based on or constructed with core set elements used in the DAS28 or SDAI. Moreover, when related to different degrees of ACR response, the results obtained using CDAI were graded with statistically significant and clinically meaningful differences between all group means, and were very similar to those seen for the respective DAS28 and SDAI groups. Also, for the CDAI, effect sizes appeared to be even more graded between the different ACR responder groups.
Thus, although none of the comparators in this study represents a 'gold standard' for disease activity measurement, the validity of the new score was proven not only with respect to other composite scores but also with respect to the HAQ, which is a completely distinct construct. In addition, the CDAI was shown to have very good agreement with other composite indices on the categorization of individual patients, which is an important aspect in the clinical use of this score. Furthermore, all mentioned correlation analyses were successfully validated in a second, completely independent cohort of newly diagnosed patients with RA who overall had a higher level of disease activity and were untreated at baseline. The different characteristics of the two cohorts, and the similar correlation coefficients for the three indices obtained within each cohort indicate that the application of our findings might not be confined to patient cohorts with particular characteristics, such as disease duration or disease activity.
Our introduction of the CDAI was not intended to suggest that the acute phase response does not represent an important measure in the follow up of RA, or that it should be deleted from existing indices such as the DAS28 and the SDAI. In particular, the ESR contributes 15% to the DAS28 composition, which is not an irrelevant amount of information. However, the validity of the CDAI, as revealed here by multiple statistical analyses in two different cohorts, shows that the APR is not an absolute requirement in the context of disease activity scores. In fact, we would urge physicians to continue to obtain an APR measure regularly during follow up because, like the CDAI, it reflects disease activity and correlates with long-term outcome. However, as stated above, the APR can be employed as an independent measure as well as being a part of a composite index.
Of course, further validation of the CDAI will be required to fully confirm its value. Such additional investigations should include analyses of construct validity with regard to radiographic damage and predictive value with regard to long-term functional outcome in larger cohorts of patients. In addition, cutoffs for disease activity categories, including remission, as well as changes that reflect important responses must be determined. Such analyses are currently underway.
Conclusion
Our findings indicate that the CDAI – a composite score that employs only clinical variables and omits assessment of an APR – has similar validity to other currently employed composite indices for following patients with RA. Also, using numerical summation, this score is very easy to calculate. For these reasons, the CDAI should facilitate decision making by physicians and avoid lags in efficient treatment adaptation for patients with RA. According to current knowledge, such intensified and prompt patient care can be expected to reduce the individual [
12
,
48
] and socioeconomic impact of the disease in the longer term.
Acknowledgements
We thank Dr Michael Ward for his thoughtful comments on the manuscript.