01.12.2016 | Case report | Ausgabe 1/2016 Open Access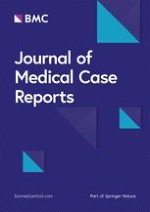 Acute presentation of a giant intrathyroidal parathyroid adenoma: a case report
Zeitschrift:
Autoren:

Stephanie Rutledge, Michele Harrison, Martin O'Connell, Tadhg O'Dwyer, Maria M. Byrne
Abstract
Background
We report the case of a giant intrathyroidal parathyroid adenoma weighing 59 g in a young woman presenting acutely with severe hypercalcemia requiring correction and adequate preoperative management prior to surgery. Parathyroid adenomas account for 85 % of cases of primary hyperparathyroidism. Those weighing more than 3.5g are classified as giant parathyroid adenomas. There are only 25 cases of parathyroid adenomas weighing over 30g reported in the literature.
With the wide availability of biochemical screening tests in Western countries, mildly elevated calcium levels are often discovered incidentally. Our case is unusual for the extreme level of hypercalcemia, the patient's young age, and the weight of the adenoma, particularly in a developed country.
Case presentation
A 21-year-old Irish woman presented with a 3-week history of an enlarging right-sided neck mass. There was no dysphagia, stridor, or symptoms of hyperthyroidism or hypercalcemia. On examination, there was a firm painless swelling in the right lobe of her thyroid. Her thyroid function tests were normal. Corrected serum calcium was markedly elevated at 3.96 mmol/L with hypophosphatemia of 0.35 mmol/L. She was treated with bisphosphonates and fluids administered intravenously. Her parathyroid hormone level was over 20 times the upper limit of normal. Ultrasound revealed a solid and cystic nodule in the lower pole of the right lobe of her thyroid. Parathyroid scintigraphy demonstrated a 5×4 cm lesion which concentrated tracer.
A right-sided parathyroidectomy, right thyroid lobectomy, and level VI neck dissection were performed. An encapsulated multiloculated solid cystic mass weighing 59 g was removed. There was no definite infiltration of the capsule and MIB1 count was low at 1 % thus the specimen lacked the diagnostic features of carcinoma. On the third postoperative day, hungry bone syndrome developed and calcium replacement administered intravenously was required. At 1-year postoperative, she was weaned off calcium and alfacalcidol. A follow-up ultrasound showed unremarkable residual thyroid.
Conclusions
Any patient with an isolated hypercalcemia warrants a thorough work-up. Hungry bone syndrome is a potentially avoidable condition; thus the clinician should be highly attuned to the risk of hungry bone syndrome post-parathyroidectomy, which correlates with the weight of the adenoma resected.