06.04.2020 | MULTIMEDIA REPORT | Ausgabe 2/2021 Open Access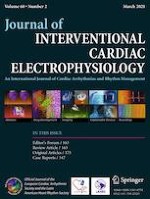 Acute success and safety of the second-generation PVAC GOLD phased RF ablation catheter for atrial fibrillation
Autoren:

M. N. Klaver, L. I. S. Wintgens, M. C. E. F. Wijffels, J. C. Balt, V. F. van Dijk, A. Alipour, S. M. Chaldoupi, R. Derksen, L. V. A. Boersma
Wichtige Hinweise
Electronic supplementary material
Publisher's note
Springer Nature remains neutral with regard to jurisdictional claims in published maps and institutional affiliations.
Abbreviations
ACE
Asymptomatic cerebral embolism
CFAE
Complex fractionated atrial electrogram
LCPV
Left common pulmonary vein
LIPV
Left inferior pulmonary vein
LSPV
Left superior pulmonary vein
MAAC
Multi-array ablation catheter
MASC
Multi-array ablation catheter
NOAC
Non–vitamin K oral anticoagulation
PAF
Paroxysmal atrial fibrillation
PersAF
Persistent atrial fibrillation
PVAC
Pulmonary vein ablation catheter
RIPV
Right inferior pulmonary vein
RMPV
Right middle pulmonary vein
RSPV
Right superior pulmonary vein
TIA
Transient ischemic attack
1

Introduction

Catheter ablation of atrial fibrillation (AF) is a well-established treatment option for patients with symptomatic, drug refractory A [

1

]. Furthermore, the incidence of AF and indication for pulmonary vein isolation (PVI) continue to rise with the ageing population [

1

,

2

]. Conventional point-by-point procedures require high operator skills and are often lengthy. This leads to an increasing demand for operating rooms and operator time. The multi-electrode phased radiofrequency pulmonary vein ablation catheter (PVAC) was designed to allow circumferential ablation of the pulmonary veins (PV), using a 'single-shot' approach and reduce procedure times, while retaining efficacy and safety. Although successful in achieving these targets, concerns about asymptomatic cerebral embolism (ACE) led to the design of the second-generation multi-electrode catheter, PVAC GOLD, to mitigate emboli and improve the delivery of phased RF energy [

3

,

4

]. Additional targets can be ablated using the multi-array septal catheter (MASC) and multi-array ablation catheter (MAAC) which may include the elimination of non-pulmonary vein triggers and arrhythmogenic substrates in the atria. Limited data is available evaluating the performance and safety of the second-generation PVAC GOLD to achieve PVI and the safety of additional substrate modification using multi-electrode phased RF ablation. This large single-centre registry was designed to fulfil this knowledge gap and present data in an all-comers daily practice setting.
2

Methods
2.1

Study design and population

The PVAC GOLD registry is a retrospective, single-centre registry of all consecutive patients undergoing a first-time ablation procedure for AF using the second-generation PVAC GOLD phased RF ablation catheter. Patients with paroxysmal, persistent and long-standing persistent AF treated between May 2013 (introduction) and December 2016 with the PVAC GOLD phased RF ablation system were enrolled in the study. No exclusion criteria were used to depict an everyday practice population. Patients enrolled in a different clinical trial or who underwent a concomitant left atrial appendage closure during the same procedure were excluded from analyses to avoid publication bias. The study was conducted in compliance with Good Clinical Practice Guidelines and was approved by the Ethics Committee and local institutional review board.

All patients had documented symptomatic AF and were classified according to the 2017 expert consensus statement as paroxysmal AF (terminates spontaneously or with intervention within 7 days of onset), persistent AF (continuous AF that is sustained beyond 7 days) or long-standing persistent AF (continuous AF of greater than 12-month duration) [

2

]. Patients were allocated to one of three groups: firstly, patients with paroxysmal AF, who underwent ablation of the PVs only ('PAF-PVI'). Patients with persistent or long-standing persistent AF were divided into two groups: those who underwent ablation of the PVs only ('PersAF-PVI') and patients who underwent ablation of the PVs with additional ablation of complex fractionated atrial electrograms (CFAE) in the left atrium ('PersAF-PVI + CFAE').
2.2

Ablation procedure

The ablation procedure was performed following a standardized ablation protocol as previously described [

3

,

5

]. The procedures were performed under continued oral anticoagulation with vitamin K antagonists (VKA) (target international normalized ratio between 2.0 and 3.0) or non–vitamin K oral anticoagulants (NOAC). Ablation procedures were performed under conscious sedation with intravenous diazepam and fentanyl or, in selected cases, general anaesthesia. Ultrasound-guided vascular access or transseptal puncture (TSP) was only performed in a small number of selected cases. After a TSP, a 10-Fr or larger sheath was inserted into the left atrium. Selective contrast injections were used to visualize the anatomy and pulmonary vein ostia. Normal PV anatomy was defined as 4 separate PV ostia. All patients were then given an intravenous heparin bolus of 7500–10.000 IU based on weight. In case a left atrial dwell time of more than 1 h was needed, a second bolus of 5000 IU was administered. After selective pulmonary vein angiography, the PVAC GOLD catheter was introduced and positioned in the PV antrum using an over-the-wire technique and PV potentials were recorded using the PVAC GOLD catheter. RF energy was applied using predominantly 4:1 and 2:1 setting and occasional 1:1 bipolar/unipolar ratio at the discretion of the physician. After electrical isolation of the PVs, patients in the PersAF-PVI + CFAE group underwent additional ablations in the left atrium using PVAC GOLD or the MASC and MAAC. Septal ablation with the MASC and left atrial wall ablation with the MAAC was performed using a 1:1 bipolar/unipolar ratio or 4:1 bipolar/unipolar ratio at the posterior wall. After CFAE ablation, PVAC GOLD was reintroduced to assess PV isolation in SR. Ablation of the superior caval vein was performed in selected patients. The ablation catheters and phased RF generator are elaborated in Fig.

1

.
×
2.3

Data collection

Data was collected using a Research Electronic Data Capture (RedCap) system. Custom-built electronic case report forms were designed to capture the data for this registry, incorporating real-time data validation, for integrity checks and to facilitate audits to assure data quality. Detailed information on patient demographics, medical history, imaging, medication, procedural characteristics, procedural outcomes and safety outcomes were collected from hospital records for up until 3 months after the initial procedure.
2.4

Study endpoints

The primary procedural outcome was acute success, defined as electrical isolation of all PVs. An assessment of entrance block for all targeted PVs was performed to confirm electrical isolation, additional pacing manoeuvres, exit block or provocative agents were performed at the discretion of the operator. Entrance block was defined as the absence or dissociation of electrical activity in the pulmonary veins, assessed using the PVAC GOLD catheter. PV touch-up using additional ablation catheters was classified as failure. Furthermore, data on procedure time, ablation time, fluoroscopy time, rhythm at the start of the procedure, PV anatomy, number of applications per vein, isolation per PV, number of additional ablations, cardioversions during the procedure and rhythm at the end of the procedure were acquired.

The primary safety outcome was the incidence of all major adverse events occurring up until 3 months after the ablation procedure, defined in compliance with the HRS/EHRA/ECAS/APHRS/SOLAECE expert consensus statement of 2017 [

2

]. Additionally, all non-major procedure–related adverse events were collected. Incidence and distribution of complications were compared in three ways: (1) paroxysmal AF versus non-paroxysmal AF, (2) PVI only versus PVI with additional substrate modification and (3) additional substrate modification with PVAC GOLD versus PVAC GOLD MASC MAAC. Finally, the number of complications with permanent sequelae was assessed and compared between groups. Complications with permanent sequelae were defined as those leading to death or causing harm not resolving within 12 months. All possible adverse events were reviewed by an independent adverse event committee. Vascular access events which did not require treatment or follow-up besides renewed or continued pressure bandage during non-prolonged hospitalization were not classified as an adverse event.
2.5

Statistical analysis

Data is presented as mean and standard deviation for continuous variables, median and interquartile range for non-normally distributed variables and as numbers and percentages for categorical variables. Continuous data was compared using unpaired

t

test or Mann-Whitney

U

test when appropriate. Post hoc analysis was performed using Bonferroni. Categorical data was compared using

χ

2

test or Fishers exact test when a small number of events were observed. Primary outcomes were assessed using univariate and multivariable analyses using logistic regression. Variables were included when the

p

value was < 0.1. All tests were two-tailed and the limit for statistical significance was set at

p

 < 0.05. Variables with ≥ 10% missing values were excluded. Statistical analysis was performed using SPSS for Windows software, version 24.0 (SPSS Inc., Chicago, IL, USA).
4

Discussion
4.1

Main findings

This is the first and only single-centre, multi-operator large real-world registry evaluating procedural outcomes and safety using the second-generation PVAC GOLD in over 1000 patients. The present study shows a high rate of acute successful PVI, while retaining swift procedure times and a desirable safety profile for paroxysmal, persistent and long-standing persistent AF patients. Furthermore, additional CFAE ablations in the left atrium with either PVAC GOLD or MASC and MAAC did not affect the safety outcomes.
4.2

Acute success

Acute success was attained in 97.5% of patients and 99% of PVs, similar to isolation rates observed with the first-generation PVAC [

5

–

7

]. These high rates of procedural success are consistent with clinical trials investigating the latest-generation cryoballoon or conventional RF ablation, showing acute success rates of 97 up to 100% of cases [

8

–

11

]. Large registries and multinational surveys assessing irrigated RF and cryoballoon ablation resembling a more real-world population and show lower success rates (83–95%) [

12

–

14

]. Therefore, the results we found are reassuring and confirm procedural efficacy for paroxysmal and persistent AF patients. Durable PVI and long-term arrhythmia-free survival was not assessed in this paper and further research is needed to address these topics.
4.3

Procedural characteristics

The PVAC GOLD system encompasses a simple and efficacious technique to achieve PVI, leading to favourable procedural characteristics. The median procedure time was less than 90 min in the PVI-only groups and 100 min in the PersAF-PVI + CFAE group. Likewise, fluoroscopy time and ablation time were short, confirming the swift procedural characteristics previously reported in smaller trials and registries [

6

,

7

,

15

]. Compared with the reported procedural characteristics of conventional point-by-point ablation [

9

,

10

,

12

,

13

,

16

] and to a lesser extent to cryoballoon ablation [

8

,

10

,

11

,

13

], we found PVAC GOLD to have considerably shorter procedure times, fluoroscopy times and ablation times. These findings are in agreement with a meta-analysis performed by Kabunga et al., who compared phased RF, irrigated RF and cryoballoon [

17

].
4.4

Safety outcomes

Major complication rates reported on PVAC GOLD seem to be on the lower end of the spectrum. An explanation might be the low incidence of phrenic nerve palsy and cardiac tamponade.

In contrast to cryoballoon ablation procedures, phrenic nerve palsy is rare and occurred in only a single patient. Of interest, when ablation is performed and the phrenic nerve is near, typically capture of the phrenic with rapid oscillation of the right hemi-diaphragm is both visible and tangible for the operator. This early warning sign allowing immediate discontinuation of energy delivery, as well as the awareness to stay outside the tubular part of the PV may be an explanation for the low rate of phrenic nerve palsies.
4.5

CFAE ablations

CFAE ablations were safely performed in half of the patients with persistent AF and in 77% of the patients with long-standing persistent AF. CFAE ablations did significantly lengthen the procedure and required additional fluoroscopy time, but the major complication rate and non-major complication rate were still low and equal to the PVI-only groups. This was also reported by Chen et al., who performed a meta-analysis on efficacy and safety of adjunctive substrate modification, as well as results found in the STAR-AF trial [

9

,

21

]. Despite a safe and successful procedure, the effect of CFAE ablations as a first-line treatment for atrial fibrillation on arrhythmia-free survival remains controversial [

9

].
4.6

Limitations

The current study was designed to present daily practice data on acute success and safety in different patient groups and treatment strategies using multi-electrode phased RF ablation. The choice for PVAC GOLD was not randomized and additional substrate modification was performed at the discretion of the operator. During the inclusion period, 96% of first-time AF ablations were performed using PVAC GOLD, depicting a true all-comers population. Consequently, no suitable control group with comparable standard of care and follow-up could be selected. Head-to-head comparison between the different groups must be interpreted with caution, as the patients within groups are not interchangeable and encompass different risk factors. Despite strong differences in patient characteristics, all groups showed similar and reassuring acute success rates and a low number of safety outcomes. Multicentre randomized clinical trials are the gold standard for comparison, but due to the low rate of incomplete PVI and safety outcomes as well as the rapid evolution of available techniques and alterations in standard of care, such trials will be unfeasible. Therefore, uniform reporting in large registries are of important value to appreciate ablation technologies. In our registry, no variables showed > 5% missing values and missings appeared to be at random. The primary outcome variables did not contain any missing values. While acute success rates are reassuring, outcomes on long-term arrhythmia-free survival are warranted.
5

Conclusions

In conclusion, this study provides extensive data on the use of PVAC GOLD in a large, broad everyday practice population-based cohort. The second-generation multi-electrode phased radiofrequency pulmonary vein ablation catheter achieves successful circumferential ablation of the pulmonary veins, while reducing procedure times, for patients with paroxysmal, persistent and long-standing persistent AF. A desirable safety profile was found in all groups and was unaffected by additional CFAE ablations in the left atrium.
Acknowledgements
The authors thank Kasper Beukema, data manager, St. Antonius Hospital, for his assistan`ce in data acquisition and data management and Joyce Peper for the statistical support.
Compliance with ethical standards
The study was conducted in compliance with Good Clinical Practice Guidelines and was approved by the Ethics Committee and local institutional review board.
Disclaimer
Medtronic was in no way involved in the design, conduction, analyses or publication of this registry.
Conflict of interest
LB reports consulting fees from Medtronic to the R&D Department. MK, LW, MW, JB, VD, AA, SC and RD have nothing to declare.
Open Access
This article is licensed under a Creative Commons Attribution 4.0 International License, which permits use, sharing, adaptation, distribution and reproduction in any medium or format, as long as you give appropriate credit to the original author(s) and the source, provide a link to the Creative Commons licence, and indicate if changes were made. The images or other third party material in this article are included in the article's Creative Commons licence, unless indicated otherwise in a credit line to the material. If material is not included in the article's Creative Commons licence and your intended use is not permitted by statutory regulation or exceeds the permitted use, you will need to obtain permission directly from the copyright holder. To view a copy of this licence, visit
http://​creativecommons.​org/​licenses/​by/​4.​0/​
.
Electronic supplementary material
Publisher's note
Springer Nature remains neutral with regard to jurisdictional claims in published maps and institutional affiliations.