01.12.2015 | Research article | Ausgabe 1/2015 Open Access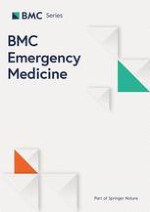 Acute toluene intoxication–clinical presentation, management and prognosis: a prospective observational study
Zeitschrift:
Autoren:

Carlos Rodrigo Camara-Lemarroy, René Rodríguez-Gutiérrez, Roberto Monreal-Robles, José Gerardo González-González
Wichtige Hinweise
Competing interests
The authors declare that they have no competing interests.
Authors' contributions
CRCL, RRG and RMR served as the principal investigators and led the conception, design, acquisition of data, review of literature, and drafted the manuscript. JGGG contributed the concept of research paper and critically reviewed the manuscript. All authors read and approved the manuscript.
Authors' information
CRCL is a member National Investigators System (SNI) and a Neurology Fellow. RRG is a member National Investigators System (SNI) and the Chief Fellow of the Endocrinology Division. RMR is the Chief Resident of Internal Medicine Department. JGGG is a member National Investigators System (SNI), the Vice-Dean of Research of the Medical School of the Universidad Autonoma de Nuevo Leon and Professor of Medicine of the Endocrinology Division.
Abstract
Background
Toluene is one of the most widely abused inhaled drugs due to its acute neurologic effects including euphoria and subsequent depression. However, dangerous metabolic abnormalities are associated to acute toluene intoxication. It has been previously reported that rhabdomyolysis and acute hepatorenal injury could be hallmarks of the condition, and could constitute risk factors for poor outcomes. The objective was to describe the clinical presentation, to characterize the renal and liver abnormalities, the management and prognosis associated to acute toluene intoxication.
Methods
We prospectively assessed 20 patients that were admitted to a single center's emergency department from September 2012 to June 2014 with clinical and metabolic alterations due to acute toluene intoxication.
Results
The main clinical presentation consisted of weakness associated to severe hypokalemia and acidosis. Renal glomerular injury (proteinuria) is ubiquitous. Biliary tract injury (alkaline phosphatase and gamma-glutamyl transpeptidase elevations) disproportional to hepatocellular injury is common. Rhabdomyolysis occurred in 80 % of patients, probably due to hypokalemia and hypophosphatemia. There were three deaths, all female, and all associated with altered mental status, severe acidosis, hypokalemia and acute oliguric renal failure. The cause of death was in all cases due to cardiac rhythm abnormalities.
Conclusion
The hallmarks of acute toluene intoxication are hypokalemic paralysis and metabolic acidosis. Liver injury and rhabdomyolysis are common. On admission, altered mental status, renal failure, severe acidemia and female gender (not significant in our study, but present in all three deaths) could be associated with a poor outcome, and patients with these characteristics should be considered to be treated in an intensive care unit.