01.12.2017 | Case report | Ausgabe 1/2017 Open Access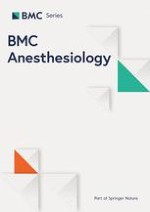 Acute transient spinal paralysis and cardiac symptoms following an accidental epidural potassium infusion – a case report
Zeitschrift:
Autoren:

Martin Kreutzträger, Marcel A. Kopp, Thomas Liebscher
Abstract
Background
To describe a case of an accidental epidural potassium infusion leading to an acute transient spinal paralysis and cardiac symptoms and review the literature on that topic.
Case presentation
We report the case of an accidental infusion of 900 mg potassium chloride 7.45% (KCl) into the epidural space, which occurred during epidural analgesia in a 74-year-old patient suffering from immobilization due to lumbar back pain as well as from a paralytic Ileus. The event was resulting in vegetative symptoms, such as tachycardia and hypertension accompanied by a motor complete tetraplegia (AIS B) sub C2 with respiratory depression. The endotracheal intubation was necessary.
The patient was treated with 40 mg dexamethasone intravenously, as well an epidural lavage with sodium chloride solution 0.9% (NaCl) through the epidural catheter. The neurologic symptoms completely resolved within five days. An elevation of troponin-T values and a reduced left ventricular ejection fraction (LVEF) of 40% accompanied by transient pectanginous pain were documented. An exertional dyspnea remained.
Conclusions
A symptom complex with elevated sympathetic nervous system activity up to a stress cardiomyopathy is possible following epidural potassium infusion. Additionally, generalized pain and muscle spasticity evolve and a progressive acute spinal cord injury syndrome can occur within minutes, accompanied by respiratory depression. Treatment consists of early intensive care and the symptomatic therapy of the associated symptoms, leading in most of the reported cases to a good clinical outcome.