01.12.2020 | Research article | Ausgabe 1/2020 Open Access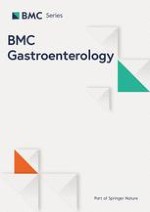 ADAR expression and copy number variation in patients with advanced gastric cancer
Zeitschrift:
Autoren:

Javad Behroozi, Shirin Shahbazi, Mohammad Reza Bakhtiarizadeh, Habibollah Mahmoodzadeh
Wichtige Hinweise
Publisher's Note
Springer Nature remains neutral with regard to jurisdictional claims in published maps and institutional affiliations.
Abbreviations
ADAR
Adenosine deaminase acting on RNA
cDNA
Complementary deoxyribonucleic acid
QMF-PCR
Quantitative multiplex fluorescent-PCR
Background
Although significant progress has been made in the management and treatment of GC patients, however, further studies should be conducted to promises discoveries of new biomarkers and more innovative and effective treatments for patients with GC. The main end point of our study is to evaluate expression and copy number variation of ADAR (ADAR1) gene in advanced GC and clarify its correlation with overall survival and histopathological characteristics.
Methods
Patients and specimen collection
Fresh frozen tumor and normal adjacent tissue of 42 patients with stage III and IV gastric adenocarcinoma who underwent surgery at the Cancer Institute of Iran were examined in this study. We included only GC patients that did not receive neoadjuvant therapy. The biological materials were provided by the Iran National Tumor Bank, founded by the Cancer Institute of Tehran University of Medical Sciences, for cancer research. Staging were based on the American Joint Committee on Cancer (AJCC) cancer staging manual [
15
]. All samples were transferred in liquid nitrogen from Tumor bank and stored at − 80 °C for further investigations. Complete clinicopathologic data including patient history, histology, clinical, and paraclinical data and follow-up information were gathered from the medical records of every patient. All participants signed written informed consent.
RNA/DNA extraction
RNA and DNA were purified from normal and tumoral samples using the All-in-one DNA/RNA/Protein Mini-Preps Kit (Biobasic, Canada) following manufacturer's protocol. The RNA quality was verified by electrophoresis on 1.0% agarose gel. Also, the quantity of isolated RNA and DNA was evaluated by NanoPhotometer (NP80, Germany).
cDNA synthesis and real-time PCR
RNA samples were reverse transcribed into complementary deoxyribonucleic acid (cDNA) using Easy™ cDNA Synthesis Kit (Parstous biotechnology, Iran). The cDNA was synthesized from 1 μg of total RNA with random hexamer and oligo (dT) as reaction primers in a final volume of 20 μl following manufacturer's protocol.
Obtained cDNA was further amplified by real-time quantitative PCR using RealQ Plus Master Mix Green (Ampliqon, Denmark) based on the kit protocol. The primers used for performing real-time PCR were as follows: for ADAR1 F: 5′AGCTTGGGAACAGGGAATCG3′ and R: 5′CTTCGCAGTCTGGGAGTTGT3′; for GAPDH F: 5′ACACCCACTCCTCCACCTTTG3′ and R: 5′TCCACCACCCTGTTGCTGTAG3′. Real-time PCR mixture contained 10 μl of SYBR green master mix, 1 μl of forward and reverse primers and 2 μl of cDNA. Real-time PCR program for the reaction was based on a holding step at 95 °C for 15 min, followed by 40 cycles of denaturing at 95 °C for 20s, annealing and extending at 60 °C for 40s. Real-time PCR was performed at least three times in the StepOne™ Real-Time PCR System (Applied Biosystems, USA) for each sample and fold change of gene expression was calculated using 2 -∆∆Ct method.
Quantitative multiplex fluorescent-PCR (QMF-PCR)
The ADAR gene copy number was quantified by QMF-PCR on a BIOER XP Cycler (Bioer, China). The QMF-PCR technique consists of the quantification of fluorescently labeled test and control amplicons, obtained by a single multiplex PCR amplification. Primers were designed for 5′UTR, exonic and 3′UTR of the ADAR gene. Three other genes including BOD1L, AGBL2 and POR were co-amplified as controls. A tail of universal primer was added to forward primers, except for POR gene which the tail was added to reverse primer. The universal primer was labeled with the fluorescent phosphoramidite 6-FAM dye and all the primers were HPLC purified. Multiplex PCR employed the Multiplex TEMPase Master Mix (Ampliqon, Denmark) following the manufacturers recommendations. Primers stock solution was prepared in a 0.5:1:0.5 ratio of forward primer, reverse primer and fluorescently tagged universal primer, respectively. The reaction started with an initial denaturation of 15 min at 95 °C, followed by 30 cycles at 95 °C for 45 s, 59.8 °C for 45 s and 72 °C for 45 s, and a final extension of 15 min at 72 °C. Primer sequences used for QMF-PCR are shown in Table
1
.
Table 1
List of primer sequences used for QMF-PCR analysis in this study. Universal tail was shown in bold letters
Gene

Primer Sequence

ADAR-3′UTR

F

GCCTCCCTCGCGCCA

TAGACTTGGTGCCGTGGTGA

R

GTCGCAGAGCCTCAGTAGTC

ADAR-Exonic

F

GCCTCCCTCGCGCCA

TCGACTTGTAACCGGCCTGA

R

GTTGTAAACGAACCCAGACGG

ADAR-5′UTR

F

GCCTCCCTCGCGCCA

GGGGACCACTTACAAGCTGATG

R

GTCTGGTCGCAGATTGGTGA

AGBL2

F

GCCTCCCTCGCGCCA

GCGAGCTGCATTCCATGCG

R

TCCCAGCTTTGGAAACGCAC

BOD1L

F

GCCTCCCTCGCGCCA

AATGCCTCCGCTTTCAGGC

R

ATCACTTGGCAACTCACACATGG

POR

F

AGCCACTTTGTGCCAGATCA

R

GCCTCCCTCGCGCCA

TCCAGCACGTGTTCACATCA

Universal

U

FAM-GCCTCCCTCGCGCCA
One μl of the PCR products was added to 10 μl of formamide and 0.5 μl of GeneScan-500 LIZ size standard (Applied Biosystems, USA). Then, the PCR product was denatured at 95 °C for 3 min and placed on ice to prevent re-annealing until further analysis. Fragment analyses were performed using a POP7 gel on the ABI 3500 Genetic Analyzer (Applied Biosystems, USA). The results were processed with GeneMarker® software V2.7 (SoftGenetics, USA) to obtain electropherograms for each sample. Each product was identified by its size, and the area under peak were imported into an Excel spreadsheet and the copy number of each amplicon was determined by calculating a dosage quotient (DQ) for each fragment [
16
,
17
].
Cell lines ADAR gene expression and CNV
Biological databases are crucial for exploring the molecular mechanisms of cancer, therefore, basal expression of ADAR mRNA and ADAR copy number in 37 GC cell lines were obtained from cancer cell line Encyclopedia (CCLE) [
18
]. RNA expression values were reported in reads per kilobase of transcript per million mapped reads (RPKM). Finally, the association of the RNA expression values and gene copy numbers for each cell line was examined.
Survival analyses
To investigate the relationship between ADAR expression and prognosis of gastric cancer, survival data associated with GC patients were obtained from Kaplan-Meier Plotter [
19
]. Overall survival (OS) data for 876 patient (312 low expression and 564 high expression) were analyzed to create Kaplan-Meier plots. These patients were related to GSE14210, GSE15459, GSE22377, GSE29272, GSE51105 and GSE62254 datasets.
Statistical analyses
All statistical analyses were performed using SPSS 18.0 (SPSS Inc., USA) and GraphPad Prism 8 (GraphPad Software, USA) software. Paired T-test was applied in comparisons of ADAR mRNA levels between GC tissue samples and their paired non-tumor counterparts and unpaired T-test was used for comparison between stage III and IV. The Chi-square test was performed to evaluate correlations between ADAR expression or amplification and clinicopathological parameters. Pearson's correlation coefficient was used to determine the relationship between the expression and CNV of ADAR in GC cell lines. Differences in the OS between the high and low expression groups were estimated and compared by the Kaplan–Meier method with a Mantel–Cox test. Differences were considered significant when the
P
-value was < 0.05.
Results
Discussion
Conclusions
The current study demonstrates that ADAR mRNA is overexpressed in GC through DNA copy number amplification. ADAR overexpression and amplification correlate with the main negative clinicopathological factors such as metastasis, tumor size and stage in GC patients. Furthermore, increased ADAR expression was clearly correlated with poorer survival outcomes. Therefore, ADAR overexpression is not only a biomarker of tumor progression but also contributes to tumor progression. We propose ADAR as useful prognostic markers and therapeutic targets for GS. Doubtless, further investigations are necessary to confirm these primary results.
Acknowledgements
Not applicable.
Ethics approval and consent to participate
This study was approved by Ethics Committee of Tarbiat Modares University with IR.MODARES.RES.1397.205 Code of ethics. All patients provided written informed consent, and the study was conducted in accordance with the Declaration of Helsinki.
Consent for publication
Not applicable.
Competing interests
The authors declare no competing interests.
Open Access
This article is licensed under a Creative Commons Attribution 4.0 International License, which permits use, sharing, adaptation, distribution and reproduction in any medium or format, as long as you give appropriate credit to the original author(s) and the source, provide a link to the Creative Commons licence, and indicate if changes were made. The images or other third party material in this article are included in the article's Creative Commons licence, unless indicated otherwise in a credit line to the material. If material is not included in the article's Creative Commons licence and your intended use is not permitted by statutory regulation or exceeds the permitted use, you will need to obtain permission directly from the copyright holder. To view a copy of this licence, visit
http://​creativecommons.​org/​licenses/​by/​4.​0/​
. The Creative Commons Public Domain Dedication waiver (
http://​creativecommons.​org/​publicdomain/​zero/​1.​0/​
) applies to the data made available in this article, unless otherwise stated in a credit line to the data.
Publisher's Note
Springer Nature remains neutral with regard to jurisdictional claims in published maps and institutional affiliations.