01.12.2014 | Research | Ausgabe 1/2014 Open Access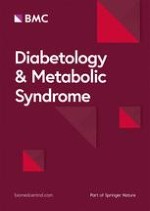 Adding glimepiride to current insulin therapy increases high-molecular weight adiponectin levels to improve glycemic control in poorly controlled type 2 diabetes
Zeitschrift:
Autoren:

Chun-Jun Li, Jing-Yun Zhang, De-Min Yu, Qiu-Mei Zhang
Wichtige Hinweise
Competing interests
The authors declare that they have no competing interests.
Authors' contributions
DMY and QMZ conceived the study, analyzed data and wrote the manuscript. CJL and JYZ acquired and analyzed data, and wrote the manuscript. All authors read and approved the final manuscript.
Abstract
Background
To observe the efficacy and safety of adding glimepiride to established insulin therapy in poorly controlled type 2 diabetes (T2D) and to assess the relationship of changes in the serum high-molecular weight (HMW) adiponectin levels and glycemic control after glimepiride treatment.
Methods
Fifty-six subjects with poorly controlled insulin-treated T2D were randomly assigned to either the glimepiride-added group (the group A, n = 29) or the insulin-increasing group (the group B, n = 27) while continuing current insulin-based therapy. Glycosylated hemoglobin (HbA1c) value, daily insulin dose, body weight, waist circumference, plasma lipid concentration, serum HMW adiponectin level and the number of hypoglycemic events were evaluated before and after treatment.
Results
At the end of study, insulin doses were significantly reduced, and the mean HbA1c, fasting blood glucose (FBG) and 2-hour postprandial blood glucose (P2BG) were improved greater in the group A compared with the group B. The serum HMW adiponectin levels were significantly increased in the group A compared with the group B. Most importantly, we found that changes in HbA1c were inversely correlated with changes in serum HMW adiponectin in the group A (r = −0.452, p = 0.02).
Conclusions
Adding glimepiride to current insulin treatment led to better improvement in glycemic control with a significant smaller daily insulin dose, and the increases in the serum HMW adiponectin levels may directly contribute to improvement glycemic control.