01.12.2018 | Research article | Ausgabe 1/2018 Open Access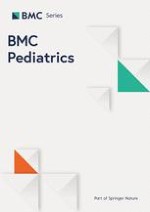 Adherence to guidelines for testing and treatment of children with pharyngitis: a retrospective study
Zeitschrift:
Autoren:

Thea Brennan-Krohn, Al Ozonoff, Thomas J. Sandora
Abstract
Background
Group A streptococcus (GAS) is the most common bacterial etiology of pharyngitis but is difficult to distinguish clinically from viral pharyngitis. There are benefits to early antibacterial treatment of GAS pharyngitis, but administering antibiotics to children with viral pharyngitis is ineffective and costly. We evaluated adherence to guidelines that were developed to help clinicians distinguish between viral and GAS pharyngitis and guide management.
Methods
Retrospective cohort study of patients ages 3–18 who had a rapid streptococcal test and/or throat culture performed in an outpatient setting. We collected data on documentation of components of the McIsaac score and classified tests as indicated if the score was ≥2. Based on McIsaac score and GAS test results, we determined whether each antibiotic course prescribed was indicated according to the Infectious Diseases Society of America guideline.
Results
Among 291 eligible children, 87 (30%) had all five components of the McIsaac score documented. There was sufficient data to classify the score as either < 2 or ≥2 in 234 (80%); among these, 96% of tests were indicated. Twenty-nine patients (10%) were prescribed antibiotics. Eight (28%) of these prescriptions were not indicated according to guidelines.
Conclusions
The majority of GAS tests in children with pharyngitis are indicated, although providers do not regularly document all elements of a validated pharyngitis scoring tool. Over one quarter of children prescribed antibiotics for pharyngitis did not require antibiotics according to guidelines. There remains a role for targeted antimicrobial stewardship education regarding pharyngitis management in pediatric outpatient settings.