01.12.2018 | Research article | Ausgabe 1/2018 Open Access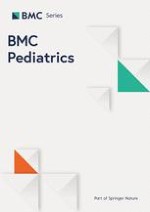 Adherence to guidelines for testing and treatment of children with pharyngitis: a retrospective study
Zeitschrift:
Autoren:

Thea Brennan-Krohn, Al Ozonoff, Thomas J. Sandora
Abbreviations
AAP
American Academy of Pediatrics
IDSA
Infectious Diseases Society of America
RADT
Rapid antigen detection test
Background
Group A streptococcus (GAS) is the most common bacterial etiology of pharyngitis, accounting for approximately one quarter of cases of pharyngitis that bring children to medical attention [
1
,
2
]. Acute rheumatic fever (ARF) and suppurative complications of GAS can be prevented by early antibacterial treatment [
3
]; indeed, prevention of ARF is one of the primary goals of antibiotic treatment of GAS pharyngitis [
4
]. However, GAS pharyngitis is difficult to distinguish clinically from viral pharyngitis. Treating children who have viral pharyngitis with antimicrobials is ineffective, generates unnecessary costs, exposes them to antibiotic side effects without benefit, and contributes to the growing problem of antimicrobial resistance [
5
]. To minimize prescription of antimicrobials for viral pharyngitis, clinical scoring systems have been developed to predict the likelihood of GAS infection [
6
–
8
]. Among these is the McIsaac score, which was developed and validated in both children and adults [
9
,
10
]. Such scores have low positive predictive values, but help identify patients at low risk of GAS, in whom testing is not only unnecessary but may lead to identification of chronic GAS carriers experiencing viral pharyngitis [
11
].
The Infectious Diseases Society of America (IDSA) guideline on diagnosis and management of GAS pharyngitis recommends that patients whose clinical presentation is consistent with GAS pharyngitis be tested with a streptococcal rapid antigen detection test (RADT) or throat culture; treatment is indicated if either is positive. Testing is not recommended for patients whose presentation is most consistent with a viral etiology [
12
]. The American Academy of Pediatrics (AAP) has made similar recommendations [
13
]. Nonetheless, studies evaluating the management of pharyngitis among pediatric providers have identified high rates of antibiotic prescribing [
14
], even for patients with negative GAS tests [
15
]. To our knowledge, no study in a pediatric population has yet evaluated adherence to IDSA guidelines using individual patients' clinical data and test results.
Methods
Study design and criteria
We performed a retrospective cohort study of patients seen at Boston Children's Hospital (BCH) who had a RADT and/or streptococcal throat culture performed in an outpatient setting (hospital-affiliated primary care or urgent care clinic or emergency department [ED]) from August 1, 2011 to July 31, 2012. The first 50 patients meeting inclusion criteria in each month of the study period were evaluated. Patients were excluded if they were < 3 or > 18 years of age, were diagnosed with another bacterial infection during the visit, had a medical condition likely to cause deviation from typical pharyngitis management (e.g. neutropenia, airway compromise), were already taking antibiotics, or had been treated for GAS pharyngitis within the previous 30 days. Patients were also excluded if there was no visit documentation associated with the test; these included patients seen at local pediatric offices that use the BCH laboratory but have separate medical record systems. Information was obtained through review of chart documentation, including notes, vital signs, lab results, and prescriptions. The study was approved by the Committee on Clinical Investigation at BCH.
Data collection
Data abstracted from medical records included information about the visit (month, day of week, time, and location), the patient (age, gender, antibiotic allergies, comorbid illnesses, reason(s) for visit, maximum reported temperature in the previous 48 h, history of cough, concurrent antibiotics, and treatment for GAS pharyngitis within the previous 30 days), physical exam findings (temperature, tonsillar exudate and/or enlargement, cervical lymphadenopathy), test results (RADT, throat culture), and management (including antibiotic prescription details). Statements regarding treatment and management decisions were also recorded.
Calculation of McIsaac score
We used the clinical score developed by McIsaac [
9
] to characterize each patient's likelihood of GAS infection. In this score, one point each is assigned for temperature > 38 °C, absence of cough, tender anterior cervical adenopathy, tonsillar swelling or exudate, and age 3–14 years. We considered patients to have had a fever if they reported fever at home or had a temperature of > 38 °C at the visit. We assigned a point for tonsillar swelling when providers documented "enlarged tonsils", "hypertrophied tonsils" or an equivalent phrase, or recorded tonsillar size of 3+ or greater. All patients with documented cervical adenopathy were assigned one point for this element, regardless of whether tenderness or anterior location was specified. Patients were then assigned to one of three categories: McIsaac score < 2 (very low risk of GAS infection), ≥2, or indeterminate. If not all relevant data were documented, we categorized the score as indeterminate unless the category (≥2 or < 2) could be determined from known elements (e.g. if 4 of 5 items were documented as negative, the score must be either 0 or 1 and therefore was classified in the < 2 category).
Outcomes and statistical analysis
The primary outcome was the proportion of tests indicated by the IDSA guideline. We classified a test as indicated if the McIsaac score was ≥2, not indicated if the score was < 2, and indeterminate if it could not be assigned to one of these categories, as described above.
For patients prescribed antibiotics, we classified the prescription as indicated if the McIsaac score was ≥2 and the RADT and/or GAS throat culture was positive, not indicated if the tests were negative or if the McIsaac score was < 2 (regardless of RADT and GAS results), and indeterminate if the McIsaac score was indeterminate and the RADT and/or GAS culture was positive. Patients prescribed antibiotics empirically following a negative RADT were not considered to have received antibiotics if they were instructed to stop antibiotics when the culture result returned negative. We classified each antibiotic as a recommended or non-recommended agent according to the IDSA guideline [
12
]. For patients without a penicillin allergy, recommended antibiotics are penicillin V, amoxicillin, or IM benzathine penicillin G; for patients with a penicillin allergy, recommended antibiotics are cephalexin, cefadroxil, clindamycin, azithromycin, or clarithromycin. We calculated the proportion of prescribed antibiotics that were recommended agents. Statistical analysis was performed using R software v3.1 (R Foundation, Vienna, Austria).
Results
Patient characteristics and test results
Of 600 charts reviewed, 291 patients met inclusion criteria (Fig.
1
). One hundred forty-six patients (50%) were female, and the median age was 8 years (interquartile range, 5–13). One hundred forty-one patients (48%) were seen in the ED and the remainder in outpatient clinics. Twenty-one patients (7%) had positive GAS tests, of which 5 (24%) were RADTs; the other 16 (76%) had negative RADTs but positive cultures. A history of sore throat, throat pain and/or difficulty swallowing was documented for 195/291 (67%) of patients; there was no significant difference in positive test rates between patients with and without a documented complaint of sore throat [16/195 (8.2%) vs. 5/96 (5.2%);
P
 = 0.35].
×
Indicated and non-indicated tests
Two hundred twenty-four of 291 GAS tests (77%, 95% CI: 71–82%) were indicated, 10 (3%, 95% CI: 2–6%) were not indicated, and 57 (20%, 95% CI: 15–25%) were indeterminate. Excluding indeterminate tests, 224/234 tests (96%, 95% CI: 92–98%) were indicated. The distribution of McIsaac scores is shown in Table
1
. Among patients with positive GAS results, tests were indicated in 19/21 and indeterminate in 2/21. Throat culture was performed in all patients who had a negative RADT.
Table 1
Distribution of McIsaac Scores
| McIsaac score or score range | Number (percentage) of patients |
| --- | --- |
| 0 | 0 (0) |
| 1 | 7 (2.4) |
| 2 | 24 (8.2) |
| 3 | 24 (8.2) |
| 4 | 24 (8.2) |
| 5 | 8 (2.7) |
| 0–1 | 3 (1.0) |
| 0–2 | 4 (1.4) |
| 0–3 | 3 (1.0) |
| 0–4 | 0 (0) |
| 0–5 | 0 (0) |
| 1–2 | 25 (8.6) |
| 1–3 | 16 (5.5) |
| 1–4 | 7 (2.4) |
| 1–5 | 2 (0.7) |
| 2–3 | 46 (15.8) |
| 2–4 | 24 (8.2) |
| 2–5 | 2 (0.7) |
| 3–4 | 46 (15.8) |
| 3–5 | 14 (4.8) |
| 4–5 | 12 (4.1) |
Documentation of components of the McIsaac score
All patients' ages were available in the electronic medical record. For 2/291 patients (0.7%), this was the only component of the score documented. For 12/291 patients (4%), 2 components were documented, for 58/291 patients (20%) 3 components were documented, and for 132/291 (45%) 4 components were documented. All 5 components were documented for 87/291 patients (30%). Only one chart documented use of a clinical scoring system (in this case, the Centor score).
Documentation by score component is shown in Fig.
2
. Temperature was recorded at 283/291 patient visits (97%). Among 84 patients noted to have cervical lymphadenopathy, presence or absence of tenderness was documented in 23 cases (27%) and the location (anterior vs. posterior) was documented in 38 (45%). Only 6 patients were specifically noted to have cervical lymphadenopathy that was anterior and tender.
×
Antibiotic prescriptions
Twenty-nine of 291 patients (10%) received antibiotics, including all patients with a positive GAS test. In 27/29 cases (93%) there was sufficient documentation to categorize the test as indicated or non-indicated; in all of these cases it was indicated. Nineteen of 29 antibiotic prescriptions (66%, 95% CI: 46–81%) were indicated according to guidelines, while 8/29 (28%, 95% CI: 13–47%) were not indicated. In all cases where antibiotics were not indicated, testing was appropriate but RADT and culture results were negative. Further characterization of these patients is presented in Table
2
. Of note, in the case of one patient who presented with fever and trismus and was treated with ampicillin-sulbactam upon hospitalization, antibiotic therapy may have been initiated because of concern for a peritonsillar abscess and thus could be considered appropriate for a separate indication. In one case antibiotics were prescribed in the setting of a negative RADT because of high clinical suspicion, but the family was contacted and told to stop the antibiotics when the culture returned negative. As defined above, this patient was not considered to have received antibiotics. Two of 29 prescriptions could not be classified as indicated or non-indicated because the McIsaac score was indeterminate, although in both cases the tests were positive. There were no cases of patients not receiving antibiotics when guidelines suggested they should have.
Table 2
Characteristics of patients who were prescribed antibiotics but should not have been according to guidelines
| Age range (years) | Site | Reason(s) for visit | McIsaac scorea | Antibiotic prescribed | Notes, including quotations from provider documentation |
| --- | --- | --- | --- | --- | --- |
| 3–5 | ED | Abdominal pain, fever, congestion | 3–4 | Amoxicillin | Provider mentions negative RADT and pending culture. No comment on negative culture result in chart. |
| 3–5 | ED | Rash, throat pain, rhinorrhea | 2–4 | Amoxicillin | "Given that patient is otherwise classic for a scarlet fever rash, will treat with amoxicillin…" |
| 6–8 | Clinic | Sore throat, fever, rhinorrhea, cough | 3–4 | Amoxicillin | Diagnosis in note is "viral infection". Antibiotic was prescribed by a different provider than the one who wrote the note. |
| 6–8 | Clinic | Sore throat, fever | 3–4 | Amoxicillin | "Will treat… in view of impressive exam." Upon receipt of negative throat culture result: "Throat [culture] neg[ative]. Will leave on [antibiotics] for probable tonsillitis." |
| 12–14 | Clinic | Headache, vomiting, sore throat | 3–4 | Amoxicillin | "Could be viral given negative rapid strep, but symptoms are classic, so will treat presumptively…" |
| 12–14 | ED | Sore throat, fever, voice change, trismus, snoring | 5 | Ampicillin-sulbactam, amoxicillin-clavulanate | Diagnosed with tonsillitis, admitted to hospital. Heterophile antibody test negative. Recently treated with clindamycin for GAS-negative tonsillitis. |
| 12–14 | ED | Throat pain, ear pain, fever, rhinorrhea, epigastric pain | 3 | Clindamycin | Heterophile antibody test positive. |
| 12–14 | ED | Throat pain, fever, ear pain | 4–5 | Amoxicillin | "Rapid strep negative though Centor score would suggest high probability… Will treat empirically for strep pharyngitis." |
Antibiotic prescriptions: Recommended and non-recommended agents
Among patients prescribed antibiotics, 26/29 (90%, 95% CI: 72–97%) received recommended antibiotics and 3/29 (10%, 95% CI: 3–28%) received non-recommended antibiotics. Recommended antibiotics included penicillin V (1), amoxicillin (22), and azithromycin (1, in a patient allergic to penicillin and cephalexin). Non-recommended antibiotics included a second-generation cephalosporin (1), clindamycin (1), and ampicillin-sulbactam during inpatient hospitalization followed by amoxicillin-clavulanate upon hospital discharge (1).
Discussion
Conclusions
In conclusion, we found that 28% of antibiotic prescriptions for pediatric patients evaluated for pharyngitis were not recommended by guidelines, primarily due to the prescription of antibiotics in spite of negative GAS test results. Given the frequency of pharyngitis in children, further targeted antimicrobial stewardship education for providers should be emphasized to reduce unnecessary antibiotic use. Studies assessing why adherence to guidelines for the management of pharyngitis in children appears to be greater than in adults may help elucidate which aspects of antimicrobial stewardship efforts have been most successful.
Acknowledgements
None.
Funding
This work was supported by the Fred Lovejoy Housestaff Research and Education Fund at Boston Children's Hospital and by National Institutes of Health training grant T32AI007061. The funding bodies had no role in the design of the study, collection, analysis, and interpretation of the data, or in writing the manuscript.
Availability of data and materials
The datasets generated and analysed during the current study are available from the corresponding author on reasonable request.
Ethics approval and consent to participate
This study was approved by the Committee on Clinical Investigation at Boston Children's Hospital (reference number IRB-P00005197), which granted a waiver of informed consent.
Consent for publication
Not applicable.
Competing interests
The authors declare that they have no competing interests.
Publisher's Note
Springer Nature remains neutral with regard to jurisdictional claims in published maps and institutional affiliations.
Open Access
This article is distributed under the terms of the Creative Commons Attribution 4.0 International License (
http://​creativecommons.​org/​licenses/​by/​4.​0/​
), which permits unrestricted use, distribution, and reproduction in any medium, provided you give appropriate credit to the original author(s) and the source, provide a link to the Creative Commons license, and indicate if changes were made. The Creative Commons Public Domain Dedication waiver (
http://​creativecommons.​org/​publicdomain/​zero/​1.​0/​
) applies to the data made available in this article, unless otherwise stated.