01.12.2012 | Original investigation | Ausgabe 1/2012 Open Access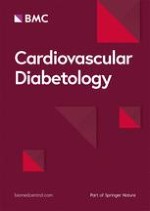 Adiponectin, diabetes and ischemic heart failure: a challenging relationship
Zeitschrift:
Autoren:

Samuele Baldasseroni, Alessandro Antenore, Claudia Di Serio, Francesco Orso, Giuseppe Lonetto, Nadia Bartoli, Alice Foschini, Andrea Marella, Alessandra Pratesi, Salvatore Scarantino, Stefano Fumagalli, Matteo Monami, Edoardo Mannucci, Niccolò Marchionni, Francesca Tarantini
Wichtige Hinweise
Electronic supplementary material
The online version of this article (doi:
10.​1186/​1475-2840-11-151
) contains supplementary material, which is available to authorized users.
Competing interest
The Authors declare that they have no competing interests.
Authors' contributions
SB and FT conceptualized and designed the study and carried out the analysis and interpretation of data; NM contributed to the design of the study and the interpretation of data; AA, FO, NB, AF, AM, AP, and SS participated to the acquisition and analysis of data; CDS and GL carried out the biochemical analysis including the determination of adiponectin; SF and MM performed the statistical analysis; EM gave an important intellectual contribution by revising the manuscript critically. All authors read and approved the final manuscript.
Abstract
Background
Several peptides, named adipokines, are produced by the adipose tissue. Among those, adiponectin (AD) is the most abundant. AD promotes peripheral insulin sensitivity, inhibits liver gluconeogenesis and displays anti-atherogenic and anti-inflammatory properties. Lower levels of AD are related to a higher risk of myocardial infarction and a worse prognosis in patients with coronary artery disease. However, despite a favorable clinical profile, AD increases in relation to worsening heart failure (HF); in this context, higher adiponectinemia is reliably related to poor prognosis. There is still little knowledge about how certain metabolic conditions, such as diabetes mellitus, modulate the relationship between AD and HF.
We evaluated the level of adiponectin in patients with ischemic HF, with and without type 2 diabetes, to elucidate whether the metabolic syndrome was able to influence the relationship between AD and HF.
Results
We demonstrated that AD rises in patients with advanced HF, but to a lesser extent in diabetics than in non-diabetics. Diabetic patients with reduced systolic performance orchestrated a slower rise of AD which began only in face of overt HF. The different behavior of AD in the presence of diabetes was not entirely explained by differences in body mass index. In addition, NT-proBNP, the second strongest predictor of AD, did not differ significantly between diabetic and non-diabetic patients. These data indicate that some other mechanisms are involved in the regulation of AD in patients with type 2 diabetes and coronary artery disease.
Conclusions
AD rises across chronic heart failure stages but this phenomenon is less evident in type 2 diabetic patients. In the presence of diabetes, the progressive increase of AD in relation to the severity of LV dysfunction is hampered and becomes evident only in overt HF.