01.12.2012 | Research | Ausgabe 1/2012 Open Access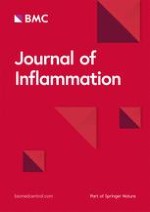 Adipose tissue biglycan as a potential anti-inflammatory target of sodium salicylate in mice fed a high fat diet
Zeitschrift:
Autoren:

Venkata J Adapala, Meliza Ward, Kolapo M Ajuwon
Wichtige Hinweise
Electronic supplementary material
The online version of this article (doi:
10.​1186/​1476-9255-9-15
) contains supplementary material, which is available to authorized users.
Competing interests
The authors declare that they have no competing interests.
Authors' contributions
KMA designed and obtained primary funding for the study. VJA conducted the animal experimentation, laboratory and statistical analysis with help from MW. All authors participated in evaluation of study finding and development of the article. All read and approved the final manuscript.
Abstract
Background
Inflammation in adipose tissue (AT) during obesity causes impaired AT function. Although multiple extracellular matrix (ECM) proteins are expressed in AT their potential role in adipose tissue inflammation is unclear. Biglycan, a pro-inflammatory ECM gene, is highly enriched in adipose tissue. However, whether it is correlated with adipose tissue inflammation is unknown. We provide evidence in support of a strong association between biglycan expression and inflammatory status of adipose tissue.
Methods
C57BL6 mice were fed either a control (10% fat calories) or a high fat diet (HFD) (60% fat calories) for 8 weeks. Adipose tissue was analyzed for the expression of biglycan, IL-6 and TNFα. Biglycan knockout or wild type were also fed a high fat diet for 8 weeks and the expression of inflammatory genes in the mesenteric adipose tissue was examined. To test anti-inflammatory treatment on biglycan expression, a group of mice were fed either the low fat or high fat diet for eight weeks supplemented with either saline or sodium salicylate @ 25mg/100ml in their drinking water.
Results
Mice on HFD had an increase in ECM genes (BGN and COL1A1), inflammatory genes (IL-6 and TNFα) in both the subcutaneous and epididymal depots. However, correlation analysis only shows a positive correlation between biglycan, IL-6 and TNFα expression. In addition, lower expression of IL-6 and CD68 was found in the mesenteric adipose tissue of biglycan knockout mice compared to the wild type. Sodium salicylate treatment reduced subcutaneous adipose tissue expression of BGN, COL1A1, and COL6A1 and a concurrent downregulation of TNFα and IL-6 and TLR4 expression. Salicylate also lowered the serum TGFβ1 levels.
Conclusion
Biglycan expression correlates with adipose tissue inflammation, especially in the subcutaneous depot compared to the epididymal depot. This is supported by the greater effect of sodium salicylate in attenuating both inflammatory and ECM gene expression the subcutaneous adipose depot compared to the epididymal depot. These results show that inflammatory state may explain the induction of biglycan, and perhaps, other ECM genes in adipose tissue.