08.02.2019 | Original Article | Ausgabe 6/2019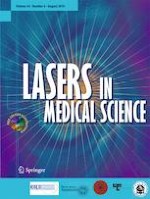 Adjunctive antimicrobial photodynamic therapy using methylene blue/ethanol formulation in experimental periodontitis in diabetic rats: short-term results
Zeitschrift:
Autoren:

Silvana Martins Rodrigues Filipini, Cibele Bruno Campagnolo, Danilo Antônio Milbradt Dutra, Roberto Marinho Maciel, Cristiane Cadermatori Danesi, Karla Zanini Kantorski
Wichtige Hinweise
Publisher's note
Springer Nature remains neutral with regard to jurisdictional claims in published maps and institutional affiliations.
Abstract
The aim of this study was to evaluate the effect of an MB experimental formulation (ethanol 20%) in aPDT used as an adjuvant to scaling and root planing (SRP) in the periodontal treatment of diabetic rats. Forty male Wistar rats received streptozotocin-intraperitonial injections to induce diabetes. After 14 days, 5 animals were allocated in the non-ligate group (NLG), and 35 animals received ligature at the first right mandibular molar to induce periodontitis. After 7 days, the ligature was removed and the animals were randomized into 4 groups: LG (without treatment,
n
 = 5), SRPG (SRP,
n
 = 10), aPDTW (SRP+aPDT-MB/water,
n
 = 10), and aPDTEt (SRP + aPDT-MB/water/ethanol/carboxymethylcellulose,
n
 = 10). Animals were euthanized after 7 days. Data of bone loss (BL) area, degree of inflammatory cell response, and collagen fibers percentages were statistically analyzed (
p
 < 0.05). Percentage of animals that presented mild and severe inflammatory infiltrate was 10% and 40% for SRPG, 20% and 30% for aPDTW, and 50% and 0% for aPDTEt, respectively. BL area (mm
2
) was statistically higher in the LG (0.39 ± 0.15) than NLG (0.05 ± 0.02). aPDTEt showed the lowest value of BL (0.08 ± 0.03), followed by aPDTW (0.21 ± 0.15) and SRPG (0.31 ± 0.18). Statistical differences were verified between aPDTEt and SRPG. In relation to the LG, aPDTEt, aPDTW, and SRPG recovered the equivalent 80%, 46%, and 20% of the BL. aPDTEt showed collagen content statistically higher than SRPG and LG, and presented higher mean values than NLG (
p
 > 0.05). Our findings showed aPDTEt presented promising results. aPDT using MB/ethanol can have potential as an adjunctive periodontal treatment in diabetics.