20.01.2020 | Research article | Ausgabe 1/2020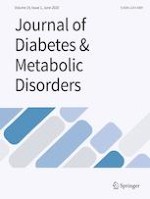 Adjusted tight control blood glucose management in diabetic patients undergoing on pump coronary artery bypass graft. A randomized clinical trial
Zeitschrift:
Autoren:

Fatemeh Javaherforoosh zadeh, Simin Azemati
Wichtige Hinweise
The article 'Adjusted tight control blood glucose management in diabetic patients undergoing on pump coronary artery bypass graft. A randomized clinical trial', written by Fatemeh Javaherforoosh zadeh and Simin Azemati, was originally published electronically on the publisher's internet portal (currently SpringerLink) on 20th January 2020 with open access. With the author(s)' decision to step back from Open Choice, the copyright of the article changed on 10th February 2020 to © Springer Nature Switzerland AG 2020 and the article is forthwith distributed under the terms of copyright. The original version of this article was revised.
Publisher's note
Springer Nature remains neutral with regard to jurisdictional claims in published maps and institutional affiliations.
Abstract
Background
Many of the patients who are undergoing Coronary Artery Bypass Graft have diabetes mellitus or metabolic syndrome and are at risk for hyperglycemia events.
Objective
The present study aimed to compare conventional glucose control with adjusted tight control in patients undergoing on-pump CABG.
Methods
This double –blind randomized clinical trial study was conducted in Shiraz, Iran, from September 2017–March 2018. Two consecutive groups of 75 patients undergoing elective on- pump coronary artery bypass graft surgery.
Intervention
The patients were divided into adjusted tight control of the blood glucose between 100 and 120 mg/dl and conventional method that the blood glucose maintained ≤200 mg/dl.
Primary outcomes were
mortality, sternal wound infection, cardiac arrhythmia, cerebrovascular attack, and acute renal failure.
Secondary outcomes included
duration of mechanical ventilation and length of ICU staying. The same main outcomes were evaluated after one month.
Statistical analysis
The data were analyzed using SPSS version 20(SPSS, Chicago, IL). Group comparisons were performed using t-tests and Chi-square tests. Repeated measurement test was used for comparing blood glucose in two groups. Mann Whitney U test was compared duration of the mechanical ventilation and length of ICU staying. Statistical significance was defined as a
p
value <0.05.
Results
There were no significant differences between main and secondary outcomes. About late outcomes, sternal wound infection was in the control group (7 patients) more than intervention (1 patient) (
P
 < 0.05). No differences between other complications in both groups were observed. The occurrence of hypoglycemia was low in both groups. Hypokalemia was significantly higher in the intervention than in control (
P
 < 0.001).
Conclusions
The findings showed using adjusted tight glycemic control to a level that is nearby to normal values during cardiac surgery may reduce episodes of hypoglycemia and thus reduces its side effects. As well as reduce hyperglycemic complications such as sternal wound infection.
Trial registration number
IRCT2013041713052N1). 2013-07-09.