01.12.2014 | Original Research | Ausgabe 4/2014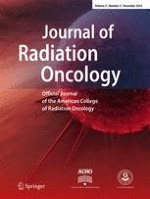 Adjuvant radiotherapy after prostatectomy: have randomized clinical trials had any impact?
Zeitschrift:
Autoren:

Aaron E. Wagner, Amol J. Ghia, Dennis C. Shrieve, Kristine E. Kokeny, William T. Lowrance, Jonathan D. Tward
Abstract
Objective
The objective was to evaluate if the release of randomized trials evaluating the impact of adjuvant radiotherapy after prostatectomy in high risk patients had any impact on national practice patterns in patients with at least two high risk features.
Methods
The SEER database was used to extract data for patients with a diagnosis of prostate adenocarcinoma from the years 2004–2010, and who underwent prostatectomy with pathologic features of both extracapsular extension (ECE) and positive margins. Adjuvant radiotherapy (ART) utilization was calculated on a yearly basis, and odds ratios were calculated for the likelihood of ART use by year compared to 2004.
Results
Between 2004 and 2010, 5,231 patients were identified who underwent prostatectomy with both ECE and positive margins, of which only 19 % received ART. ART utilization was 21, 20, 22, 20, 18, 18, and 15 % for the years 2004–2010, respectively. Odds ratios demonstrated that the likelihood of ART to be used compared to 2004 demonstrated a statistical decrease from 0.97 (95 % C.I. 0.76–1.25,
p
 = 0.85) in 2005 to 0.67 (95 % C.I. 0.51–0.90,
p
 < 0.01) in 2010. At the end of the study time period, patients with higher risk disease were more likely to receive ART, with differences noted in clinical T stage, pretreatment PSA, Gleason score, Gleason patterns, and D'Amico risk classification (largest
p
 = 0.02).
Conclusion
The release of randomized controlled trials demonstrating clinical and survival benefits with ART use in high risk patients has failed to increase the utilization of ART, instead demonstrating decreased utilization. In light of recently published guidelines, future changes will be of interest.