01.12.2017 | Study protocol | Ausgabe 1/2017 Open Access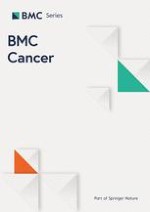 Adjuvant radiotherapy after radical cystectomy for patients with muscle invasive bladder cancer: a phase II trial
Zeitschrift:
Autoren:

Valérie Fonteyne, Piet Dirix, Sara Junius, Elke Rammant, Piet Ost, Gert De Meerleer, Martijn Swimberghe, Karel Decaestecker
Abstract
Background
Neo-adjuvant chemotherapy followed by radical cystectomy with extended pelvic lymph node dissection is considered to be the treatment of choice for patients with muscle invasive bladder cancer (MIBC). Despite this aggressive treatment the outcome is poor and ultimately, 30% of the patients with ≥pT3 tumors develop a pelvic recurrence. We hypothesize that postoperative adjuvant external beam radiotherapy (EBRT) might prevent local and lymph node recurrence and improve disease free- and overall survival as loco-regional recurrence is linked to the development of distant metastasis.
Methods
We plan to perform a multicentric prospective phase two study including 76 patients. Eligible patients are patients with MIBC, treated with radical cystectomy and presenting with ≥1 of the following characteristics:
Pathological (p)T3 stage + presence of lymphovascular invasion on pathological examination

pT4 stage

<10 lymph nodes removed

positive lymph nodes

positive surgical margins
Patients will have a 18F–FDG PET-CT to rule out the presence of distant metastasis prior to EBRT. A median dose of 50 Gy in 25 fractions is prescribed to the pelvic lymph node regions with inclusion of the operative bladder bed in case of a positive surgical margin. Patients with suspected lymph nodes on PET- CT can still be included in the trial, but a simultaneous integrated boost to 74Gy to the positive lymph nodes will be delivered. Blood and urine samples will be collected on day-1 and last day of EBRT for evaluation of biomarkers. The primary endpoint is evaluation of acute ≥Grade 3 intestinal or grade 4 urinary toxicity, in case of a neo-bladder reconstruction, within 12 weeks after EBRT. Secondary endpoints are: assessment of QOL, late RTOG toxicity, local control, disease free survival and overall survival. Biomarkers in urine and blood will be correlated with secondary survival endpoints.
Discussion
This is a prospective phase 2 trial re-assessing the feasibility of adjuvant radiotherapy in high-risk MIBC.
Trial registration
The Ethics committee of the Ghent University Hospital (EC2014/0630) approved this study on 31/07/2014.
Trial registration on Clinicaltrials.gov (
NCT02397434
) on November 19, 2014.