19.05.2017 | Brief Report | Ausgabe 3/2017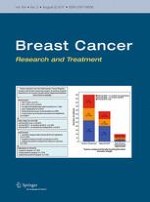 Adjuvant tamoxifen but not aromatase inhibitor therapy decreases serum levels of the Wnt inhibitor dickkopf-1 while not affecting sclerostin in breast cancer patients
Zeitschrift:
Autoren:

Andy Göbel, Jan D. Kuhlmann, Theresa Link, Pauline Wimberger, Andrew J. Browne, Martina Rauner, Lorenz C. Hofbauer, Tilman D. Rachner
Abstract
Purpose
Endocrine therapies, including tamoxifen or aromatase inhibitors, are indispensable for the treatment of patients with estrogen receptor (ER)- and/or progesterone-positive breast cancer. Whereas tamoxifen displays partial ER agonistic effects in bone, aromatase inhibitors increase bone resorption and fracture risk. The Wnt inhibitors dickkopf-1 (DKK-1) and sclerostin negatively impact bone formation and are considered targets for the treatment of bone disorders. However, the effect of endocrine therapies on serum DKK-1 and sclerostin levels in patients with primary breast cancer remains elusive.
Methods
Serum DKK-1 and sclerostin levels were measured at primary diagnosis as well as 3–5 days and 12 months after surgery in a cohort of 45 pre- and postmenopausal women with primary estrogen receptor-positive breast cancer treated with adjuvant tamoxifen or aromatase inhibitors.
Results
Mean baseline levels ±SD for DKK-1 and sclerostin were 29.7 ± 14.6 and 27.1 ± 16.2 pmol/l, respectively. A significant negative correlation of DKK-1 levels and age was observed (
r
= −0.32;
p
< 0.05), but not for sclerostin. Of note, DKK-1 levels were significantly lower in peri- and postmenopausal women compared to premenopausal patients (−47%;
p
< 0.05). In tamoxifen-treated patients, DKK-1 levels were reduced by 35% (
p
< 0.01) one year after surgery but remained unaltered in patients treated with aromatase inhibitors. No significant changes were observed for sclerostin.
Conclusion
DKK-1 serum levels were reduced in breast cancer patients receiving an adjuvant therapy with tamoxifen, possibly contributing to its bone-protective properties.