01.12.2015 | Case report | Ausgabe 1/2015 Open Access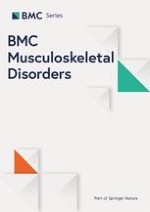 Adolescent idiopathic scoliosis without limb weakness: a differential diagnosis of core myopathy?
Zeitschrift:
Autoren:

Rafael de Paiva Luciano, Eduardo Barros Puertas, Delio Eulalio Martins, Flavio Faloppa, David Del Curto, Luciano Miller Reis Rodrigues, Beny Schmidt, Acary Souza Bulle de Oliveira, Marcelo Wajchenberg
Wichtige Hinweise
Competing interests
The authors declare that they have no competing interests.
Authors' contributions
RPL conceived of the study, and participated in its design and helped to write the manuscript. EBP, DEM, FF, DDC and LMRR participated in its design and helped to write the manuscript. BS and ASBO participated in the histopathological analysis and drafted the manuscript. MW conceived of the study, and participated in its design and coordination and helped to draft the manuscript. All authors read and approved the final manuscript.
Abstract
Background
Core myopathies are a clinically and genetically heterogeneous group of congenital myopathies with the common defined histopathological feature of focally reduced oxidative activity on muscle biopsy. It has a low incidence, however, recent articles show broad clinical spectrum, suggesting that the real incidence should be considerably larger than previously described. Due to the important association between scoliosis and paravertebral muscle imbalance, numerous authors study, by biopsy of the spinal rotator muscles, potential changes that may elucidate the etiology of adolescent idiopathic scoliosis.
Case presentation
Two patients have been followed at Spine Group of Department of Orthopedics at Federal University of São Paulo, with an initial diagnosis of idiopathic scoliosis. Both patients had clinical and radiological findings compatible with it. The patients authorized, through the Term of Consent, intraoperative biopsy of muscle multifidus from the apex of the thoracic curve on concave and convex sides. After muscle biopsy was performed a histopathological analysis. As regard to the histopathological features: in both patients were identified, the presence of core structures in extensive areas with reduced oxidative activity running along the muscle fiber.
Conclusions
All patients with 'idiopathic' scoliosis deserve a careful neurological evaluation, even if they have minimal muscle symptoms in the extremities. The frequent occurrence of scoliosis in patients with CORE Myopathies, supports the thesis that the change in the paravertebral muscle fiber must be the underlying pathogenic factor in scoliosis and may help us understand the onset and progression of curves in patients previously diagnosed with idiopathic scoliosis.