13.09.2018 | Original | Ausgabe 10/2018 Open Access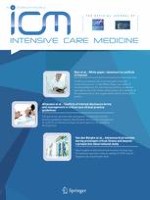 Adrenocortical function during prolonged critical illness and beyond: a prospective observational study
Zeitschrift:
Autoren:

Bram Peeters, Philippe Meersseman, Sarah Vander Perre, Pieter J. Wouters, Dimitri Vanmarcke, Yves Debaveye, Jaak Billen, Pieter Vermeersch, Lies Langouche, Greet Van den Berghe
Wichtige Hinweise
Electronic supplementary material
Take-home message
First, unlike what is generally assumed, not the presence of septic shock, but rather an extended duration of ICU stay beyond 4 weeks explains lack of elevated free cortisol that is not compensated by increased ACTH, which could be due to a central (endogenous or exogenous) adrenocortical suppression. Second, cosyntropin stimulation tests, currently advised for the diagnosis of critical illness-related corticosteroid insufficiency (CIRCI), are confounded by increased cortisol distribution volume—which lowers the incremental total but not free cortisol responses to cosyntropin—and thus these tests cannot provide reliable information on the adrenocortical integrity or functional reserve.
Introduction
High plasma concentrations of total and free cortisol and low levels of cortisol binding proteins hallmark critical illness [
1
]. Until recently, several-fold increased ACTH-driven cortisol production was considered to be the main driver of critical illness-induced hypercortisolism. However, studies have reported low rather than high plasma ACTH throughout the first week in ICU, a cortisol production rate that was not or only slightly higher than in matched healthy subjects and an important role for suppressed cortisol breakdown in bringing about hypercortisolism in the critically ill [
1
–
3
]. Possible explanations for low plasma ACTH comprise feedback inhibition exerted by circulating (free)cortisol that is elevated via non-ACTH-dependent secretion and via suppressed breakdown [
1
], or inflammation- and hypoxia-induced cellular damage to the hypothalamus and/or the pituitary gland [
4
,
5
]. Also, the integrity of the adrenal cortex could be impaired by hypoxia, inflammation, or hemorrhage causing primary adrenal insufficiency or by sustained reduced ACTH signaling, evoking central hypoadrenalism [
6
]. It is currently unknown whether and when these alterations in ACTH and cortisol recover in critically ill patients suffering from various diseases including sepsis/septic shock.
Experts have defined "critical illness-related corticosteroid insufficiency" (CIRCI) as the condition in which patients may not, or may no longer, be able to produce the required amount of cortisol that is essential for survival [
7
]. Patients suffering from septic shock and long-stay ICU patients are assumed to be particularly at risk of developing CIRCI [
8
–
11
]. Experts have advised to diagnose CIRCI either by an incremental cortisol response to 250 µg of cosyntropin (Synacthen
®
) below 9 µg/dl or by a random plasma total cortisol below 10 µg/dl [
12
,
13
]. However, the concept of CIRCI as a clinical entity that should be treated remains controversial. Indeed, it is not known how many patients would fulfill these presumed criteria of CIRCI without any obvious clinical need for glucocorticoid treatment. Vice versa, it has not been investigated whether initiation of glucocorticoid treatment in the ICU is supported by abnormalities in adrenocortical function parameters.
We here investigated whether and when the central and peripheral alterations that occur within the hypothalamus–pituitary–adrenal axis during prolonged critical illness recover, and to what extent the currently used diagnostic criteria for CIRCI relate to septic shock, need for glucocorticoid treatment, and survival. To this end, we documented the changes over time—from ICU day 7 up to recovery or death—in plasma ACTH and (free)cortisol, urinary cortisol metabolites, and in plasma total and free cortisol responses to cosyntropin, with focus on long-stay (≥ 4 weeks in ICU) patients in comparison with shorter-stay patients (1–2 weeks; 2–3 weeks; 3–4 weeks in ICU).
Some of the results of this study were previously reported in the form of an abstract [
14
].
Methods
Study design, study participants, and sample size calculation
This prospective observational study was performed in five medical/surgical ICUs at the University Hospitals of Leuven, Belgium. Consecutive adult (age ≥ 18 years) critically ill patients were screened for eligibility on ICU day 6. Exclusion criteria were (details provided in the Supplementary Material) treatment with systemic glucocorticoids, etomidate, azoles, or other drugs predisposing to adrenal insufficiency, no vital organ support, no arterial or central venous catheter in place, referral from another ICU, cerebral/pituitary/adrenal disorders with impact on the neuroendocrine system, enrollment in another trial, or expected death within 12 h. On ICU day 7, after written informed consent from the patient or next of kin, the study started.
The required study sample size was determined by an estimated effect size of longer duration of critical illness on adrenocortical function and plasma ACTH. To detect primary adrenal insufficiency occurring within 4 weeks in ICU (causing plasma ACTH > 50% above healthy values), with 80% power and 95% certainty, 64 patients—not receiving glucocorticoid treatment up to ICU day 28—and 20 healthy controls matched for age, gender, and BMI were needed (Table
1
) [
1
]. Also, within this time window, this sample size would allow us to detect an adaptive stress response, with pituitary reactivation as a result of normalized cortisol breakdown, and thereby a normalization of plasma ACTH in patients who recover. Recruitment started on February 18, 2015 and continued until 64 patients fulfilled the requirements of ICU stay ≥ 4 weeks (ICU ≥ 4w) without receiving glucocorticoids (July 7, 2017) (Fig. S1). Patients who were discharged or died before this time point were analyzed for comparison, divided into three groups based on duration of ICU stay [between 1 and 2 weeks (ICU1–2w), between 2 and 3 weeks (ICU2–3w), between 3 and 4 weeks (ICU3–4w)]. The day of ICU discharge was defined as the day on which patients no longer required vital organ support. Patients who received glucocorticoids after study inclusion were compared in terms of their last pre-treatment assessment with patients not receiving glucocorticoid treatment, selected pairwise, matched for day of assessment and baseline risks (Table S1).
Table 1
Participant characteristics
Healthy subjects

ICU stay 1–2w

ICU stay 2–3w

ICU stay 3–4w

ICU stay ≥ 4w

Demography and anthropometry

Male gender, no. (%)

14 (70)

0.83

108 (66)

51 (68)

29 (66)

47 (73)

0.73

Age, year (mean ± SEM)

64 ± 2

0.87

64 ± 1

64 ± 2

59 ± 2

65 ± 2

0.18

BMIa, kg/m2 (mean ± SEM)

26.4 ± 0.7

0.82

26.4 ± 0.4

26.1 ± 0.5

26.4 ± 0.8

26.9 ± 0.8

0.88

Admission characteristics

Diabetes mellitus, no. (%)

22 (13)

20 (27)

7 (16)

11 (17)

0.17

Malignancy, no. (%)

26 (16)

7 (9)

3 (7)

10 (16)

0.44

APACHE II scoreb (mean ± SEM)

28 ± 1

29 ± 1

31 ± 1

31 ± 1

0.02

Emergency admission, no. (%)

128 (78)

58 (77)

34 (77)

53 (83)

0.84

Diagnostic admission categories

0.001

Cardiac surgery, no. (%)

29 (18)

21 (28)

13 (29)

13 (20)

Complicated other surgery, no. (%)

63 (38)

17 (23)

11 (25)

27 (42)

Multiple trauma and burns, no. (%)

11 (7)

12 (16)

6 (14)

14 (22)

Medical, no. (%)

61 (37)

25 (33)

14 (32)

10 (16)

Patient characteristics at study inclusion (ICU day 7)

Infection, no. (%)

123 (75)

62 (83)

40 (91)

53 (83)

0.08

Sepsisc, no. (%)

103 (63)

57 (76)

38 (86)

47 (73)

0.009

Septic shockc, no. (%)

45 (27)

34 (45)

21 (47)

38 (59)

< 0.0001

Requiring vasopressors on ICU day 7, no. (%)

67 (41)

41 (55)

24 (55)

50 (78)

< 0.0001

Norepinephrine infusion rate on ICU day 7, µg/kg/min (mean ± SEM)

0.03 ± 0.01

0.04 ± 0.01

0.06 ± 0.02

0.09 ± 0.01

< 0.0001

Treatment with inhaled glucocorticoids on ICU day 7, no. (%)

8 (5)

1 (1)

1 (2)

1 (2)

0.38

Clinical outcomes

Days in ICU (mean ± SEM)

10 ± 0

17 ± 0

23 ± 0

49 ± 3

< 0.0001

ICU non-survivor, no. (%)

20 (12)

8 (11)

6 (14)

13 (20)

0.34
The study protocol was in accordance to the 1964 Declaration of Helsinki and its later amendments, was approved by the Institutional Ethical Review Board (S57249) and made available prior to study start (ISRCTN98806770).
Clinical data and sample collection
Demographic, anthropometric, ICU admission characteristics, patient characteristics at study inclusion on ICU day 7, and outcomes were documented (Table
1
and Table S1). From ICU day 7 until ICU day 28 and/or ICU discharge or death, morning blood and 24-h urine samples were collected daily (for details, see Supplementary Material). Thereafter, for ICU ≥ 4w, samples were collected weekly until ICU discharge or death, with an additional sample on the last ICU day. For all patients, a short ACTH-stimulation test [intravenous injection of 250 μg cosyntropin (Synacthen
®
) with blood sampling before, 30 and 60 min after injection] was performed weekly. Seven days after ICU discharge, an additional blood sample was taken and a cosyntropin test was performed on the ward. For the demographically matched healthy volunteers, morning blood and 24-h urine were sampled and a cosyntropin test was performed. Details on sampling procedure and sample storing are provided in the Supplementary Material.
Quantification of plasma ACTH and (free)cortisol concentrations
Plasma ACTH concentrations were measured with a double-monoclonal immunoradiometric assay (Brahms Diagnostics) and cortisol (Immunotech) and cortisol-binding-globulin (CBG) (Riazen) were measured by competitive radioimmunoassay. Plasma albumin was quantified by the bromocresol green colorimetric method (Sigma-Aldrich). Plasma free cortisol was calculated using the Coolens formula adapted for individual albumin and CBG concentrations, previously validated as representative of measured free cortisol in the ICU context [
15
,
16
]. Results were not available to the bedside clinicians.
Estimation of the activity of cortisol metabolizing enzymes
Liquid chromatography–tandem mass spectrometry (LC–MS/MS) was used to determine absolute urinary concentrations of cortisol (F), 5α-tetrahydrocortisol (allo-THF), 5β-tetrahydrocortisol (THF), cortisone (E), 5α-tetrahydrocortisone (allo-THE), and tetrahydrocortisone (THE) after deglucuronidation. The activity of 11β-HSD2 was estimated by the E/F ratio, activity of 5α-reductase by allo-THF/F and allo-THE/E ratios, and activity of 5β-reductase by THF/F and THE/E ratios. These estimations were performed only for ICU ≥ 4w patients weekly throughout the ICU stay. Results were not available to bedside clinicians.
Statistical analyses
Data are presented as mean ± standard errors (SEM) or numbers and percentages, as appropriate. Continuous data were compared with unpaired Student's
t
tests, where necessary after transformation to obtain a near-normal distribution. Proportions were compared with the use of chi-square tests. Time series were compared with repeated-measures ANOVA, where necessary after transformation to obtain a near-normal distribution. Statistical analyses were performed with JMP
®
Pro (v13.0.0, SAS Institute). Two-sided
P
values ≤ 0.05 were considered to indicate statistical significance. No corrections for multiple comparisons were done.
Results
Patient characteristics
A total of 392 patients were included in the study and 45 subsequently received glucocorticoids (Fig. S1). Of the remaining 347 included patients, 64 patients fulfilled the requirements of being critically ill for ≥ 4 weeks. The 283 patients who were discharged from ICU or died before day 28 were divided into three groups for duration of ICU stay (1–2 weeks; 2–3 weeks; 3–4 weeks) (Table
1
). Patients who subsequently received glucocorticoids were comparable to those who did not, with the exception of a higher admission APACHE II score, higher proportions of patients with sepsis and septic shock, a longer ICU stay, and higher mortality (Table S1).
Results for the 347 patients who did not receive treatment with glucocorticoids
Comparison of patients who subsequently received glucocorticoid treatment with those who did not
Of the 45 patients who were included on ICU day 7 and who subsequently received glucocorticoids, 24 could be matched to 24 patients who were not treated with glucocorticoids, for comparison of adrenocortical function parameters on the same ICU day (ICU day 14 ± 1). None of the studied adrenocortical function parameters in these patients who received glucocorticoid treatment differed from those who were not treated (Fig.
4
). This was also the case when only considering hydrocortisone-treated patients (data not shown). Furthermore, a random plasma cortisol < 10 µg/dl occurred in 13% of both glucocorticoid-treated patients on the pre-treatment day and of matched patients who did not receive glucocorticoid treatment (
P
 > 0.90). An incremental total cortisol response to cosyntropin < 9 µg/dl occurred in 43% of glucocorticoid-treated patients versus 40% of glucocorticoid-untreated patients (
P
 = 0.81).
×
Discussion
In conclusion, irrespective of sepsis/septic shock, of clinical need for glucocorticoids, and of survival, low cortisol plasma binding proteins and suppressed cortisol breakdown determine the systemic cortisol availability in prolonged critical illness which is no longer elevated beyond ICU day 28. The uniform rise in ACTH and cortisol to supra-normal levels 1 week after ICU discharge, most pronounced among very long-stayers, indicates recovery of a central adrenocortical suppression while in ICU. Low cortisol plasma binding invalidates the cosyntropin test to investigate adrenocortical functional reserve in the ICU context.
Acknowledgements
We thank the patients and healthy volunteers for participating, the clinical staff for excellent protocol compliance, and the research assistants for sample handling and data entry. This work was supported by the Research Foundation-Flanders (FWO) [Grant G091918N to GVdB, research mandate 11W9315N to BP and 1842019N to PV]; by the Methusalem Program of the Flemish Government [METH/14/06 to GVdB and LL via KU Leuven]; by a European Research Council Advanced Grant [AdvG-2017-785809 to GVdB] from European Union's Horizon 2020 research and innovation programme.
Compliance with ethical standards
Conflicts of interest
The authors declare that they have no conflict of interest.
Open Access
This article is distributed under the terms of the Creative Commons Attribution-NonCommercial 4.0 International License (http://creativecommons.org/licenses/by-nc/4.0/), which permits any noncommercial use, distribution, and reproduction in any medium, provided you give appropriate credit to the original author(s) and the source, provide a link to the Creative Commons license, and indicate if changes were made.