01.12.2019 | Case report | Ausgabe 1/2019 Open Access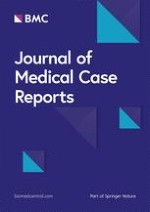 Adult hypophosphatasia with compound heterozygous p.Phe327Leu missense and c.1559delT frameshift mutations in tissue-nonspecific alkaline phosphatase gene: a case report
Zeitschrift:
Autoren:

Kazunori Fukushima, Keiko Kawai-Kowase, Yukio Yonemoto, Makoto Fujiwara, Hiroko Sato, Mahito Sato, Takuo Kubota, Keiichi Ozono, Junich Tamura
Abstract
Background
Hypophosphatasia is an inherited bone disease characterized by low alkaline phosphatase activity encoded by
ALPL
. Clinically, hypophosphatasia can be categorized as perinatal, infantile, childhood, and adult forms, as well as odonto-hypophosphatasia, according to the age at first sign or dental manifestations. Adult hypophosphatasia typically presents in middle-aged patients who appear to be in good health in early adulthood and manifests as painful feet caused by recurrent, slow-healing stress fractures of the lower limb. Because the symptoms of adult hypophosphatasia vary and are common, many patients with hypophosphatasia might be not diagnosed accurately and thus may receive inappropriate treatment.
Case presentation
We report a case of a 35-year-old Japanese woman with low serum alkaline phosphatase detected at a routine medical checkup. She had mild muscle/bone pain but no history of rickets, fractures, or dental problems. Measurement of bone mineral density of the lumbar spine and the femoral neck revealed osteopenia below the expected range for age in a young adult. Abdominal ultrasonography revealed numerous microcalcifications in both kidneys. Analysis of amino acids in urine revealed that phosphoethanolamine was elevated. Low serum alkaline phosphatase activity, elevation of phosphoethanolamine, and low bone mineral density supported the diagnosis of hypophosphatasia.
ALPL
mutation analysis revealed two mutations: p.Phe327Leu and c.1559delT. These genetic abnormalities were previously reported in perinatal, infantile, and childhood but not adult hypophosphatasia. On the basis of the clinical presentation, laboratory and imaging findings, and genetic analyses, the patient was definitively diagnosed with adult hypophosphatasia. To the best of our knowledge, this is the first case report of adult hypophosphatasia with the compound heterozygous mutations p.Phe327Leu and c.1559delT.
Conclusions
Although the risk of bone fracture was high in this case, treatment approaches differ between osteoporosis and hypophosphatasia. Because adult hypophosphatasia diagnosis is often difficult because of their varied symptoms, hypophosphatasia should be considered in the differential diagnosis of low serum alkaline phosphatase. Early diagnosis is important so that appropriate treatment can be initiated.