07.10.2016 | Original Article | Ausgabe 2/2017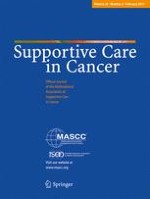 Advance directives in patients with advanced cancer receiving active treatment: attitudes, prevalence, and barriers
Zeitschrift:
Autoren:

Julie C. McDonald, Jeanne M. du Manoir, Nanor Kevork, Lisa W. Le, Camilla Zimmermann
Abstract
Purpose
The purposes of the study were to assess awareness and prevalence of advance directives (ADs) among patients with advanced cancer undergoing active outpatient care and to determine factors associated with AD completion before and after the diagnosis of cancer.
Methods
Patients with advanced solid tumor malignancy receiving treatment at the Chemotherapy Day Unit were approached for recruitment. They completed an onsite questionnaire about completion and timing of ADs, demographic information, and perceived health; a review of their medical records was conducted to document their cancer care and co-morbidities. Multinomial logistic regression analysis identified factors associated with the timing of AD completion (pre-cancer, post-cancer, or not at all).
Results
Two hundred patients were enrolled, with 193 surveys available for analysis. ADs were completed in 55 % (106/193) of patients, including a living will in 33 % (63/193), a power of attorney in 49 % (95/193), and a do-not-resuscitate (DNR) designation in 18 % (35/193). Most patients (53 %) had completed an AD before being diagnosed with cancer. Higher income (
p
= 0.02) and age (
p
= 0.004) were associated with AD completion pre-cancer diagnosis; discussion of end-of-life care (
p
= 0.02) and palliative care referral (
p
< 0.0001) were associated with AD completion post-cancer diagnosis.
Conclusions
This study demonstrates that different factors may influence the completion of ADs before and after a diagnosis of cancer and highlights the potential for early palliative care to impact the completion of ADs in patients with advanced cancer who are undergoing active cancer treatment.