03.11.2017 | Original Article | Ausgabe 2/2018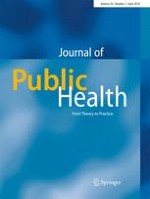 Advanced-stage tongue and mouth floor cancer is related to tobacco and alcohol abuse
Zeitschrift:
Autoren:

Natanael Victor Furtunato Bezerra, Karla Lorene de França Leite, Mariana Marinho Davino de Medeiros, Mariana Leonel Martins, Andreia Medeiros Rodrigues Cardoso, Cassiano Francisco Weege Nonaka, Wilton Wilney Nascimento Padilha, Yuri Wanderley Cavalcanti
Wichtige Hinweise
The original version of this article was revised: Due to the existence of another journal with the same name, the Publisher has added a subtitle, "From Theory to Practice." Effective as of January 2018, the new title of this Journal is
Journal of Public Health: From Theory to Practice
.
Abstract
Introduction
Smoking and alcoholism are recognized factors associated with the prevalence of oral cancer. However, the role of these habits on the severity of lesions still needs to be elucidated.
Objective
To evaluate the prevalence of tongue and mouth floor cancer according to the clinical stage and how it correlates with alcoholism and smoking habits in Brazil from 2000 to 2010.
Methods
Data referring to 11,873 cases of tongue and mouth floor cancer were obtained from the Integrator Module of the Hospital Registry of Cancer. Internal inconsistencies (non-classified cases) and data with no relevant information were eliminated. The final sample value considered for statistical analysis was equal to 8417 cases. An analysis of frequency distribution and binary logistic regression modeling was performed, using a significance level of 5%.
Results
The concomitant use of alcohol and tobacco (69%,
n
= 5808) and clinical stage grade IV (55.9%,
n
= 4703) were the most frequent findings. A higher prevalence of advanced lesions was observed in 2008 (PR = 1.715, 95% CI = 1.254–2.347,
p
< 0.01). The prevalence ratio of advanced tongue and mouth floor cancer (clinical stages III and IV) was observed to be significant for both smokers only (
p
< 0.01; PR = 1.460; 95% CI = 1.222–1.745) and for individuals who were both smokers and alcoholics (
p
< 0.05; RP = 2.279; 95% CI = 1.980–2.622).
Conclusion
Data from the 11-year registry suggest that smoking contributes significantly to the prevalence of advanced cases of tongue and mouth floor cancer. It is also implied that concomitant use of alcohol and tobacco increases the prevalence of advanced-stage oral cancer. Prospective cohort studies are still necessary to prove such relationships.