26.08.2020 | Outcomes Research in Orthopedics (O Ayeni, Section Editor) | Ausgabe 5/2020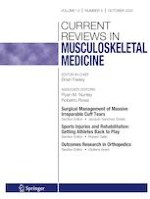 Advances in FAI Imaging: a Focused Review
Zeitschrift:
Autoren:

Vasco V. Mascarenhas, António Caetano, Pedro Dantas, Paulo Rego
Wichtige Hinweise
This article is part of the Topical Collection on
Outcomes Research in Orthopedics
Publisher's Note
Springer Nature remains neutral with regard to jurisdictional claims in published maps and institutional affiliations.
Abstract
Purpose of Review
Femoroacetabular impingement (FAI) is one of the main causes of hip pain in young adults and poses clinical challenges which have placed it at the forefront of imaging and orthopedics. Diagnostic hip imaging has dramatically changed in the past years, with the arrival of new imaging techniques and the development of magnetic resonance imaging (MRI). This article reviews the current state-of-the-art clinical routine of individuals with suspected FAI, limitations, and future directions that show promise in the field of musculoskeletal research and are likely to reshape hip imaging in the coming years.
Recent Findings
The largely unknown natural disease course, especially in hips with FAI syndrome and those with asymptomatic abnormal morphologies, continues to be a problem as far as diagnosis, treatment, and prognosis are concerned. There has been a paradigm shift in recent years from bone and soft tissue morphological analysis towards the tentative development of quantitative approaches, biochemical cartilage evaluation, dynamic assessment techniques and, finally, integration of artificial intelligence (AI)/deep learning systems.
Summary
Imaging, AI, and hip preserving care will continue to evolve with new problems and greater challenges. The increasing number of analytic parameters describing the hip joint, as well as new sophisticated MRI and imaging analysis, have carried practitioners beyond simplistic classifications. Reliable evidence-based guidelines, beyond differentiation into pure instability or impingement, are paramount to refine the diagnostic algorithm and define treatment indications and prognosis. Nevertheless, the boundaries of morphological, functional, and AI-aided hip assessment are gradually being pushed to new frontiers as the role of musculoskeletal imaging is rapidly evolving.