01.12.2017 | Research | Ausgabe 1/2017 Open Access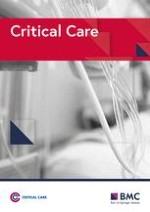 Aerosol delivery during invasive mechanical ventilation: a systematic review
Zeitschrift:
Autoren:

Jonathan Dugernier, Stephan Ehrmann, Thierry Sottiaux, Jean Roeseler, Xavier Wittebole, Thierry Dugernier, François Jamar, Pierre-François Laterre, Gregory Reychler
Wichtige Hinweise
Electronic supplementary material
The online version of this article (doi:
10.​1186/​s13054-017-1844-5
) contains supplementary material, which is available to authorized users.
Abbreviations
%ID
Percentage of inhaled dose
%ND
Percentage of nominal dose
ARDS
Acute respiratory distress syndrome
COPD
Chronic obstructive pulmonary disease
MMAD
Mass median aerodynamic diameter
PDDS
Pulmonary Drug Delivery System
PSV
Pressure support ventilation
SPECT-CT
Single photon emission tomography combined with a computed tomography scanner
VAP
Ventilator-associated pneumonia
VAT
Ventilator-associated tracheobronchitis
VCV
Volume controlled ventilation
Background
Aerosol therapy is commonly used in the intensive care unit. Three primary classes of drugs are delivered by inhalation to mechanically ventilated patients: bronchodilators, corticosteroids and antibiotics [
1
]. Drug efficacy depends on the dose and the site of deposition. The clinical benefit of bronchodilators plateaus the effective dose is deposited, and increasing the dose will expose the patient to potential adverse events (e.g., cough, tachycardia and tremor) [
2
,
3
]. With respect to inhaled antibiotics, concentrations should be maximized at the infected lung site to obtain an effective bactericidal effect according to their pharmacokinetics-pharmacodynamics characteristics [
4
].
Many factors influence aerosol delivery to the lungs during mechanical ventilation and are related to the drug, the device, the patient, the ventilator circuit, the artificial airways and the ventilator settings [
5
]. These factors have been primarily studied in vitro [
6
–
8
]. During the past 30 years, clinical and experimental studies have investigated lung deposition of inhaled drugs during invasive mechanical ventilation using imaging techniques based on radiolabeled aerosol deposition, lung tissue sampling and pharmacokinetics analysis [
5
,
9
,
10
]. A comprehensive systematic review summarizing in vivo data related to aerosol delivery during invasive mechanical ventilation has never been published.
The aim of this review is to evaluate studies that assessed in vivo lung delivery of inhaled drugs to mechanically ventilated patients or animal models either as absolute drug concentrations or quantitative deposition relative to the nominal dose to: (1) provide current knowledge on whole lung deposition; (2) examine the distribution and penetration of inhaled drugs into different regions of the respiratory tract; (3) determine how the ventilator circuit and the artificial airways impact aerosol delivery and (4) discuss the administration techniques applied in these studies.
Methods
This study was registered in the International Prospective Register of Systematic Reviews (PROSPERO CRD42016047186) and was conducted according to the Preferred Reporting Items for Systematic Reviews and Meta-Analyses (PRISMA) guidelines [
11
].
Search strategy and data extraction
The search strategy, selection criteria, data extraction and study quality assessment are detailed in Additional file
1
. The systematic search was performed among the Pubmed, Science Direct, Scopus and PeDRO database by one investigator (JD) who examined publications from 1985 to Sept 2016. Original research articles were included according to inclusion criteria based on participants, interventions, comparisons, outcomes and study design (PICOS) (Table
1
). Articles published in a language other than English and French, were excluded. The Downs and Black scale was used to define the methodological quality of eligible studies [
12
].
Table 1
Inclusion criteria for studies according PICOS
Participants

Adult aged 18 years or older with invasive mechanical ventilation

or in vivo experimental model of adult invasive mechanical ventilation

Interventions

Aerosol administration using any type of device (nebulizer, metered-dose inhaled, dry powder inhaler, etc.)

Aerosol deposition assessment using pharmacokinetics or radioisotopic methods

Outcomes

Pulmonary deposition of inhaled drug (dose, distribution or penetration)

Extrapulmonary deposition, if available

Study designs

RCT, randomized comparative, crossover or cohort studies
Data expression
The data were expressed as the mean ± standard deviation or median (25–75% interquartile range). Lung deposition data were expressed as percentage of nominal dose (% ND, i.e., the amount of drugs placed in the reservoir of the nebulizer or contained in the puffs of the metered-dose inhaler at the beginning of experiments) or as percentage of inhaled dose (% ID, i.e., the amount of drugs that reach the distal tip of the artificial airways). The penetration of the aerosol particles into the lungs was evaluated by the penetration index. The penetration index was calculated using the outer to the inner lung-deposition region ratio normalized to the lung volume as described previously [
13
]. The inter-subject variability for the lung deposition data was characterized using the coefficient of variation (CV, expressed as a percentage) or the dispersion around the median.
Results
The flow diagram for study selection is depicted in Fig.
1
. Among 234 articles assessed for eligibility, 36 studies were included and comprised 26 clinical studies (see Additional file
2
: Table S1) [
14
–
38
] and 10 experimental studies (see Additional file
2
: Table S2) [
39
–
48
]. The Downs and Black scores were 20 ± 2 and 18.5 ± 0.5 for the clinical and experimental studies, respectively (see Additional file
2
: Table S3). Twenty clinical studies evaluated critically ill ventilated patients who were specifically suffering from documented nosocomial lung infection (ventilator-associated tracheobronchitis (VAT) or ventilator-associated pneumonia (VAP)) or were ventilated for others reasons such as chronic obstructive pulmonary disease (COPD), acute respiratory distress syndrome (ARDS) or other types of respiratory infection. Six studies were performed in ventilated patients without critical illness. These patients had lung cancer or were in the postoperative phases following cardiac, abdominal or neurological surgery. Experimental studies were performed in ventilated piglets (9 of 10 studies) or dogs (1 of 10 studies). Two thirds of the studies included in this systematic review were comparative (25 of 36 studies) (different populations, devices or administration techniques), and most were not randomized (18 of 25 studies) and were nonblinded (21 of 25 studies). Only 6 of 36 studies reported a sample size calculation, which varied from 5 to 69 patients and from 6 to 36 animals [
15
,
18
,
20
,
24
,
34
,
38
]. Lung delivery was assessed using mass balance techniques, lung tissue sampling, imaging or pharmacokinetics techniques in 9, 9, 10 and 16 studies, respectively. Drugs of interest are detailed in Table
2
.
Table 2
Drugs of interest
| | Drugs |
| --- | --- |
| Antibiotics | |
| Tracer labeled with technetium-99 m | |
| Bronchodilators | |
| Other | |
×
Drugs reaching the distal tip of artificial airways
Using the mass balance technique (i.e., rinsing of the ventilator circuit), authors reported 22% to 66% ND antibiotics reaching the distal tip of the tracheostomy cannula or the endotracheal tube [
36
,
39
,
41
–
46
,
48
]. Imaging deposition studies revealed that the trachea and large bronchi represent the major site of drug deposition (Fig.
2
) [
18
,
25
,
29
,
35
,
37
]. The study by Klockare et al. [
24
] reported a 49% ID of radiolabeled drug deposited in the trachea and the main bronchi of nine critically ill patients whereas 51% was distributed in both lungs with 14% in the lobar and segmental bronchi using single photon emission tomography combined with a computed tomography scanner (SPECT-CT).
×
Aerosol delivery to the lungs
The highest drug doses deposited into the lungs (from the hili to the periphery, 38% ND) were obtained using a metered-dose inhaler (MDI) combined with an inhalation chamber at the Y-piece [
30
]. Lung doses from 3 to 7% ND and 1 to 16% ND were reported with constant-output jet nebulizers [
25
,
29
] and inspiratory synchronized jet nebulizers [
19
,
22
,
23
,
29
,
37
] whereas a 5% ND was reported with a constant-output ultrasonic nebulizer [
23
]. Only one scintigraphic study assessed aerosol delivery in patients using a constant-output vibrating-mesh nebulizer and measured lung doses of only 10–15% ND [
18
].
Aerosol distribution between both lungs
Two studies comparing aerosol delivery using a constant-output UN or direct instillation in the endotracheal tube observed a more homogeneous distribution of drugs with a nebulizer [
15
,
24
]. Using SPECT-CT, Klockare et al. [
24
] measured 33% and 17% ID of radiolabeled drug in the right and the left lung after aerosol administration compared with 67% and 7% ID after instillation. A similar distribution of radiolabeled drug was measured in both lungs of patients post neurosurgery, with a trend towards a greater right to left lung-deposition ratio (from 1.39 to 3.33) [
18
]. Four studies enrolling critically ill or postoperative patients following open-heart surgery observed a lower left lung deposition in comparison with that of the right lung [
22
–
24
,
37
].
Aerosol penetration into the lungs
Ferrari et al. [
41
] reported 10% ND ceftazidime in sub-pleural specimens (i.e., homogenized bronchioles and alveoli) of healthy piglets whereas 50% ND was deposited into the trachea and proximal airways. Similar concentrations of amikacin were measured in sub-pleural specimens from both lungs, different lobes and dependent and nondependent regions from the lower lobes of healthy piglets on the first day of intubation [
44
]. However, a significant reduction in concentrations in dependent lung regions after prolonged mechanical ventilation was observed (50 to 400 μg/g after 24 h vs 20 to 60 μg/g after 72 h of mechanical ventilation,
p
 < 0.05) [
40
]. Moreover, five studies of infected piglets showed a significant reduction of antibiotic deposition in subpleural specimens of lung regions with severe bronchopneumonia characterized by a massive aeration loss in comparison with partially aerated lung regions with mild bronchopneumonia [
39
,
42
,
43
,
46
,
48
].
Postoperative scintigraphic studies reported a penetration index (normalized O/I ratio) in patients of 0.32 to 0.75, which indicated a predominant proximal deposition [
18
,
37
]. Eight pharmacokinetics studies reported a significant amount of antibiotics in tracheal secretions and substantial epithelial lining fluid (ELF) concentrations [
14
,
15
,
27
,
28
,
31
,
32
,
34
,
36
].
Variability in lung deposition
The intersubject variability of lung deposition ranged from 9 to 62% CV in the scintigraphic studies whatever the device used (nebulizers or metered-dose inhalers) [
18
–
20
,
22
,
23
,
29
,
35
,
37
]. Dugernier et al. [
18
] reported a wide variability in the right to left lung-deposition ratio (3.33 (0.7–5.38) in VCV and 1.39 (0.91–2.05) in PSV). The penetration index also varied among subjects with a CV of approximately 50% [
18
,
37
]. Pharmacokinetics studies observed from 14 to 85% CV of antibiotic concentrations in tracheobronchial secretions [
31
,
32
,
34
,
36
] and from 60 to 91% CV in ELF [
14
,
15
,
27
,
28
].
Deposition in the ventilator circuit, artificial airways and nebulizer retention
Fifteen studies measured drug retention within nebulizers and the circuit [
18
,
22
,
23
,
29
,
35
,
37
,
39
,
41
–
46
,
48
,
49
]. No data on aerosol loss with MDIs have been described. Drug doses retained in the nebulizer reservoir and the T-piece were approximately 50% ND with jet nebulizers, 15% to 30% ND with ultrasonic nebulizers and 3% to 10% ND with vibrating-mesh nebulizers. While drugs deposited in the artificial airways and/or the trachea and the main bronchi varied from 1 to 27% ND, drugs trapped in the ventilator circuit varied from 10% to 44% ND. Drug loss during expiration was 7 to 22% ND (Fig.
3
).
×
Administration technique
Vibrating-mesh nebulizers are preferred over jet and ultrasonic nebulizers to deliver antibiotics (50% vs 18 and 32% of inhaled antibiotics studies, respectively). Vibrating-mesh and ultrasonic nebulizers demonstrated similar efficacy in 10 healthy piglets [
41
]. On one hand, greater postoperative efficacy of ultrasonic nebulizers compared to jet nebulizers was suggested in seven patients [
23
]. On the other hand, Lee et al. [
26
] did not report higher efficacy for a recent vibrating-mesh nebulizer compared to a conventional jet nebulizer. However, the authors measured 46% ND in the T-piece of the vibrating-mesh nebulizer, which questioned its efficiency in generating aerosol particles [
26
]. Combining a nebulizer with an inhalation chamber may significantly increase lung doses, as suggested by the scintigraphic study by Harvey et al. [
22
] Actuating an MDI in an inhalation chamber placed at the Y-piece allowed a 1.5-fold to 4-fold increase in lung doses of bronchodilators [
20
,
30
].
The characteristics of mechanical ventilation during aerosol therapy are detailed in Additional file
2
: Table S4. Most of the characteristics were not reported in a majority of studies. Only five clinical studies [
14
,
17
,
18
,
35
,
49
] reported all principal potential confounders, which was in contrast to all of the experimental studies. Lu et al. [
49
] standardized the administration technique to deliver inhaled antibiotics in 20 patients with VAP; a constant-output vibrating-mesh nebulizer was placed on the inspiratory limb at 10 cm of the Y-piece, specific ventilator settings were used (tidal volume of 8 mL/kg, respiratory rate of 12 c/min, duty cycle of 50%, constant and low inspiratory flow rate inferior to 30 L/min and end-inspiratory pause of 20%), and a heating-humidifier system was not used. but the heat and moisture exchanger filter was removed from the circuit during inhalation. Using this optimized technique, the authors observed 63% ND reaching the inlet of the endotracheal tube based on 37% ND extrapulmonary deposition. Among ventilation-related factors, Dugernier et al. [
18
] demonstrated the benefit of volume-controlled ventilation to increase lung doses in comparison with a spontaneous breathing pattern in pressure support (15.1 vs 10.5% ND,
p
 < 0.05). Miller et al. [
31
] measured a threefold increase in tracheobronchial concentrations of antibiotics when administrating the aerosol in a dry ventilator circuit instead of a heated-humidified circuit (8.1 ± 1.5
vs
2.2 ± 0.4 μg/mL/mg,
p
 < 0.001). Using helium instead of nitrogen in inhaled gas was found to increase ceftazidime concentrations in sub-pleural lung specimens of healthy pigs from 383 ± 84 with N
2
-O
2
to 576 ± 141 μg/g with He-O
2
. However, the concentrations were similar in infected lung segments whichever the inhaled gas [
48
].
Discussion
Conclusions
Aerosol delivery to mechanically ventilated patients has improved throughout the years. However, lung depositions lower than 20% ND were reported with nebulizers due to suboptimal conditions of administration that induced high aerosol loss in the ventilator circuit given that most deposition studies did not incorporate scientific knowledge subsequently gained from in vitro studies. Moreover, most studies revealed highly variable lung deposition rates in terms of doses and locations. Several factors related to the subject or mechanical ventilation that cannot be controlled probably account for this heterogeneity in part. The administration technique with nebulizers should be improved in ventilated patients with the final goal to ensure an efficient but safe, feasible and reproducible technique. Modern optimized nebulization techniques should be tested using imaging techniques to confirm the substantial distal deposition, even in infected lung areas, as reported in pharmacokinetics studies and suggested in clinical phase II studies.
Acknowledgements
The authors acknowledge the editorial assistance provided by Mrs Carline Dugernier.
Funding
This study did not receive funds.
Availability of data and materials
All data generated or analyzed during this study are included in this published article and its supplementary information files.
Ethics approval and consent to participate
Not applicable.
Consent for publication
Not applicable.
Competing interests
The authors declare that they have no competing interests. Stephan Ehrmann received research support to his institution from Aerogen Ltd, Fisher & Paykel and Hamilton Medical and consultancies/lecture fees from Aerogen Ltd, La diffusion technique Française.
Publisher's Note
Springer Nature remains neutral with regard to jurisdictional claims in published maps and institutional affiliations.
Open Access
This article is distributed under the terms of the Creative Commons Attribution 4.0 International License (
http://​creativecommons.​org/​licenses/​by/​4.​0/​
), which permits unrestricted use, distribution, and reproduction in any medium, provided you give appropriate credit to the original author(s) and the source, provide a link to the Creative Commons license, and indicate if changes were made. The Creative Commons Public Domain Dedication waiver (
http://​creativecommons.​org/​publicdomain/​zero/​1.​0/​
) applies to the data made available in this article, unless otherwise stated.