01.12.2016 | Research | Ausgabe 1/2016 Open Access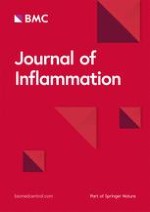 AG490 suppresses EPO-mediated activation of JAK2-STAT but enhances blood flow recovery in rats with critical limb ischemia
Zeitschrift:
Autoren:

Han-Tan Chai, Hon-Kan Yip, Cheuk-Kwan Sun, Shu-Yuan Hsu, Steve Leu
Abstract
Background
Erythropoietin (EPO) has been demonstrated to enhance recovery in ischemic organs through enhancing angiogenesis. In this study, we used an experimental critical limb ischemia (CLI) rat model to reveal the underlying mechanisms and directly examine the benefits of the anti-apoptotic capacity of EPO in the acute phase of limb ischemia and following blood flow recovery.
Methods
To determine the role of the JAK2/STAT pathway in EPO-enhanced recovery after CLI, male Sprague-Dawley rats (
n
 = 8 for each group) were divided into group 1 (normal control), group 2 (CLI treated with normal saline), group 3 (CLI treated with EPO), group 4 (CLI treated with AG490, a JAK2 inhibitor), and group 5 (CLI treated with EPO and AG490). Animals were sacrificed either at day 1 or day 14 and biochemical and histopathological examination of ischemic quadriceps were conducted.
Results
At day 1, EPO administration reduced expression levels of apoptotic indices and activated the JAK2/STAT pathway; this activation was inhibited by additional AG490 treatment. Furthermore, the decrease in the size of the infarcted area, as well as activation of ERK1/2 and JNK showed similar regulatory trends with EPO or AG490 treatment. Of Interest, EPO and AG490 in combination showed a synergistic effect, increasing expression levels of antioxidants (GR, GPx, NQO-1) and decreasing transcriptional levels of pro-inflammatory factors (TNF-α, NF-kB). At day 14, laser Doppler analysis showed that the blood flow recovery was enhanced by EPO, AG490, or combined treatment.
Conclusion
Although inhibition of the JAK2/STAT pathways reduces the anti-apoptotic effects of EPO in the early phase of CLI, the benefits of AG490 in anti-inflammation and anti-oxidation still play a positive role in enhancing blood flow recovery after CLI.