01.12.2018 | Epidemiology (M Laine, Section Editor) | Ausgabe 4/2018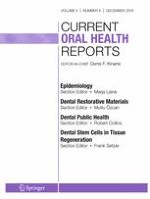 Age and Periodontal Health—Immunological View
Zeitschrift:
Autoren:

Jeffrey L. Ebersole, D. A. Dawson III, P. Emecen Huja, S. Pandruvada, A. Basu, L. Nguyen, Y. Zhang, O. A. Gonzalez
Wichtige Hinweise
Electronic supplementary material
This article is part of the Topical Collection on
Epidemiology
Abstract
Purpose of the Review
Aging clearly impacts a wide array of systems, in particular the breadth of the immune system leading to immunosenescence, altered immunoactivation, and coincident inflammaging processes. The net result of these changes leads to increased susceptibility to infections, increased neoplastic occurrences, and elevated frequency of autoimmune diseases with aging. However, as the bacteria in the oral microbiome that contribute to the chronic infection of periodontitis is acquired earlier in life, the characteristics of the innate and adaptive immune systems to regulate these members of the autochthonous microbiota across the lifespan remains ill-defined.
Recent Findings
Clear data demonstrate that both cells and molecules of the innate and adaptive immune response are adversely impacted by aging, including in the oral cavity, yielding a reasonable tenet that the increased periodontitis noted in aging populations is reflective of the age-associated immune dysregulation. Additionally, this facet of host-microbe interactions and disease needs to accommodate the population variation in disease onset and progression, which may also reflect an accumulation of environmental stressors and/or decreased protective nutrients that could function at the gene level (i.e., epigenetic) or translational level for production and secretion of immune system molecules.
Summary
Finally, the majority of studies of aging and periodontitis have emphasized the increased prevalence/severity of disease with aging, all based upon chronological age. However, evolving areas of study focusing on "biological aging" to help account for population variation in disease expression may suggest that chronic periodontitis represents a co-morbidity that contributes to "gerovulnerability" within the population.