09.01.2020 | Systematic Reviews and Meta-Analyses | Ausgabe 2/2020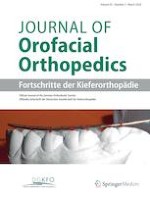 Age effect on orthodontic tooth movement rate and the composition of gingival crevicular fluid
A literature review
Autoren:

Dr. med. dent. Anne Schubert, Dr. med. dent. Fabian Jäger, PhD Jaap C. Maltha, MSc, PhD Dr. med. dent. Theodosia N. Bartzela
Abstract
Purpose
To evaluate and form a comprehensive understanding of the effect of patient age on bone remodeling and consequently on the rate of orthodontic tooth movement (OTM).
Methods
A systematic search in PubMed and Embase from 1990 to December 2017 was performed and completed by a hand search. Prospective clinical trials which investigated the rate of OTM and/or studies assessing age-related changes in the composition of gingival crevicular fluid (GCF) in older compared to younger study groups were included. Study selection, data extraction and risk of bias were assessed by two authors.
Results
Eight studies fulfilled the inclusion criteria. Among them, four evaluated the rate of OTM and six investigated mediators in the GCF (prostaglandin E2, interleukin [IL]-1β, IL‑6, IL‑1 receptor antagonist, receptor activator of nuclear factor kappa‑Β ligand, osteoprotegerin, granulocyte–macrophage colony-stimulating factor, pentraxin 3). Patient age ranged between 16 and 43 years for older and <16 years for younger groups. In most of the studies, the younger patients showed faster OTM in the first phase of treatment and more pronounced cytokine levels. Older patients had a delayed reaction to orthodontic forces.
Conclusion
The small number of included studies and large heterogeneity in study design give limited clinical evidence that the older patients are less responsive to orthodontic force in comparison to younger patients. The initial cellular response to orthodontic force is expected to be delayed in older patients. Control intervals during orthodontic treatment should be adjusted to the individual's treatment response.