01.12.2018 | Research | Ausgabe 1/2018 Open Access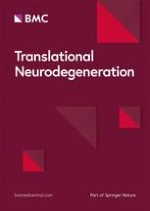 AGE-induced neuronal cell death is enhanced in G2019S LRRK2 mutation with increased RAGE expression
Zeitschrift:
Autoren:

Hyun Jin Cho, Chengsong Xie, Huaibin Cai
Abstract
Background
Leucine-rich repeat kinase 2 (LRRK2) mutations represent the most common genetic cause of sporadic and familial Parkinson's disease (PD). Especially, LRRK2 G2019S missense mutation has been identified as the most prevalent genetic cause in the late-onset PD. Advanced glycation end products (AGEs) are produced in high amounts in diabetes and diverse aging-related disorders, such as cardiovascular disease, renal disease, and neurological disease. AGEs trigger intracellular signaling pathway associated with oxidative stress and inflammation as well as cell death. RAGE, receptor of AGEs, is activated by interaction with AGEs and mediates AGE-induced cytotoxicity. Whether AGE and RAGE are involved in the pathogenesis of mutant LRRK2 is unknown.
Methods
Using cell lines transfected with mutant LRRK2 as well as primary neuronal cultures derived from LRRK2 wild-type (WT) and G2019S transgenic mice, we compared the impact of AGE treatment on the survival of control and mutant cells by immunostaining. We also examined the levels of RAGE proteins in the brains of transgenic mice and PD patients by western blots.
Results
We show that LRRK2 G2019S mutant-expressing neurons were more sensitive to AGE-induced cell death compared to controls. Furthermore, we found that the levels of RAGE proteins were upregulated in LRRK2 G2019S mutant cells.
Conclusions
These data suggest that enhanced AGE-RAGE interaction contributes to LRRK2 G2019S mutation-mediated progressive neuronal loss in PD.